#500DaysToGo: Five players to watch at PyeongChang 2018
With the final season before the next Winter Paralympics getting underway in just a few days, here are a handful of players hoping to make an impact.
25 Oct 2016
Imagen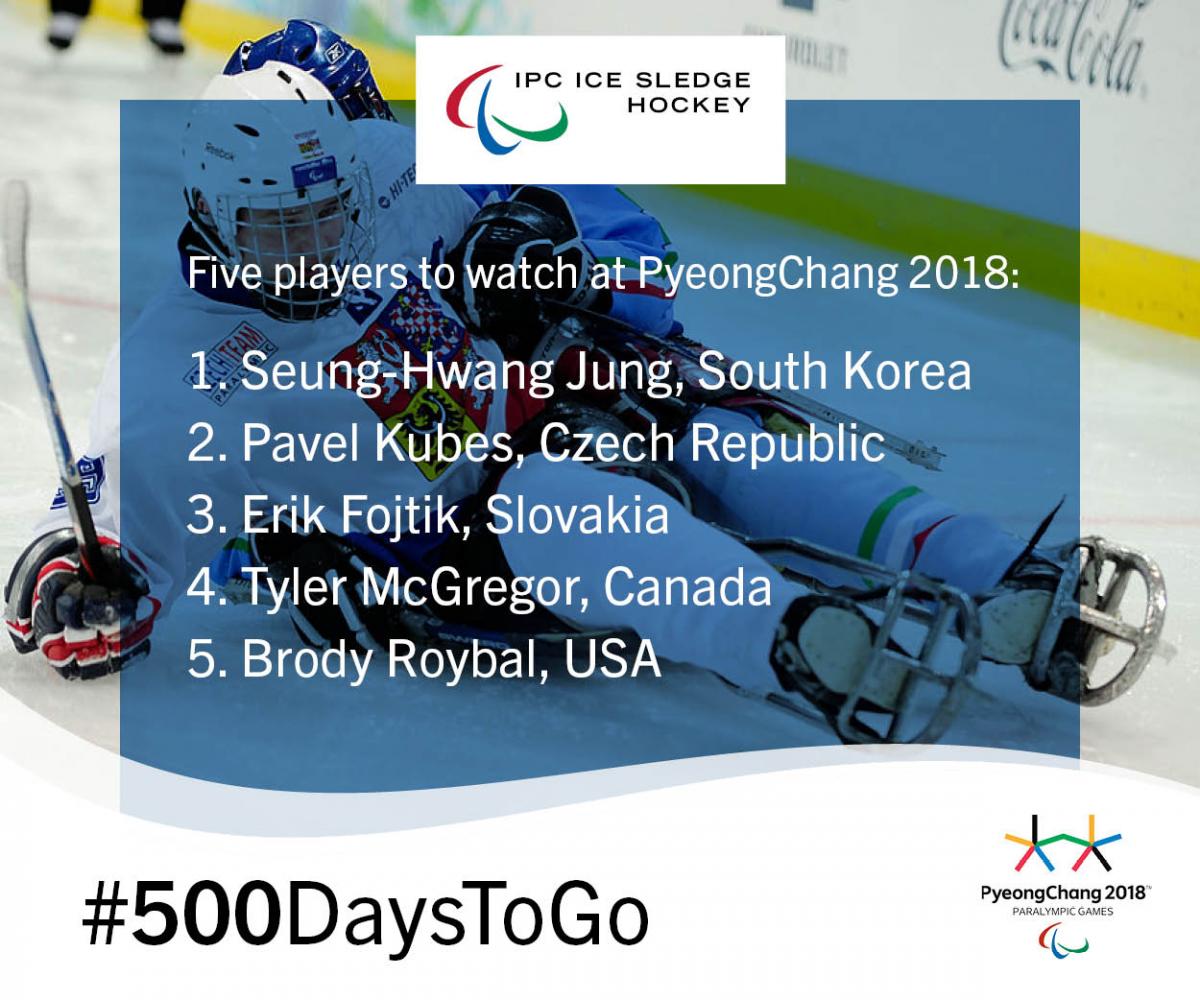 By IPC
With just 500 days to go until PyeongChang 2018, ice sledge hockey players from around the world are building up for the last season ahead of the Paralympic Winter Games.
The IPC Ice sledge Hockey World Championships B-Pool in Tomakomai, Japan, will offer four teams the chance to reach the qualification tournament for PyeongChang 2018, whilst the A-Pool Worlds are also expected to take place in early 2017.
The top five finishers from the World Championships A-Pool will directly qualify for PyeongChang 2018. The bottom three teams from the A-Pool event and the top three teams from the B-Pool event will compete at the Qualification Tournament for PyeongChang 2018.
Here are five players you should look out for in the build-up to, and during, the next Paralympic Winter Games.
Seung-Hwang Jung, South Korea
Jung led his team's charge at the 2015 World Championships B-Pool, ensuring they were promoted to the A-Pool for the 2016-17 season with a gold medal win. He was named Best Forward at those Championships, leading all players with 13 goals, nine assists and 22 points.
He is also astonishingly quick and will be one of his side's key players when they take to the ice at their home Winter Paralympics. Before then South Korea will compete in three international tournaments, opening their season at the World Sledge Hockey Challenge in Charlottetown, Canada, between 4-10 December.
Pavel Kubes, Czech Republic
Kubes will be key to his team's efforts as they hope to gain promotion back to the A-Pool at Tomakomai from 28 November.
As the long-standing team captain, Kubes has been a fixture of the defensive line since 2010. If they can achieve a top three finish at the Worlds B-Pool they will be assured a shot at the Qualification Tournament for PyeongChang 2018.
The Czech Republic get their season underway on Friday (28 October) at home at the Four Nations tournament in Ostrava.
Erik Fojtik, Slovakia
Slovakia won bronze – their first-ever medal on the IPC Ice Sledge Hockey stage – after shutting out Austria in their final game, 3-0, to finish the 2015 World Championships B-Pool with a 3-2 record and a goal differential of zero.
Two of their goals came from Fojtik and he will be back in 2016-17 hoping to give his team the best chance of qualifying for PyeongChang 2018.
Tyler McGregor, Canada
McGregor has been named the full-time alternate captain for Canada for 2016-17, which will see him go for gold at the yet-to-be-announced World Championships A-Pool against old rivals the USA.
His rise to the top shifted gear in 2015 when he almost surpassed his career total of nine goals, 13 assists and 22 points in 47 games, in one tournament over six games in December. This season he will be hoping to improve once again and help secure his team a fast-track to PyeongChang. Canada begin their season at home at the World Sledge Hockey Challenge in December.
Brody Roybal, USA
Roybal is still just a teenager at 18. At the 2015 Worlds A-Pool, he led his team with seven assists and finished second overall in points, claiming nine over five games. He also took a point in every game.
At the Sochi 2014 Paralympic Games he was the youngest US Paralympian at 15, scoring two goals to help his team to gold. He will be a key member of the USA's efforts to retain their world title and punch their ticket to PyeongChang 2018.
__
The PyeongChang 2018 Paralympic Winter Games will be take place between 9-18 March 2018.
The Games will feature up to 670 athletes competing in 80 medal events across six sports: alpine skiing, biathlon, cross-country skiing, ice sledge hockey, snowboard and wheelchair curling.