#500DaystoGo: Yunho Kim targets medals
The South Korean Para snowboarder wants to improve his skills quickly and win his first medals in the sport.
25 Oct 2016
Imagen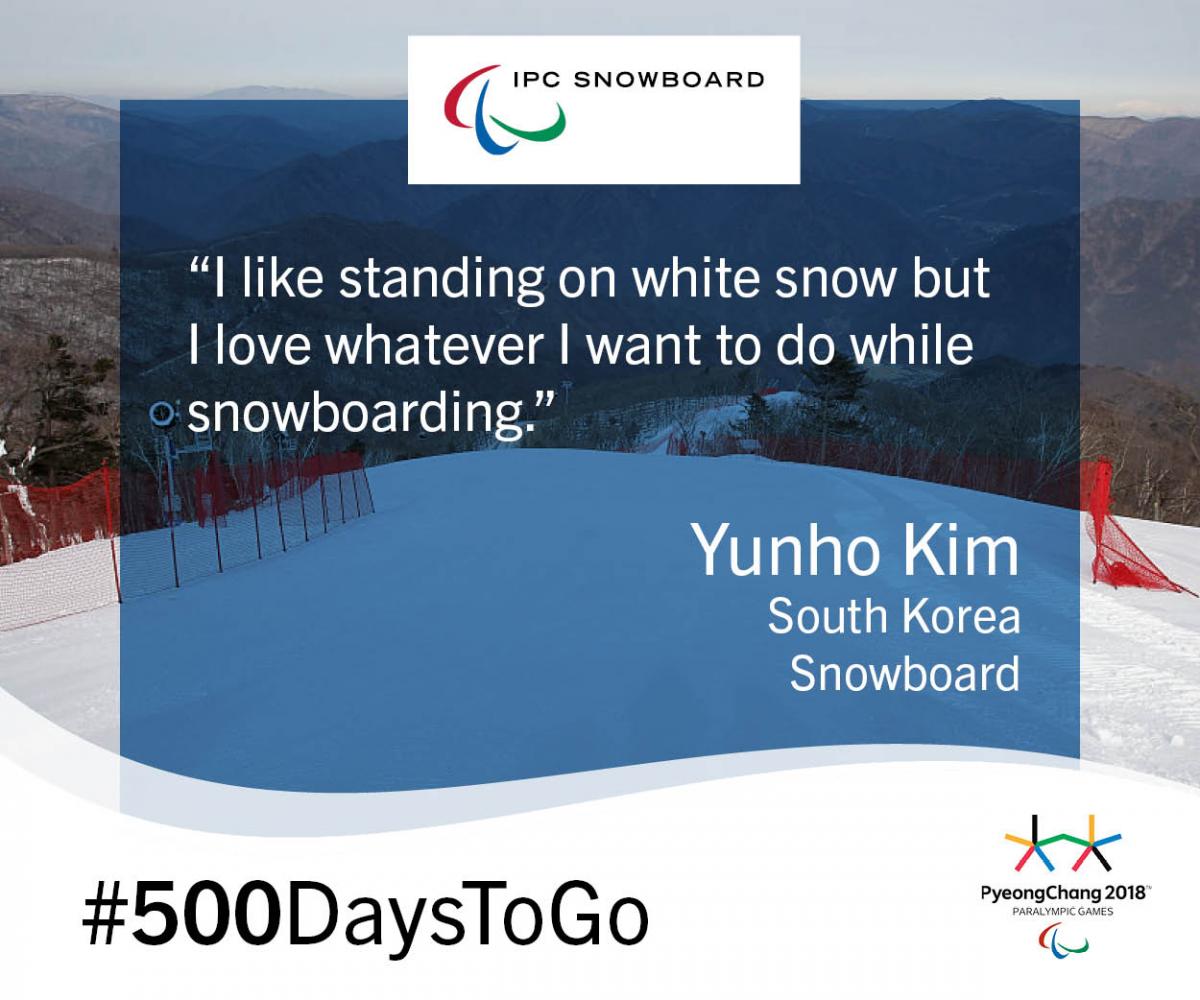 By IPC
"I hope to improve my skill quickly in order not to be beaten by anybody."
South Korea's Yunho Kim is ready for podium success this Para snowboard season, and he hopes to carry that over into his home Paralympic Games at PyeongChang 2018 in 500 days' time.
The 33-year-old started snowboarding 12 years ago. But it was just last season when he took on his first international field.
His lone competition was the 2016 US Nationals at Copper, USA, where he finished 11th in both the men's snowboard-cross and banked slalom SB-LL2. To make it to PyeongChang 2018, Kim knows 11th place will not cut it.
"My aims for the 2016-17 season is to win medals," Kim said. "I am especially looking forward to the PyeongChang Test Event. There, I want to do my best and achieve a gold medal without any injury."
The IPC Para Snowboard World Cup circuit kicks off on 17 November in Landgraaf, the Netherlands. There will be two more World Cups before the top Para snowboarders commence in Big White, Canada, between 2-7 February for the 2017 World Para Snowboard Championships.
The PyeongChang 2018 Test Event will then follow from 8-13 March.
Kim has plenty of competitions to push himself against some of the best.
"I hope to improve my skill quickly in order not to be beaten by anybody," he said.
"At PyeongChang 2018, I may win a medal because it is my home and I have advantage," he added.
On the national level, he will have to battle with countryman Hang Seung Park for podium positions.
On the international scene, he has to take on the likes of Finland's Matti Suur-Hamari, the reigning world champion in the men's snowboard-cross SB-LL2 and bronze medallist in the banked slalom SB-LL2.
"Hamari is my biggest opponent," Kim said. "He is the most similar to my impairment and is an excellent athlete."
Kim was involved in a motorcycle accident in 2001. He was introduced to snowboarding through a club in college. There his fellow classmates were practicing ice sledge hockey, but Kim was more interested in another winter sport.
"I like standing on white snow but I love whatever I want to do while snowboarding," Kim said.
In 500 days' time, he believes PyeongChang 2018 will have a lasting impact on his country.
"Perceptions on people with impairments will change because, as people see Para athletes' performances, they think that Para athletes can do what able-bodied athletes cannot do easily," he said.
__
The PyeongChang 2018 Paralympic Winter Games will be take place between 9-18 March 2018.
The Games will feature up to 670 athletes competing in 80 medal events across six sports: alpine skiing, biathlon, cross-country skiing, ice sledge hockey, snowboard and wheelchair curling.