Doha 2015: Mixed zone flashquotes day five
Find out what athletes had to say after comeptition on Sunday at the 2015 IPC Athletics World Championships.
26 Oct 2015
Imagen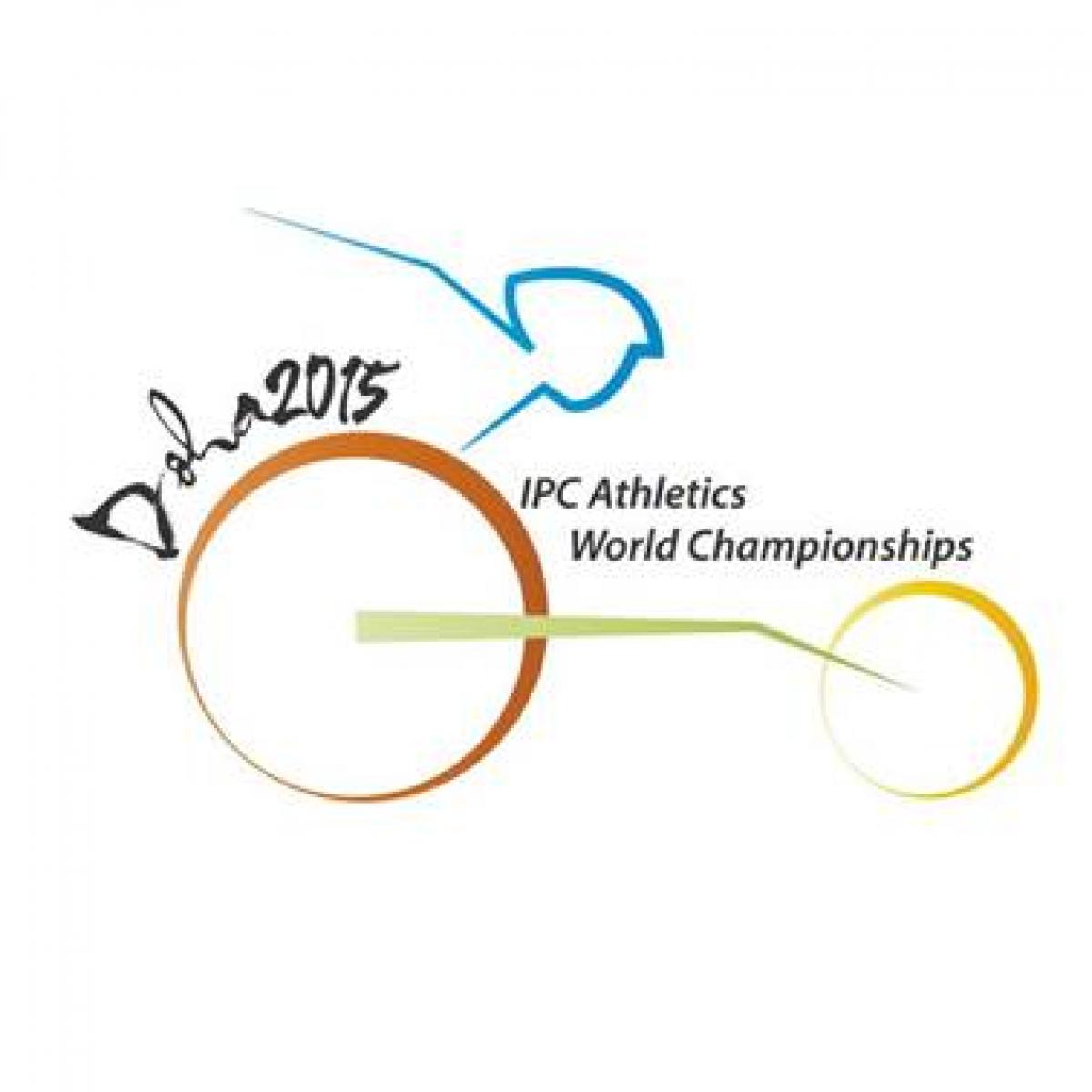 By IPC
Women's 400m T47
Gold: Anrune Liebenberg (RSA):
" This is what I have trained for, it feels absolutely amazing to win here in Doha. There are not words that can describe this, I knew the Cuban was a real handful, but I got there and it's just amazing."
Silver: Yunidis Castillo (CUB):
"I am very happy with this result as I was training for it for only 5 months as I have recently had a baby. I was so big after the pregnancy so it was difficult to get fit. I think that I will be ready for Rio as I have time to train and get stronger and fitter over the next year. My coach is helping me to prepare for Rio."
Bronze: Alexandra Moguchaya (RUS):
"It is such a big day for me, as this is my first medal since 2009, it was difficult with the 8th lane but I got there in the end, I am so proud."
Men's 400m T11
Silver: Gerard Puigdevall (ESP):
"We didn't know if we was going to finish second or first as the Brazilian guys could have been disqualified, nevertheless we enjoyed the atmosphere here in Doha and we are very proud of our achievement."
Bronze: Timothee Adolphe (FRA):
"It was very difficult as it was a world championship final and the competition was extremely tough, this was like a warm up to the Paralympic games, I was extremely surprised with the high level of competition here."
Men's 400m T12
Gold: Luis Goncalves (POR):
"After several years where I have struggled to find my peak, it feels incredible to finally reach the top and get the gold medal. It has been 3 months since my last competition, I didn't know how this would go, but wow, I'm the world champion."
Women's Shot Put F41
Gold: Raoua Tlili (TUN):
"This is my speciality, I am happy because I have maintained my level, it is my second gold medal in these championships and I am very proud of that. I am excited to go to Rio, I hope that I can win two more gold medals."
Silver: Kelly Peixoto (BRA):
"I'm feeling so important, like Neymar! I got the silver, and broke the Brazilian record so it's amazing. Now it's on to the World Record in Rio."
Bronze: Claire Keefer (AUS):
"I am very happy to take the third place. It is a personal best for me and hopefully it will get bigger and better every year. Now I will be looking ahead to Rio 2016."
Women's 100m T52
Gold: Marieke Vervoort (BEL):
"I feel great. I'm sad Michelle Stilwell is not here though. In 2013 [World Championships], I had my accident with her, I was 4 months in the hospital and I was really looking forward to competing with here again. She is an inspiration. I hope more T51 and T52 athletes will go on to compete in wheelchair racing – she's an example to everyone.
Last year I was injured, this year has not been so good either. But after 3 bad accidents I showed that I can come back.
Last night I fell asleep at 5am from the pain and spasms but I really wanted to start this race. I will race in the 800m also – I don't have much of a chance for the final but I really want to compete. The 800 is where I had my accident (in 2013) so I want to get over that fear.
To my fans in Belgium, thank you for supporting me on the good and bad days. Believe you can and yes, you can!"
Silver: Kerry Morgan (USA):
"It went well, I am pretty pleased, It was great conditions to race in tonight. My start was a little slow but my acceleration down the stretch was really good. I have one more race here, the 400m and that's more my strength so I am looking forward to it."
Women's Discus Throw F38
Silver: Noelle Lenihan (IRL):
"I'm absolutely delighted. To be so young, and I only just started in the sport at the beginning of the summer – it's just a dream really, it's amazing.
I didn't have a hope of medal really, I knew I was training well and just wanted to go for a PB. If I got a PB I'd be happy. To get a medal at all is unbelievable. She [Na Mi, first place] is an amazing thrower so I'm delighted to get second.
To be 16 and going into Rio is just incredible. To be so young and thinking about a Paralympic Games- I'm just overwhelmed really.
I've only missed a week of school to be here but I'm sure they won't mind when I come home with a medal!
My Dad, who's my coach, and my older siblings are all here in the crowds supporting me."
Bronze: Renee Foessel (CAN):
"I was coming to Doha with hopes of delivering the best possible performance, and always thought that I would have a chance to be on that podium. To do it though is another thing, and it feels amazing to get a medal."
Men's 5000m T11
Gold: Cristian Valenzuela (CHI):
"It's been a very hard competition here. My strategy for this race was to keep my rhythm for the whole race, and I think I did that well. I will be competing on Wednesday in the 1500m so I am looking forward to that. I would like to thank the people of Doha for such a great competition."
Silver: Jason Joseph Dunkerley (CAN):
" The competition was very good, it always is here at the world championships. I wanted to run faster and I wanted to win, but all things considered I am happy. It's been a long season so I am looking forward to a rest and then coming back stronger."
Bronze: Shinya Wada (JPN):
"The 5000m is the toughest Paralympic sport in my opinion, so to come here and get a bronze medal feels spectacular. I must thank my guide, he is my eyes and without him I can't do anything. Together we are one body."
Men's Long Jump T42
Gold: Atsushi Yamamoto (JPN):
"The conditions here are very good which helps me to do my best. The atmosphere is amazing. I'm excited to win more medals here and to go to Rio."
Silver: Daniel Jorgensen (DEN):
"I broke the world record earlier this year, so I came into the competition with hopes of winning gold. My preparations were perfect as well, but it wasn't to be. This is my best result here in the world championships so overall I am pleased."
Bronze: Regas Woods (USA):
"It was pretty stiff competition today. I expected a lot more from myself, but overall I bought another medal for the USA and that's all that matters."
Men's 5000m T54
Gold: Rawat Tana (THA):
"I am very happy to have won gold in 1500 and 5000m in Doha."
Silver: Marcel Hug (SUI):
"I feel exhausted, the competition was very tough, but of course I am happy with the second place. I enjoy the competition and everything has been going very well here. Tomorrow I have one more race then I will be focusing on Rio."
Men's Club Throw F32
Gold: Vladislav Frolov (RUS):
"I am so happy, it was a great competition and I am thrilled to be world champion."
Silver: Lahouari Bahlaz (ALG):
"I was world champion in 2011 and 2012, but to win a silver medal here in the Middle East is a very different feeling. I am happy for me, for my country Algeria and for Doha for putting on this amazing championships."
Men's 200m T13
Gold: Nambala Johannes (NAM):
"I feel proud to win and get that for my country. This is Namibia's first medal in this competition and it's a gold. I feel proud and happy to represent my country, to be an ambassador for my country, and that's why I'm doing it."
Silver: Chad Perris (AUS):
"It was really tough the last 50m. I won have won the silver and that's really awesome. I knew I would be in the top 4 so to come second is a great achievement for me."
Women's 800m T54
Bronze: Margriet Van Den Broek (NED):
"The competition was very tough, but it was a great race. I am happy with my performance as you never know what to expect in the 800m, you could be third and then find yourself finishing in last place. This is the best result for me and I am very happy with this medal."
Men's 800m T36
Gold: Paul Blake (GBR):
"It's been a really long and tough season but I had a plan to go strong from the get-go and I just stuck to it and it worked."
Silver: Artem Arefyev (RUS):
"It was such a tough race, and I'm happy to get a silver medal for Russia."
Bronze: Andrey Zhirnov (RUS):
"The competitors were strong but I was pleased to run with my team mate. Together we made it and I'm happy to get a medal."
Men's Javelin Throw F55
Bronze: Jonas Licurgo Ferreira (BRA):
"I am looking forward to Rio now, I wanted to do a bit better here but I had a pain in my hand and I was very tired. I will try my best to win the gold medal in Rio."
Men's 800m T34
Gold: Walid Ktila (TUN):
"I'm happy to be here. I felt like I was a good ambassador for my country and I worked hard all season and these efforts are bearing fruit now. I'd like to thank all Tunisians who supported me – they encouraged me to do my best."
Silver: Mohamed Hammadi (UAE):
"It was a good race and quite fast. I kept a strong pace from the start because I needed to get a good position due to me being in the seventh lane."
Bronze: Henry Manni (FIN):
"A medal is a medal. I would have liked to do better but the top three is satisfactory."
Men's Triple Jump T47
Silver: Roderick Townsend-Roberts (USA):
"The competition was a lot of fun – I definitely enjoyed myself. My coach did a really good job and I went out there and took a couple of jumps just to make sure I could make it to the podium. I am content with my performance."
Bronze: Georgios Kostakis (GRE):
"I feel very proud. I have enjoyed the competition a lot. I got injured and I couldn't perform as well as I hoped. I thank god that I got the bronze. I will now aim to do my best in Rio."
Men's Shot Put F34
Gold: Siamak Saleh Farajzadeh (IRI):
"I am so happy to get the world record and to win the gold medal. I hope my result can make people all over the world happy and smile."
Bronze: Mauricio Valencia (COL):
"This was extremely difficult as I knew the Qatari guy was the one to beat, I am more than happy with the bronze and hope to make my family and country proud. I look forward to Rio."
4th place: Abdulrahman Abdulqadir Abdulrahman (QAT):
"I feel like I gained a lot from this experience. The competition was extremely tough and I learnt that I have to keep pushing even if I am In a medal position."
Men's Javelin Throw F13
Gold: Branimir Budetic (CRO):
"I am extremely happy, I broke the world record on my first attempt which was incredible and I did not expect this. I tried to throw better in my other attempts but I knew I wasn't going to beat my first throw as it was so good. The world championships is always such a tough competition so I didn't expect to come here and take gold without a tough challenge but to break the world record as well just feels incredible."
Silver: Seyed Erfan Hosseini Liravi (IRI):
"I want to thank god, my coach and I am so so happy – I'm elated."
Men's 1500m T13
Gold: Abdelillah Mame (MAR):
"It was a very hard race, I got very tired in the last few meters, but I won in the end. I have many championship title's but to win here in Doha means a lot to me."
Silver: Abdellatif Baka (ALG):
"It was very difficult, especially in the final stretch. I managed to get gold in Lyon and I have only managed to get two silvers here, so I am a little disappointed."
Men's 1500m T52
Gold: Raymond Martin (USA):
"The race went well, it wasn't exactly as we planned as it was a little too close for comfort but it ended well."
Silver: Hirokazu Ueyonabaru (JPN):
"This is only my second medal ever, so it's such a good feeling, even more pleasing was to be able to do it with my friend."
Bronze: Tomoki Sato (JPN):
"I never expected to be in a position to grab a medal, but I did it, and that makes me very happy."
Women's 1500m T11
Gold: Jin Zheng (CHN):
"This is what we have worked for, this is what we wanted, to win in Doha just makes me so happy."
Silver: Maritza Buitrago (COL):
"The race was very tough, but we are all happy, we got the silver medal and improved on previous timing. We have been training in high altitude conditions and we will do the same for Rio."
Bronze: Renata Bazone Teixeira (BRA):
"It was very tough, and to be honest I expected really tough competition. I was able to stay focused on my strategy, and was able to pull it off."
Download rights free images from the Championships here, credit: Doha 2015/ Getty Images
For broadcast footage, please email Jose Manuel Dominguez
Watch all the action live and find live results here.
The lastest IPC Athletics updates on Twitter can be found here.