Dubai 2019: McFadden aiming for top after remarkable journey
Recovered from injury, USA wheelchair racer is ready to chase her World Championship dreams again
01 Nov 2019
Imagen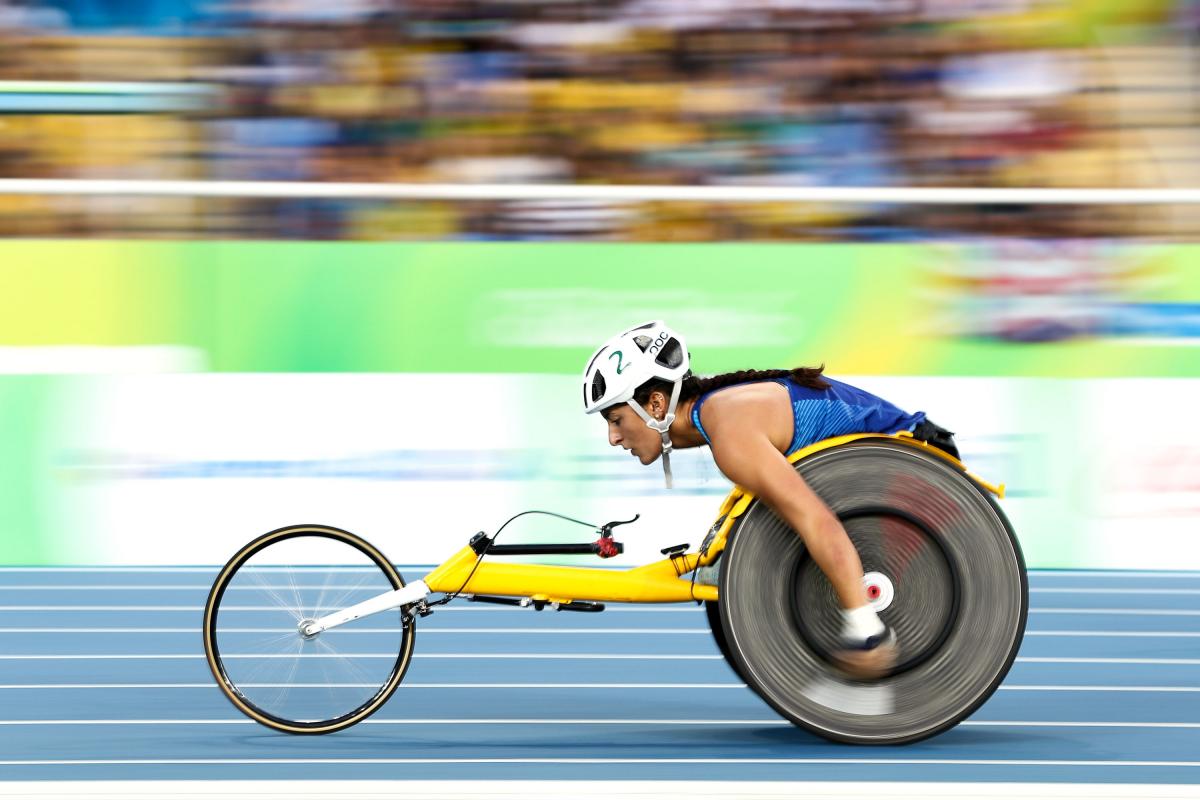 ⒸGetty Images
By Amp Media | For World Para Athletics
Hannah McFadden heads to Dubai for the World Championships with all the determination and heart that has typified her approach to sports since she was a kid. 
Debuting at a Worlds in 2013 in Lyon, she went on to earn bronze in both the 100m and 200m T54 at Doha 2015 and London 2017. 
That leaves the US athlete more determined than ever to win the title this time around but, following surgery to repair nerve damage to the back of her head and neck, preparations have been less than plain sailing. 
"I'd been out for about 18 months after the surgery and was only cleared to train properly in August, so while I'm fully recovered, I am not quite as race-fit as I would like heading to a World Championships," said McFadden.
 
The Albanian-born athlete freely admits that she wasn't the best patient during an enforced absence from the sports that had been such a fundamental aspect of her childhood, giving her so much since moving to the USA aged three-and-a-half. 
A lifesaver move
McFadden's parents adopted her from an Albanian orphanage and brought her to North America to meet her new sister, Tatyana, then just 10 years old but today one of the most decorated Paralympians in history. 
The younger sibling is in no doubt that that move was a lifesaver.
"I was born without a femur or a hip… and I am forever grateful to my birth parents for taking that tough decision, knowing they weren't going to be able to care for me," she said. 
"This was in communist Albania, so the what-ifs don't look too pretty, but I was terrified leaving my carers and even at that age I had the sense I wasn't going back."
The shock was, of course, huge, but once the young McFadden got over the fact that she now had her own things, she didn't have to share clothes and she had access to incredible facilities, she then had to take the difficult decision to amputate her leg. 
"My foot was getting in the way of having a knee in my prosthetic leg, so we decided that was the best solution. It wasn't like I was sick or had been in an accident, so it was weird to voluntarily make that decision, but I wanted to be more physically independent. Before then, I needed to hop everywhere or use crutches, and I remember desperately wanting to learn to ride a bike."
Having been through so much before she was even six, McFadden was ready to roll. A relentless energy saw her parents enrol her with the local Bennett Blazers sports club to "try and tire me out at weekends so that I would actually sleep".
The club was the perfect outlet for her growing hunger for sports. The adaptive sports programme was an incredible resource for Baltimore kids aged 3 to 18, offering access to everything from hockey and basketball to track and swimming. 
True love
With her older sister already blazing a trail on the track, it was swimming that Hannah fell in love with at first. 
"That was my true love and what I always thought I would compete at in a Paralympics. I always had a thirst for competition and challenge, so I went from club racing to state to nationals and it wasn't until I hit international that I really felt that high from being in the zone so much. 
"The local club was amazing, and I think a lot of people aren't aware of the facilities like that that exist. It's sad that when people experience something like I did or have an accident, doctors inevitably list off a load of things that you can't do when, actually, there is so much out there that you can, it's just not always easy to know where to find it."
The switch to track was another twist of fate, encouraged by her mum to not just watch her sister training at the University of Illinois but to take part in the trials too. Next thing she knew, there were two McFaddens on the US Para track team sheet for London 2012, and she was the youngest. 
"I had no idea why they picked me, or if I even liked track at the time," she said. 
"Of course I then fell in love with the sport and fell in love with the Paralympics. London 2012 was wild. I was in my own bubble, but I think that helped and suddenly I was in the final. It was me being naïve and finding it all fun, but I think that is what made me fall in love with it all, I could just enjoy the moment." 
Now, chasing a first World Championship gold, Hannah McFadden's less-than-ideal preparations for Dubai could see her back in that bubble. With expectations set to realistic, returning to racing is fuelling her excitement and could just power her all the way back to the podium.