Emotional Keiichi Kimura saves best for last
Japanese takes his first gold in his fourth Games while Jessica Long and Maksym Krypak top the podium once again as Para swimming wraps up in Tokyo
03 Sep 2021
Imagen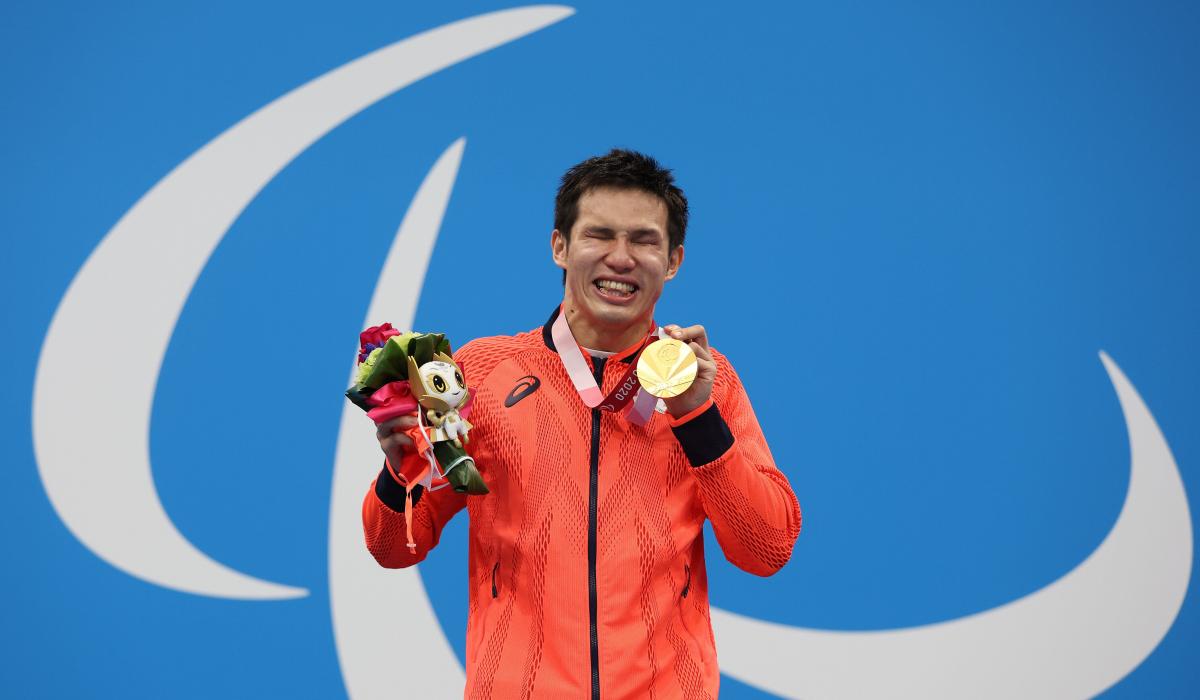 ⒸAlex Pantling/Getty Images
By OIS and World Para Swimming
The last day of Para swimming at Tokyo 2020 crowned Ukraine's Maksym Krypak as the most awarded athlete at the Games and USA's Jessica Long as the most successful active Para swimmer - with 29 medals and 16 golds. But it was a local hero the responsible for the highlight of the evening at the Tokyo Aquatics Centre on Friday (3 September). 
Multiple world champion Keiichi Kimura won his first-ever Paralympic gold in the men's 100m backstroke S11 touching the wall in 1:02.57.
"I'm extremely happy to win the gold medal. And the No.1 thing, my goal here, was to hear the Japanese national anthem," said Kimura.
After four Games, a bronze at London 2012 and a silver at Rio 2016, the long wait was finally over and the Japanese Para swimmer could step on the top of the podium.  A whirlwind of emotions burst out of Kimura.
"I cried and was extremely emotional, but I was not emotional because of the medal, because I can't see the medal. I can only touch it, but it feels the same."
Uchu Tomita made it a one-two podium for Japan, while Brazil's Wendell Belarmino took home the bronze medal.
"I can't be happier than this. I've won silver and Kimura-san won gold. Gold and silver, it's the happiest moment of my life," Tomita said. 
Long dominates the pool for 16th gold
Jessica Long stormed to her her sixth medal at Tokyo 2020 in the women's 100m butterfly S8 final dominating the pool
Long sent out a warning in qualification with the fastest time of 1:09.78 then clocked 1:09.87 in the final to claim her 16th Paralympic Games gold medal.
"Day 10 is challenging. I truly have always said the Paralympics are for those who are super-mentally tough and that is what I tried to channel today because I was tired and hurting and sore, but I love swimming and I love to race and that is what I tried to do tonight," said the USA swimmer.
Viktoriia Ishchiulova of the RPC clocked 1:10.80 to claim silver and Colombia's Laura Gonzalez Rodriguez was third in 1:20.93.
Long made her Games debut in Athens 2004 at 12 years old, she is now 29 and the most decorated active Paralympian having claimed 29 medals across five Games.
"The only thing I told my family – I said I just want to bring home a gold medal from Tokyo, that would be considered a success for me."
Three more triumphs for the USA
The US Para swimmers enjoyed more success in the Tokyo Aquatics Centre on the last day of competition. Elizabeth Marks won gold in the women's 100m backstroke S6 with Robert Griswold and Evan Austin triumphing in the men's 100m butterfly S8 and 50m butterfly S7.
Marks secured her first gold and third medal in Tokyo with a new world record (1:19.57). She won in front of the 16-year-old Chinese wonder Yuyan Jiang who took four medals including two golds in her Games debut. Germany's Verena Schott took bronze.
After winning a silver medal in the event at the London 2019 World Championships, Griswold went one better and took gold in Tokyo with a time of 1:02.03.
World champion Evan Austin won his first Paralympic title in the men's 50m butterfly with a 28.98-mark.
"I was just excited to get the opportunity to race. I knew I was going to be in the fight, and I was going to really have a shot at being a Paralympic champion."
Krypak with the fifth title
Dutch Para swimmer Chantalle Zijderveld won her fifth medal in Tokyo securing a victory in the women's 200m individual medley SM10 with a new world record (2:24.85).
Hungary's Bianka Pap bagged silver, while Zijderveld's compatriot Lisa Kruger finished with the bronze.
Ukraine's Maksym Krypak claimed his 15th Paralympic medal in just his second Games. The 26-year-old won his fifth title in Tokyo in the men's 200m individual medley SM10.
He broke the Paralympic record (2:05.68) on the way to the seventh medal overall in the Tokyo Aquatics Centre. No other athlete won more medals than him at the Tokyo 2020 Paralympic Games.
Ukraine celebrated another gold in the men's 200m freestyle S3 with Denys Ostapchenko taking his first-ever Paralympic victory with a time of 3:21.62.
"It was my first Paralympic Games so I was very excited about staying here for all this time. I liked everything here and I was also really happy about the results during my competition," said Ostachenko.
Mexico took silver and bronze with Diego Lopez Diaz and Jesus Hernandez Hernandez, respectively.
More world records
Raman Salei of Azerbaijan triumphed in the men's 100m butterfly S12 (57.81) taking home his third gold medal in Tokyo.
He finished ahead of world record holder Stephen Clegg of Great Britain's and RPC's two-time Paralympic champion in the event, Roman Makarov.
"I've won three gold medals and I can go home very satisfied. I'm the happiest person in the world right now. I couldn't be much happier," said Salei.
Canada's Danielle Dorris broke the world record (32.99) twice in the course of one day in the women's 50m butterfly S7. It was the first Paralympic gold for the the 18-years-old.
RPC's Roman Zhdanov also ended his first Paralympic Games on a high note. He triumphed in the men's 50m backstroke S4 with a new world record (40.99) in front of the defending champion, Czech Republic's Arnost Petracek.
Zhdanov took five podiums in Tokyo with three gold medals.
"I was planning to be first but to do it again with a world record, I was not thinking of that," said the RPC's flag bearer at the Closing Ceremony on Sunday (5 September).
RPC collected another gold on day 10 in the men's 4x100m medley relay 34pts. The reigning world and European champions set a new world record (4:06.59) in front of Australia in second and Italy in third place.
China tops the medals table
Chinese Para swimmers dominated the pool once again on the last day of action in Tokyo. They won four golds including Yu Liu's record-breaking performance (44.68) in the women's 50m backstroke S4.
"It's an unbelievable time [breaks down in tears]. I'm so emotional. I've never done something like that before. These are tears of happiness."
Yanfei Zhou finished in second place for a Chinese one-two, while Alexandra Stamatopoulou won bronze.
Dong Lu and Jiao Cheng secured another Chinese one-two in the women's 200m individual medley SM5. Dong took her fourth gold in Tokyo with a time of 3:20.53 and was the top female swimmer.
Guizhi Li and and Hongguang Jia triumphed in the women's 100m freestyle S11 (1:05.87, new Paralympic record) and men's 100m backstroke S6 (1:12.72).
China topped the Para swimming medals table at Tokyo 2020 with 56 medals in total, including 19 golds. RPC took second place with 49 medals (17 golds) with USA in third taking 35 medals (15 golds).
Complete results and medallists from the Tokyo 2020 Games are available on Paralympic.org.