Fleur Jong's remarkable recovery lights up Paris Grand Prix
Dutch sprinter dominates on return from surgery as world records tumble in French capital
31 Aug 2019
Imagen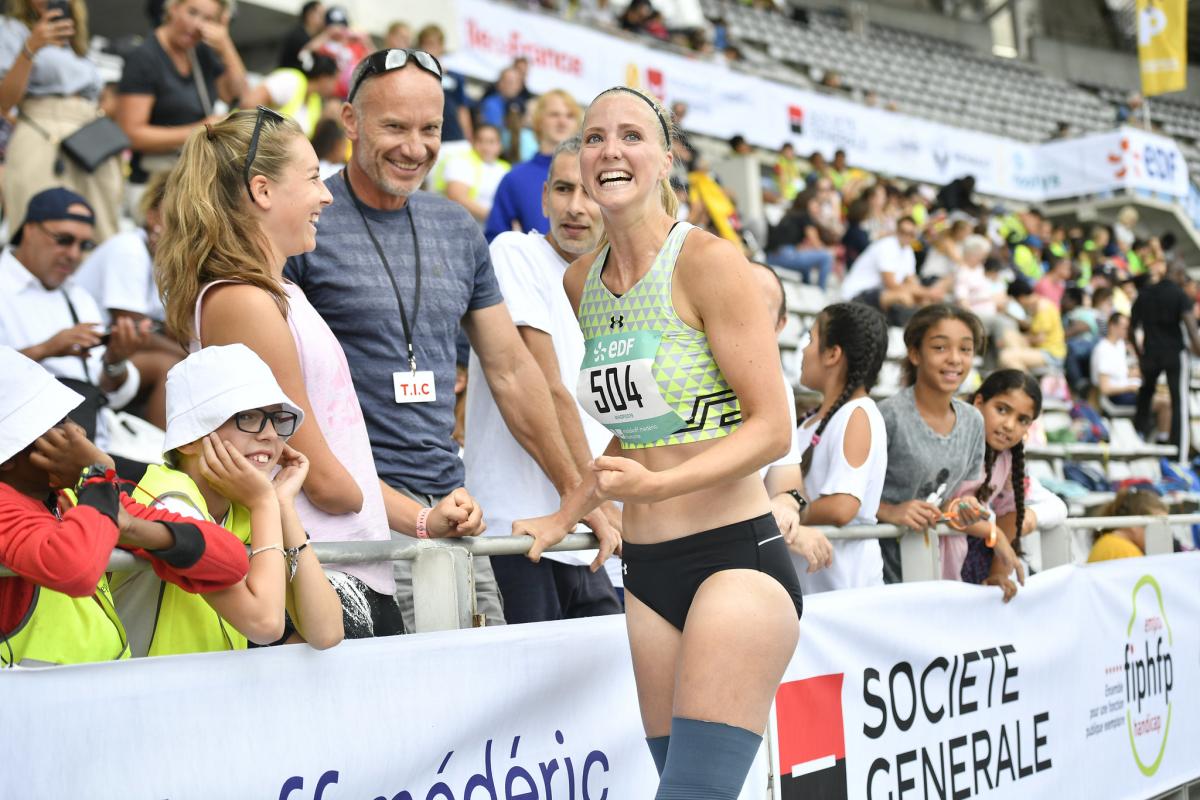 ⒸD-Echelard 05
By Amp Media | For World Para Athletics
Even amid a wealth of world records and outstanding performances from athletes hailing from all over the globe, Dutch sprinter Fleur Jong's efforts at the two-day Paris 2019 World Para Athletics Grand Prix stand out. 

A year ago almost to the day, the double amputee underwent a major operation to smooth off the end of her troublesome left stump. The idea was to ensure, after several tough years, the T62 athlete would finally be pain free and able to focus on the most significant 18 months of her athletics career. But things did not turn out as planned. 

"I was in such bad shape after surgery, nothing would heal," Jong revealed in Paris. "At one moment we felt like it would be a miracle if I could just walk normally again. I had given up on sports. The feeling hit me in September-October (2018) and I just felt like I had to quit."

Much to Jong's horror the surgeon, who had been hoping just to shave the bone, had to take 2cm off – "a huge amount when every cm matters" Jong said. But right at that lowest moment, the Dutch athlete found her fire. 

"The first time I walked a little bit was in March (2019) and I was crying," she said. "It was a total nightmare. If you don't train for just a few weeks your muscle is wooosh, gone. I couldn't even hoop on my right leg, which was my good leg. That was horrible. 

"But my team got me through. My coach would send me weekly reminders. Every week I thought it could be better and he would say 'wait Fleur, if you look back one month ago you would only walk crying, now you can walk with just a sore face, next month you will be able to walk normally'. He reminded me of where I came from."
Double delight

The one upside of so many immoveable months was that Jong got to focus on her core and on her upper body. And when, finally, her lower body healed, she was an athlete transformed.

The sprinter turned up in Paris feeling cautiously good, but understandably nervous. After 10.20 seconds of her first race, she realised she need not have worried. The Dutch star smashed the women's 100m T62 world record*, before going on to lower it yet further in the final, winning gold in a time of 10.16 seconds. 

"I am so happy that all those hours I put in when I couldn't run have paid me back now," the delighted champion said. "Imagine what I can do if I train normally through the winter? It's a relief, now I can finally move on. I can do this. I believe in myself again."

Remarkably, the fairy tale did not end there. Despite having barely slept – "I was way too excited to sleep" – Jong came out on the second day of competition in Paris and soared to 5.21m in the long jump T62, demolishing another world record and claiming a second gold. 

"I have been long jumping for, I don't know, one-and-a-half months now and I am just happy I can take off," the Dutch star laughed. "In the air I don't know really what I am doing."
Sprint kings set the tone

Another athlete who currently looks to be way ahead of the competition despite being a novice of sorts, is Norwegian Salum Kashafali. The sprinter followed up his May debut on the Paralympic Grand Prix circuit, when he broke the men's 100m T12 world record with a 10.58 run in Nottwil, with a an utterly dominant sprint double in Paris. 

"It's tremendous fun, I like it," the infectiously joyful Kasafali said after his 200m triumph. "I am enjoying running more than I ever did before." 

South Africa's own 100m king, Mpumelelo Mhlongo is another liable to light up the looming World Championships in Dubai. The 28-year-old stormed to gold in the 100m T44 on day one, setting a new world record of 11.12 seconds. 

Any discussion of likely 2019 world champions must include Tunisia's remarkable Walid Ktila. True to his relentless form the wheelchair racer grabbed the 100m, 400m and 800m T34 gold medals in Paris. The man who has similarly swept the board at the past three World Championships declared ominously that he "feels strong". 

Paralympic vibes

But it is not just Dubai that the world's finest Para athletes are focused on, with eyes understandably turning towards the bright lights of the Tokyo 2020 Paralympic Games. And, led by five-time PyeongChang 2018 alpine skiing medallist Momoka Muraoka, who shrugged off the fact she only exchanged her sit ski for a racing chair in April this year to win two golds in the women's 100m and 200m T53/54 in Paris, hosts Japan look ready to welcome the world. 

Muraoka's compatriot Toru Suzuki had given the often noisy crowd a taste of what is perhaps to come next year, setting the first world record of the meet on Thursday morning, leaping to 1.92m in the men's high jump T64. 

The stage is now well and truly set for both November's World Championships in Dubai and beyond. 

Full results from the Paris Grand Prix can be found online.

*all world records subject to ratification by World Para Athletics