Francisca Mardones' successful sport switch
Former Chilean wheelchair tennis player shines in athletics
25 May 2018
Imagen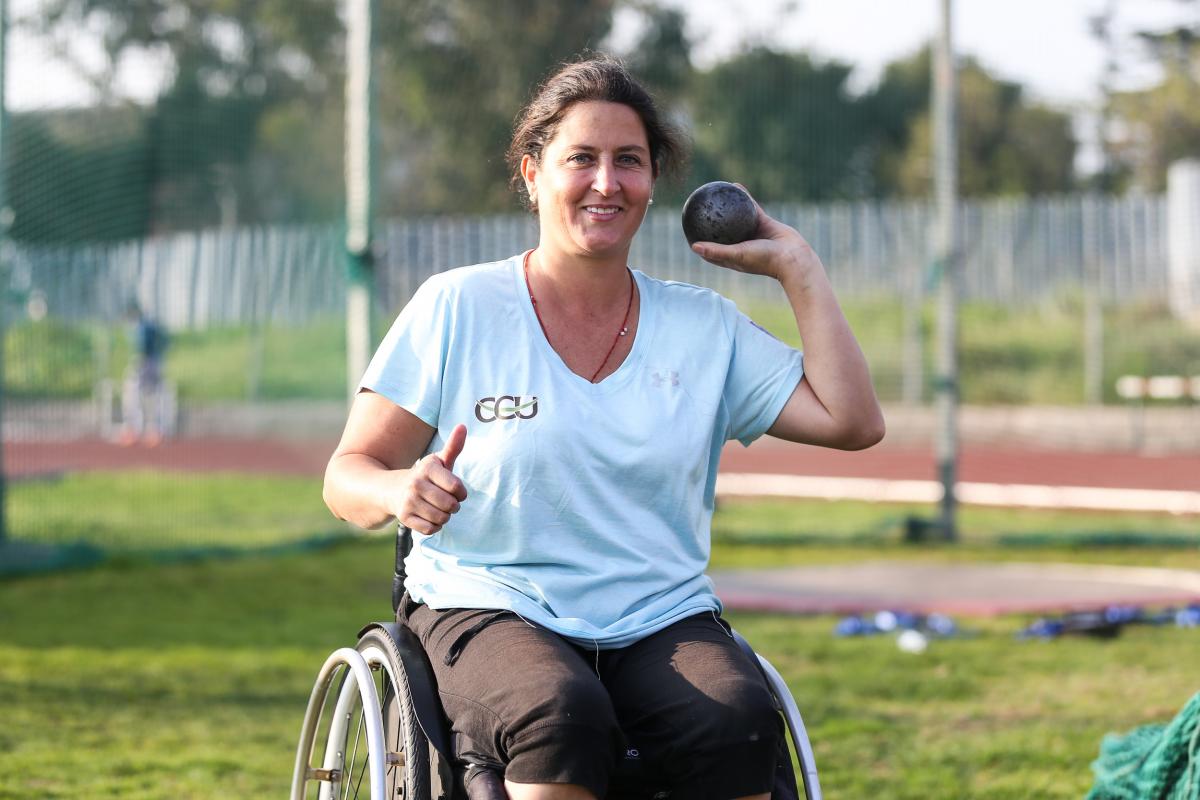 ⒸCristóbal Martín-MINDEP
By Laura Godenzi I For the IPC
"I've received a lot of positive feedback from supporters and many said that it is great to see how I am applying my strengths in a new setting. It requires a lot of effort and dedication but we Para athletes have proven to be able to reinvent ourselves and our capacities over and over."
Chile's former wheelchair tennis player Francisca Mardones is going through an eventful period in her career. Only nine months after taking up athletics she has already set a new Americas record* in the women's shot put F54 at the Sao Paulo Grand Prix in April.
Her quick success came as a big surprise. "I was extremely happy and I felt very satisfied with my result. But the biggest satisfaction came from the fact that I realised that there is so much for me to accomplish in this new sport," she said.
Her excellent performance inspires her to set sights on bigger goals for the future. "A month ago my aim was to learn, train, and practise. Now, with the results I obtained in Brazil, I can imagine myself being a finalist at Lima 2019 and Tokyo 2020," she said.
"I even dream about winning a medal."
A year ago this thought would have never crossed Mardones' mind. After being on the Wheelchair Tennis Tour for 11 years, becoming world No.11 and competing in two Paralympic Games, she was forced to retire following a domestic accident which caused her nerve damage.
"I have had a problem on my neck that affects my arms, but after the accident it got even worse. It was difficult for me to accept that I couldn't move fast on the court anymore."
Fortunately, she remembered an encounter with Ricardo Opazo, coach of track athlete and Chile´s only Paralympic gold medallist in history Cristian Valenzuela.
"Ricardo had been telling me since 2012 that I would be suitable for throwing events. The thing is that back then I was fully focused on London 2012 and later I wanted to compete at Rio 2016 so I never really considered switching sports," she said.
But, after the accident, this proved to be the best way for her to stay involved in Para sports. "I don't have to move in my wheelchair like before but I can still use all my strength. Athletics gave me back my love to practise. Each day I enjoy more this feeling of throwing the shot put," she said.
She could also adapt many exercises from her former training routine into the new one.
"Initially, it was a bit difficult to find out what type of training I needed to be good at this new sport. However, my coach Rodolfo Ortiz and I discovered that the explosive power that I used on the court is perfect to throw.
"When doing discus throw, for example, I use a similar technique as that of my forehand, which helps with the acceleration as well."
Her transition to athletics has also been well received outside the sporting arena. "I've received a lot of positive feedback from supporters and many said that it is great to see how I am applying my strengths in a new setting," she said.
"Many Para athletes before me did the same. It requires a lot of effort and dedication but we Para athletes have proven to be able to reinvent ourselves and our capacities over and over."
*subject to ratification by World Para Athletics