Gold medal a story of resilience for canoeists Fernando Rufino, Edina Mueller
Canoe competition concludes at Tokyo 2020 with five Paralympic champions celebrating
04 Sep 2021
Imagen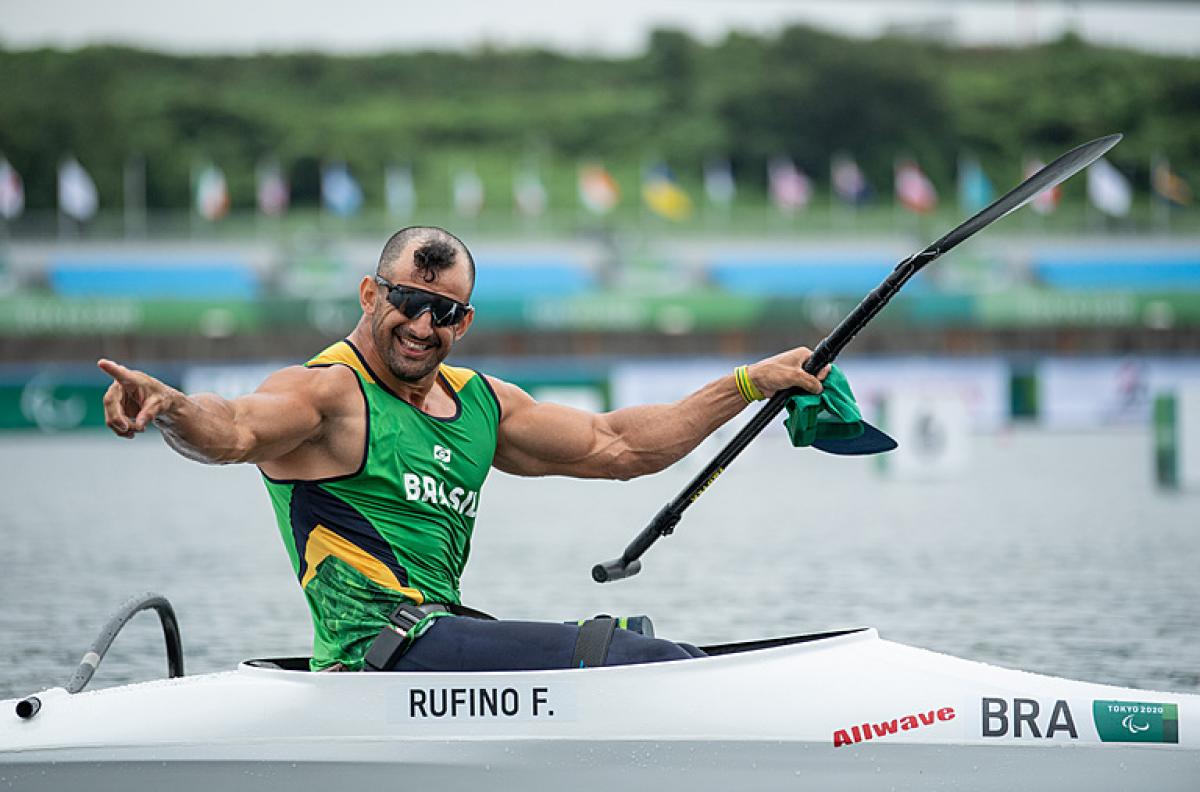 ⒸOIS
By Ros Dumlao and OIS
From a kid who grew up on a farm, to a mother who endured doubts about her comeback — the gold medals meant something different for each winner on the last day of canoe at the Tokyo 2020 Paralympic Games on Saturday (4 September). 
Brazil's Fernando Rufino, nicknamed 'Cowboy,' won the men's VL2 race, two seconds ahead of the USA's Steven Haxton. In the first Games with va'a events, the Brazilian collected his first Paralympic gold medal that signified all the trials and tribulations he had overcome in life.
"This is a story of a guy from the farm, the deep countryside really, and it's unbelievable to think that this guy just won the biggest sport event on the planet," said the 36-year-old.
He competed earlier this week in the kayak event, but proved his biggest strength is in the va'a, having secured his ticket in the discipline back in May. But that is only part of his story. 
"You cannot but remember from where you came from. I used to go to school on a horse, the first sneakers that I ever wore when I was 27 and I started doing sports. Before that it was just boots," continued, Rufino, who was ran over by a bus at 21. It was his father who encouraged him to try walking again, and his family supported him throughout his rehab.
"Now I'm here with a medal that everybody wants, it's very emotional. That makes me think about every single person with no opportunities, but they're trying to do their best."
For Germany's Edina Mueller, seeing her son at the finish line made her gold feel more special. A Paralympic champion in wheelchair basketball at London 2012, she switched to canoe and took silver at Rio 2016. 
She gave birth to her son Liam in January 2019 and returned to training seven weeks later. The odds seemed against her in her Paralympic comeback. 
Ukraine's two-time World champion Maryna Mazhula was the favourite in the women's KL1. But, in dramatic fashion, Mueller edged her opponent by a split second to finish the 200m course in 53.958 seconds. 
"After Liam was born, there were a lot of people who didn't believe in me and in us, so proving them wrong feels really good," the 38-year-old said. "And just proving that you can perform as a mother if you have the right circumstances and the right team behind you. It's a good feeling to show that this works."
Australia's Curtis McGrath, earned his second gold of the Games in the men's VL3 competition, and the third of his career. It added to the KL2 gold he won earlier this week, which was the title he defended at Rio 2016. 
The British were soon back to dominant ways, Charlotte Henshaw and Laura Sugar winning gold in the KL2 and KL3, respectively. 
"My training group, all four of us have medals now," said Sugar. "It only looks good for Paris 2024.