Tokyo 2020 canoe sprint starts with a Kiss
Hungarian teenager Peter Pal Kiss won gold in the men's kayak single 200m KL1
03 Sep 2021
Imagen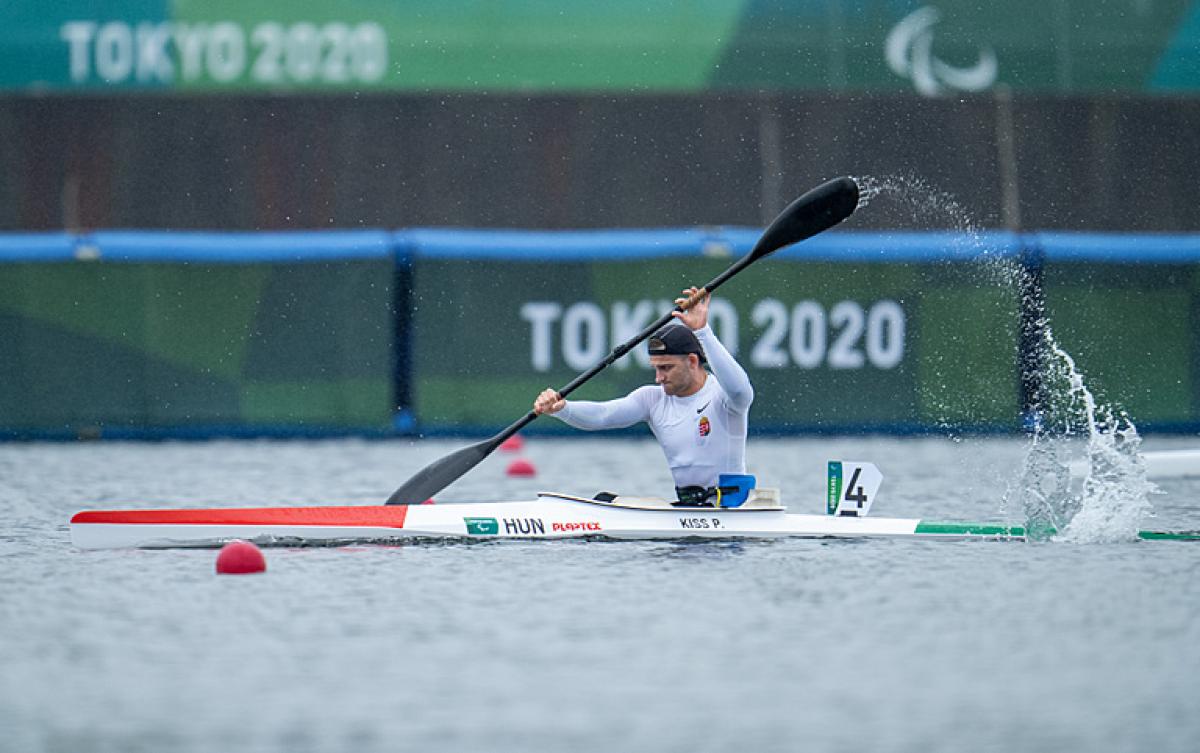 ⒸOIS/Thomas Lovelock
By Ruth Faulkner I For the IPC
World champion Peter Pal Kiss of Hungary lived up to his reputation with a definitive win in the men's kayak single 200m KL1 at Sea Forest Waterway on Friday (September 3).
Kiss clocked 45.447 seconds, knocking almost three seconds off his Paralympic best time from the previous day, and 2.5 seconds ahead of silver medallist Luis Carlos Cardoso da Silva of Brazil, with France's Remy Boulle taking the bronze. As the youngest medallist in Para canoe at the Games, Kiss started strong in his debut.
"I started everything six years ago, but I haven't competed in Rio (when he was 13 year-old), so it's a wonderful feeling to be here, and to win almost every competition in the last three years. It's a dream come true."
"I feel satisfied that I achieved that much on that age, I just turned 18 in May. Obviously there is more to come, but I feel like the work I've been doing with my coach has already paid off," he said.
In the first ever va'a competition Emma Wiggs of Great Britain led the pack for the women's single VL2 , winning with a personal best of 57.028 seconds. She had a clear lead finishing nearly four seconds ahead of Australia's Susan Seipel who took silver, while Jeanette Chippington gave Britain a second podium success with the bronze.
The win was Wiggs' second Paralympic gold. She won the women's kayak single 200m KL2 at Rio 2016.
"It does feel just incredibly emotional," said Wiggs through tears. "Just because of the struggle that everyone's had across the globe, and also to get these Games on."
In the men's kayak single 200m KL2, Australia's Curtis McGrath edged 1.077 seconds ahead of Ukraine's Mykola Syniuk to secure gold, with Federico Mancarella taking the bronze.
McGrath fended off some early challenges to win his second Paralympic gold in a time less than three-tenths of a second off the Paralympic best mark he had set in the semi-finals.
"I'm super-happy with my performance," said McGrath, who will also be competing in the VL3 event on 4 Sept. "Going back-to-back is one of those feelings that confirms to myself that I can come to the biggest event and perform. Another day tomorrow and hopefully the same results."
The final race of the day was the most hotly contested, with Ukraine's Serhii Yermelianov holding off Leonid Krylov of the RPC in the men's KL3 event. Yermelianov came into Tokyo 2020 as defending champion and heavy favourite, and he did not disappoint.
"It's a difficult job," he said. "It has been five years (since winning in Rio) and I'm very tired. I need a vacation."