No party time for Ntando Mahlangu with exams looming
'From athletics to academics, I want to give my 100 percent. I have my vacation now only in December'
03 Sep 2021
Imagen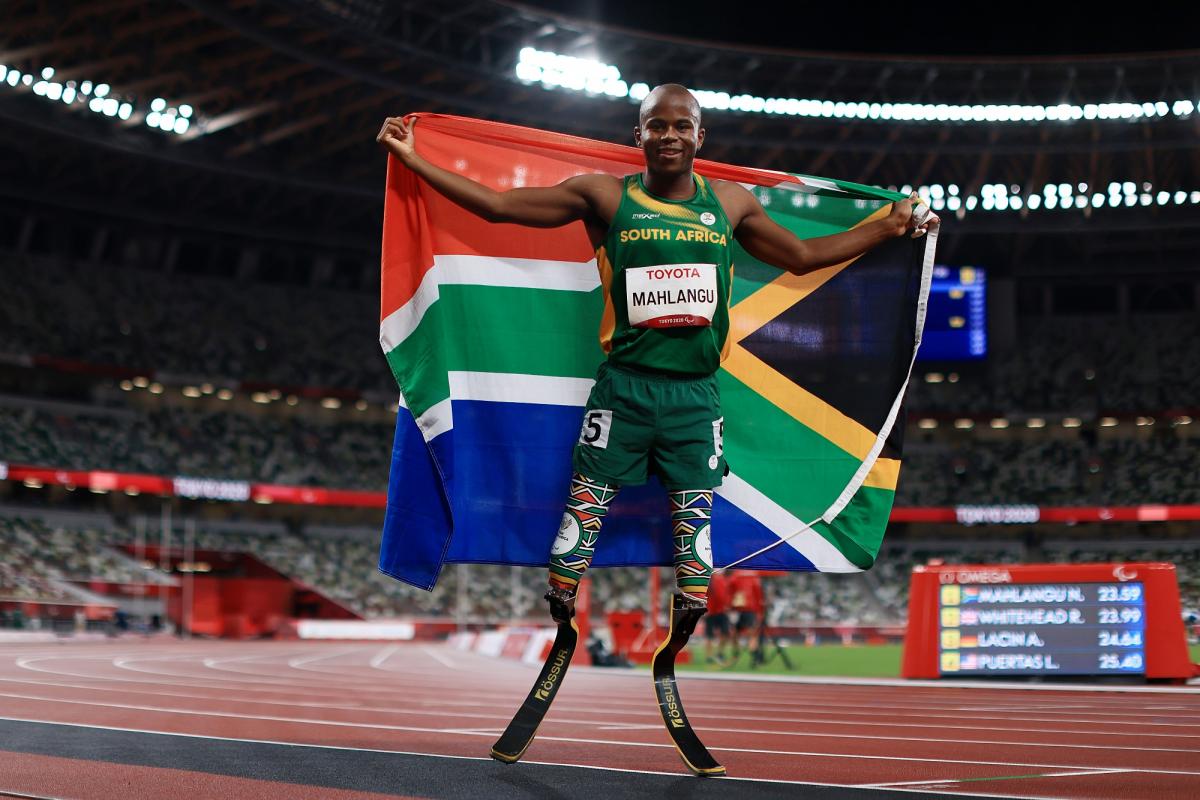 ⒸBuda Mendes / Getty Images
By ND Prashant I For the IPC
There is no time for South African Paralympic star Ntando Mahlangu to celebrate his double gold medal winning performance at the Tokyo 2020 Paralympic Games. 
The 19-year-old double amputee stormed to the finish to clinch gold in the men's 200m T61 final with a time of 23.59 seconds and completed a memorable grand double at the Olympic Stadium on Friday but has to immediately switch his focus to studies.
Mahlangu has his high school exams slotted from next week and he is equally keen to set the pace in his academics like he does on the track.     
"I will be going back home and immediately preparing for my exams. I have my vacation now only in December. So, my high school final exams are due. I'm returning on Monday and writing the exam on Tuesday until the 30th of September," said a jubilant Mahlangu proudly sporting his medal. 
The 'Rising Phoenix' star went on to reveal that he has travelled to Tokyo with his books and was trying hard to balance his time wisely in between his training.
"I have kept my books in the Village, but I didn't carry it here. When I push myself, I think I'm a pretty smart kid and that's why I want to get good result to make sure I finish by studies on a high. From athletics to academics, I want to give my 100 percent," said Mahlangu, who however would be making sure to sleep with both the medals by his side.
"I'm so excited, it's happening now and as I 'm holding the medal I realise what I have done. It is a wonderful experience, something I had dreamt off. I'm a happy man. I think the best moment is having two gold medals. I'm going to enjoy the moment when I go to bed and put both the medals next to each other and sleep with it," said Mahlangu, who shot into limelight after winning a silver in Rio at the age of 14.  
Mahlangu, who set a world record on his way to a long jump gold medal earlier in the event, was a clear favourite going into the 200m T61 final, having set a world mark of 23.03 seconds in 2019.
"I think the long jump gold medal reduced a bit of pressure. I'm grateful for how things have unfolded today. This year has been beautiful for me, and I can now look back and think about the good times," said Mahlangu, who went to reveal that he has a huge fan base ever since the release of Rising Phoenix and so was pumped in the run up to the Games.
Mahlangu won the long jump T63 final 
"People started recognising me. So, coming into the Paralympic Games I had a lot of people were supporting me from home. Phone is booming right now with messages and people back home are very excited. 
"The goal coming into the Paralympics was to keep the people excited and have a good weekend for myself and also for people of South Africa. I did it for the people of South Africa and I'm immensely happy about it."
Mahlangu also hailed the performance of second-placed British veteran Richard Whitehead, who had beaten the South African at Rio 2016.
The 45-year-old was in the lead and had opened a good gap on Mahlangu and the rest of the field. However, the Mahlangu outsprinted the Briton 100 metres from the finish and in the end it was a convincing win. Whitehead settled for silver with a time of 23.99s, followed by German Ali Lacin with 24.64s.
"I think coming into the Games, it was not about me. It was about representing the class T61 and I took it to another level in the long jump. Today, it was running with Whitehead for one last time, and it was sad for me. Things come to an end but I'm lucky that it came to an end like this (on a winning note)."