High jump is an easy obstacle for med school student Sam Grewe
Heavy academic work load served as a concentration tool for the University of Michigan student to win the men's T63 event in Tokyo
31 Aug 2021
Imagen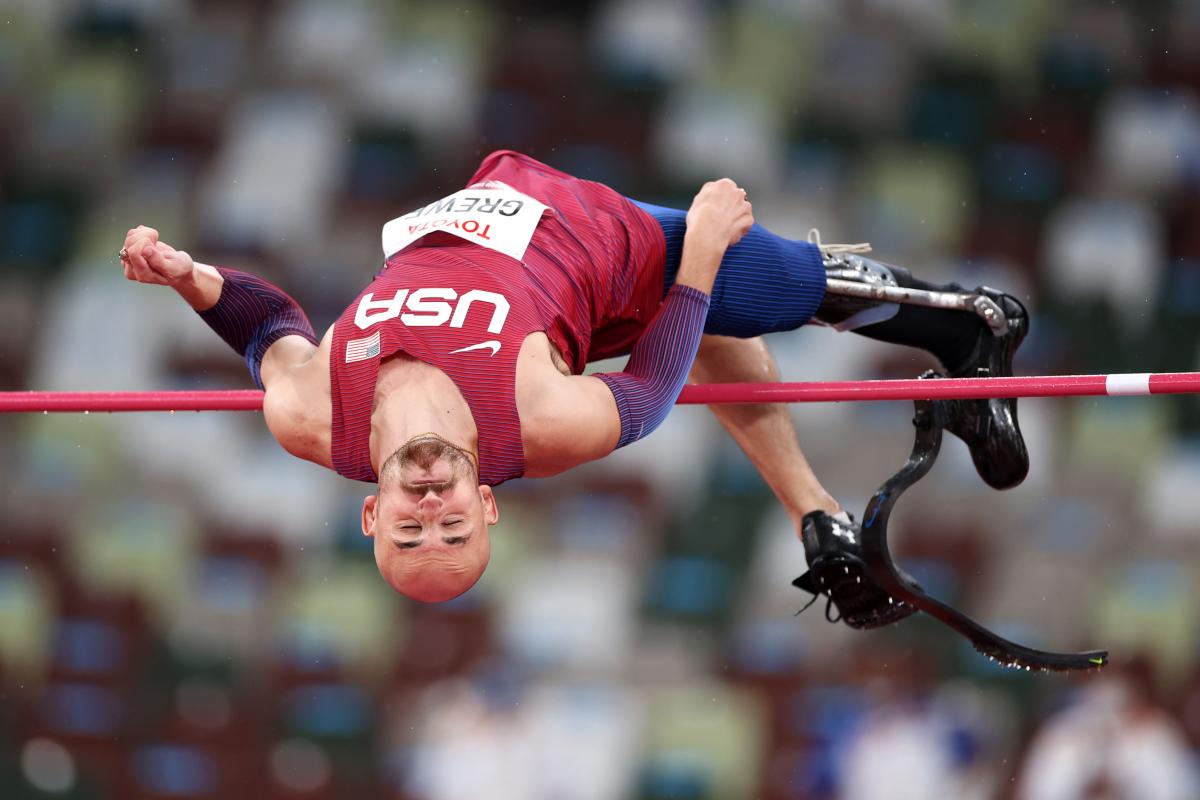 ⒸAlex Pantling / Getty Images
By OIS
Preparing to compete in the Paralympic Games is no easy task for any athlete. But what happens if you decide to add another very important cycle to that already intense training? Ask Sam Grewe. The American just won a gold medal in the men's high jump T63 just one month after he started medical school at the University of Michigan.
"They went full steam ahead. I swear every day in med school is like a week in undergrad. I studied every day here. I studied earlier today", he told the Olympic Information Services (OIS). 
According to Grewe, the heavy study load has helped him focus for competition:
"I have been doing probably six hours of schoolwork every day while I'm here, and honestly it's been very helpful, kind of therapeutic for me, keeping my mind off things, keeps me off my feet, keeps me from failing when I get back."
The American finally went to the top of the podium after getting a silver medal at Rio 2016, an episode that served as an incentive for him: 
"That's what fuelled me. I came out and I missed the first two attempts at 1,88m. I remember very vividly at my starting line looking up at the board and seeing my name second, and I knew at that jump I was going to clear it because I was not ready to walk away with the silver again".
Sam Grewe chose medicine as a career due to his experiences as a patient. 
"When I lost my leg I had a great healthcare support system - great doctors, great nurses - but none of them had disabilities. When I lost my leg I found myself kind of lost, they didn't point me in any sort of direction. I felt like I was dumped out into the real world one leg down. Spending two years in the hospital, seeing the under-representation of people within medicine with disabilities was a big driving factor for me to go on and pursue a career in medicine so I can fulfil that role for somebody else," explained the American, who lost one of his legs at 13 years old, when he was diagnosed with cancer.
"I wanted to be the doctor who taught a kid about adaptive sports, who helped them learn the opportunities that exist for a person with a new disability, because I had no idea and I was in a really dark period because of that." 
The high jumper said that things are already starting to make sense to him and mentioned an experience he had before his competition at Tokyo 2020.
"I got off the bus, walked to the track, and a local Japanese man handed me a note that he had typed up for me. He had seen me high jumping. His 10-year-old son was diagnosed with the exact same bone cancer that I was diagnosed with. He saw me jumping and he saw just how incredibly possible and capable I am with my surgery, with my amputation. His son went through with the same decision and now he's playing soccer in middle school."
"It's just coming full circle. I'm not even a doctor yet and it's great to see that. I'm filling that role, getting people involved in adaptive sports and seeing what's possible."
When asked about his future specialty, he said: 
"If I had to choose right now, I'd go into orthopaedic surgery. I feel like it's just karma to cut a few legs off here and there."
One thing he knows for sure is that he will compete even during medical school:
"After that jump I don't see how I could walk away. I know my training is not going to be like it was in undergrad. I competed for Notre Dame's team in undergrad. I can't walk away right now. One of the really great things about the University of Michigan, where I'm at, is that they have an incredible adaptive sports team. Maybe I need a few more hours of the day to be academic, but it's not like I can just not be doing something fitness-related. It's so therapeutic to go out there and get moving, that it might just as well be high jump," affirmed the three-time world champion and current record holder in the high jump T63.