Great Britain and Italy announce squads for Bydgoszcz 2021
Italy will travel to Poland with 23 athletes while ten reigning European champions are among the 47-strong British team
30 Apr 2021
Imagen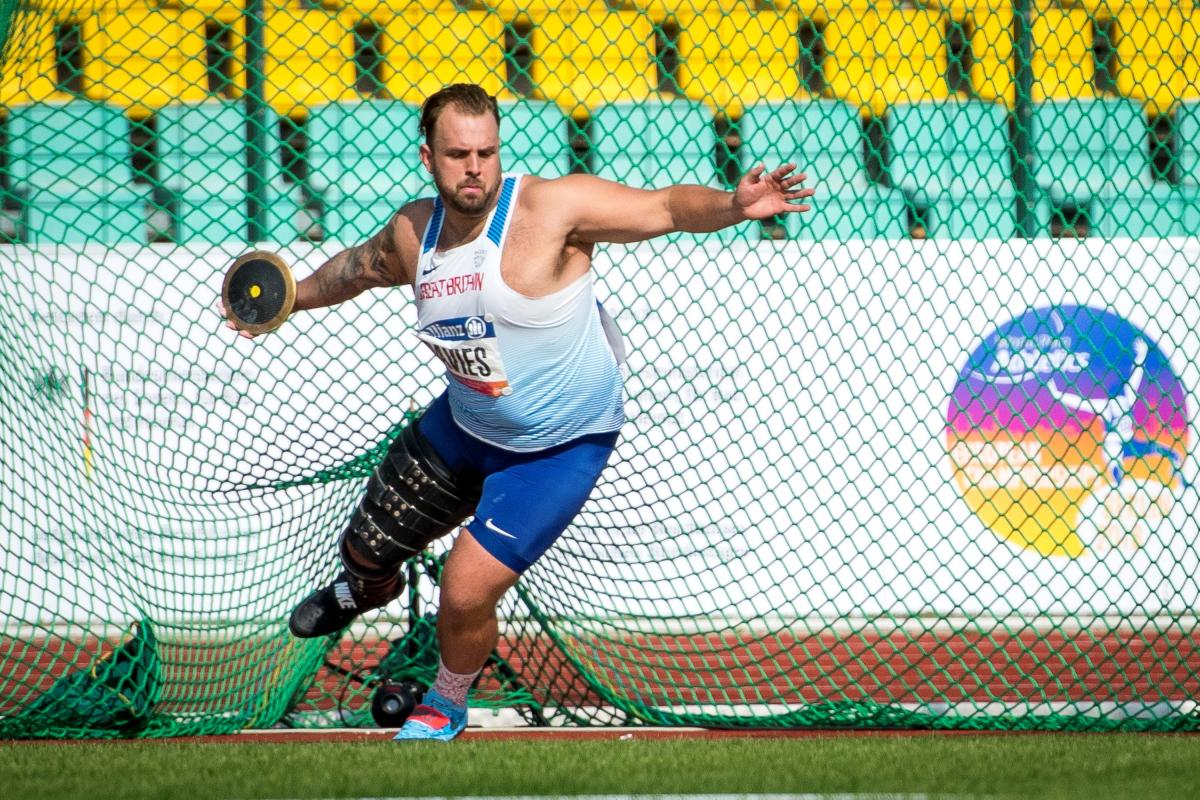 ⒸRalf Kuckuck/Berlin 2018 LOC
By World Para Athletics
Great Britain and Italy have announced their squads for the Bydgoszcz 2021 European Championships in Poland.
Ten reigning European champions are among the 47 British athletes selected to compete in Bydgoszcz from 1 to 5 June.
  
Aled Davies, Sophie Hahn, Maria Lyle and Richard Whitehead are among those set to compete at the Zdzisław Krzyszkowiak Stadium. 
Six-time European champion Aled Davies will be seeking his fourth consecutive shot put F63 title as the 2016 Paralympic gold medallist prepares for his title defence in Tokyo this summer. 
Four-time European champion Georgie Hermitage returns to the British team having retired from the sport in early 2020. However, following the birth of her second child last year, the Paralympic and world champion returned to training, running her first race since 2018 last weekend and has been selected for the 400m T37 in Poland.
 
Three British athletes will compete in 100m RaceRunning events including world champion Kayleigh Haggo, who broke the women's 400m RR2 at the weekend. 
"The European Championships provide a great opportunity for our athletes to compete at a high level in a very important year," Paula Dunn, the British Para Athletics Head Coach said. 
"It is a fantastic competition opportunity for those athletes who are building up to Tokyo, as well as providing a platform for our Paralympic Futures Academy and Development Academy athletes who are on the pathway for Paris and Los Angeles," Dunn added.
Great Britain finished second in the medal standings in the last Europeans in Berlin, Germany in 2018 (20 gold, 14 silver and 16 bronze). 
Italian team 
Italy will take a 23-strong team to Poland, including Paralympic and European champion Martina Caironi in the women's 100m and long jump T63.
Giuseppe Campoccio is another Berlin 2018 European champion in action in Bydgoszcz.
"A mix of consolidated, experienced athletes, confirmed expectations and future hopes mark the team that is looking forward to the Tokyo Paralympics in August, but at the same time has already started an important path to Paris 2024," National Team Coach Vincenzo Duminuco said.
"Even if the team lacks some athletes who are among the world's top, it certainly has a good technical level and is competitive enough to conquer important results in the continent," Duminuco added.
Italy finished in 10th place at Berlin 2018 with six gold, three silver and eight bronze.
The British team for Bydgoszcz 2021:
Women
Fabienne Andre – 100m and 800m T34
Olivia Breen – Long jump and 100m T38
Lydia Church – Shot put F12  
Libby Clegg – 200m T11 and 4x100m Universal Relay
Kayleigh Haggo – 100m RR3
Sophie Hahn – 100m T38 and 4x100m Universal Relay
Georgie Hermitage – 400m T37 
Sophie Kamlish – 100m T64 and 4x100m Universal Relay
Maria Lyle – 100m and 200m T35
Polly Maton – Long jump and 100m T47 
Anna Nicholson – Shot put F35 
Ellie Simpson – 100m RR3 
Ali Smith – 100m, 400m T38 and 4x100m Universal Relay
Stef Reid – Long jump T64 
Emily Stewart – Discus F38
Hannah Taunton – 1500m T20 
Vanessa Wallace – Shot put F34 
Mel Woods – 100m, 400m, 800m and 1500m T54
Men
Ola Abidogun – 100m T47 and 4x100m Universal Relay
Jonathan Adams – Shot put F35 
Columba Blango - 400m T20 
John Bridge – 400m T47 
Jonathan Broom-Edwards – High jump T64 
Shaun Burrows – 400m T38 
Richard Chiassaro – 400m and 800m T54
Barney Corrall – Long jump T38 
Aled Davies - Shot put F63 
Kyron Duke – Shot put F41 
James Freeman – 100m T33 
Dan Greaves – Discus F64 
Harri Jenkins – 100m T33 
Rhys Jones - 100m and 200m T37 
Nathan Maguire – 100m, 400m, 800m T54 and 4x100m Universal Relay
Stephen Miller – Club throw F32
Luke Nuttall – 1500m T46 
Javaughn Parkes – 100m T36
Ross Paterson – 100m and 400m T38
Dan Pembroke – Javelin F13 
Zac Shaw – 100m T12 and 4x100m Universal Relay
Daniel Sidbury – 400m, 800m, 1500m and 5000m T54 
Luke Sinnott – Long jump T63
Zak Skinner - Long jump and 100m T13 
Rafi Solaiman – 100m RR3 
Alexander Thomson – 100m and 400m T38 
Harrison Walsh – Discus F64 
Richard Whitehead – 200m T61 
Thomas Young – 100m T38 and 4x100m Universal Relay
 
Italian Team for Bydgoszcz 2021:
Women
Martina Caironi: 100m and Long jump T63
Francesca Cipelli: Long jump T37
Arjola Dedaj: 100m, 200m and Long jump T11
Laura Dotto : 1500m T20
Antonella Inga: 100m and Long jump T12
Annalisa Minetti: 1500m T11
Valentina Petrillo: 400m T13
Men
Riccardo Bagaini: 400m T47
Giuseppe Campoccio: Shot put F34
Marco Cicchetti: Long jump T44 
Riccardo Cotilli: 100m and 200m T64 
Ndiaga Dieng: 1500m T20 
Raffaele Di Maggio: 400m T20 
Emanuele Di Marino: 100m, 200m and 400m T44 
Roberto La Barbera: Long jump T64 
Christian Lella: Shot put T20 
Simone Manigrasso: 100m and 200m T64 
Alessandro Ossola: 100m T63
Marco Pentagoni: Long jump T63
Stanislav Ricci: Javelin F63
Nicky Russo: Shot put F35
Lorenzo Tonetto: Discus F64
Irbin Vicco: Long jump F64