Hannah Cockroft aiming to break 100m record in Nottwil
British T34 wheelchair racers aims to continue her track record for breaking world records in Switzerland this weekend.
26 May 2015
Imagen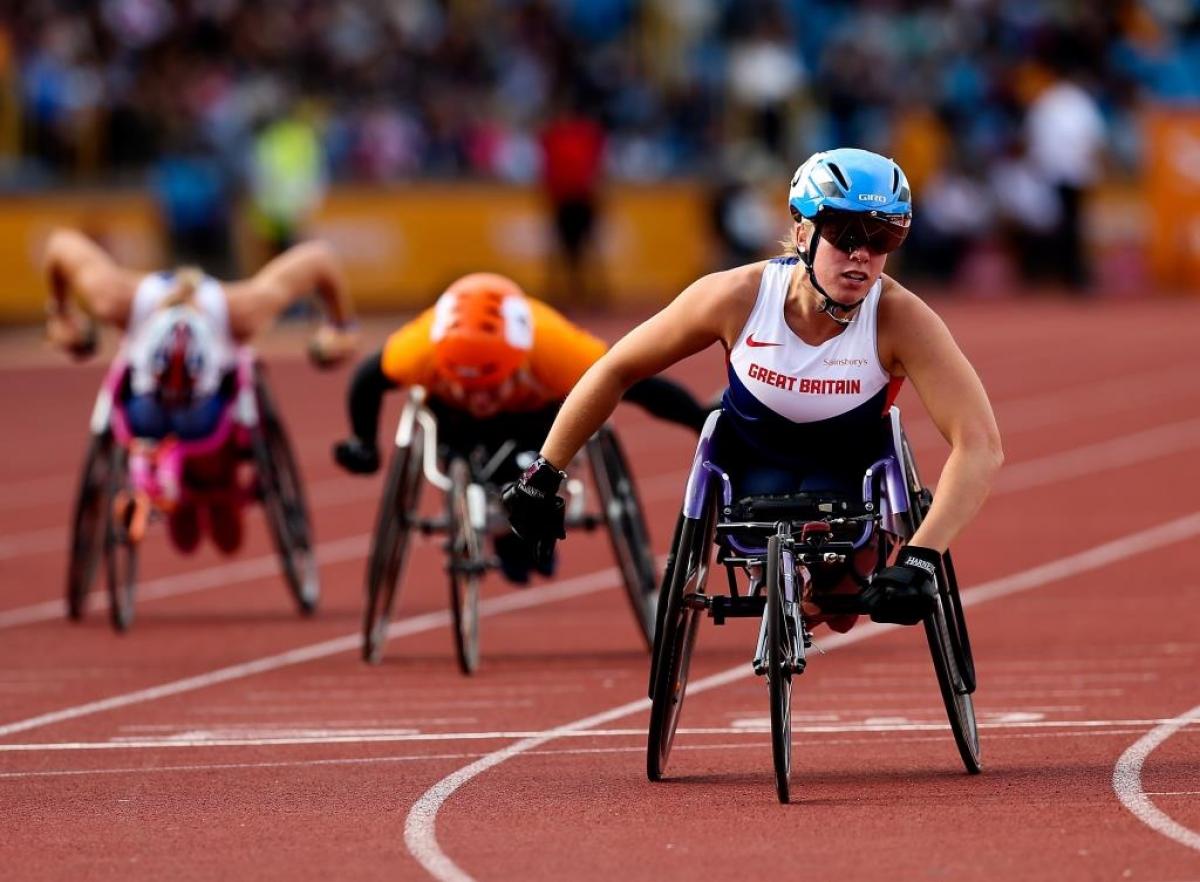 ⒸGetty Images
By IPC
"I want to prove to people that I am not a one trick pony, that I can do more than sprint. But it's a little bit harder than I thought it would be."
Great Britain's golden girl Hannah Cockroft has made a habit of smashing world records in Switzerland, and she has every intention of making sure history repeats itself when she lines up at this week's IPC Athletics Grand Prix in Nottwil, which takes place on 29-31 May.
Last year Cockroft set a new 100m T34 world record at the Sport Arena Nottwil track, clocking 17.31. The year before that, she clocked 17.54 at the Swiss Nationals in Pratteln. In fact, in every year back to 2010, when she clocked 18.68 in Arbon, Cockroft has left her mark in the record books.
This year she is hoping it is business as usual:
"I'm definitely aiming to lower the 100m [record] there – I'd love to go sub 17 seconds in the 100m. That's a big target this year if the wind is in the right place. I have broken a world record [in Switzerland] every year since I started going about four years ago, so I don't really want to break tradition; I'd like to carry that on."
But while the sprint events may seem like formality for the reigning world and Paralympic 100m and 200m T34 champion, the 800m T34 - new to the Paralympic programme as part of the schedule for the Rio 2016 Games - is a different matter.
"I know that all the girls are kind of focusing on the 800m so I have to do that as well. I'm comfortable in the sprint, and I know how to do it. For me in the 800m the challenge is in the tactics," said the multiple T34 world record holder.
Cockroft is the first to admit that adjusting to middle distance racing has not been straightforward. Race strategy – and, consequently, experience – play an all-important role.
"I've got the speed and I've got the endurance but what always messes me up in the race is sitting in the wrong place – just not really knowing enough about tactics, because I just don't have the experience behind me yet," she explained.
"We've been really focusing on that over the winter, with my coach (Jenni Banks) on a bike, sitting in odd places, and me trying to get around her. It's experience that you need to build on and so getting out to races like Switzerland is brilliant. It is perfect practice to see where the other girls are at, a year out from the Rio Games."
One racer whom Cockroft acknowledges she will have to pay particular attention to is silver (200m T34) and bronze (100m T34) world medallist Rosemary Little.
The pair put on a thrilling race in Nottwil 12 months ago as Cockroft crossed the line just 0.21 seconds clear of Little, and the Australian currently tops the 2015 global rankings over 800m. A year has passed since they last met, and Cockroft is aware that second-guessing her opponent's form is not going to be easy.
"It was a really tight race last year so it is a rivalry and it is going to be tough. We are friends on Facebook but you don't really give anything away on there. I see her race results but how was the weather? How was the competition? Were there T54 or T53 athletes in the race or was she on her own? There are so many questions that are unanswered, a time can only really give you an estimate of where they are at. It's about going out there and racing against her."
Being made to fight for victory may not be something that Cockroft is used to – the 22-year-old dominates the sprint events, and has done for a number of years. But with both World Championship and Paralympic medals up for grabs over the next 18 months, Cockroft is determined to make the 800m her own.
"It's scary for me because I can't just know that I can go out and win it and leave everyone behind, I've got to actually fight for everything I get – I think that makes it all the more special as well.
"I'm still a sprinter at heart. I feel comfortable, I feel like I know what I'm doing, whereas in the 800m circumstances can change so much so it's a bit of a daunting race to be going in to. But I'm warming to it.
"I want to prove to people that I am not a one trick pony, that I can do more than sprint. But it's a little bit harder than I thought it would be. I've been unbeaten for seven years now and I don't want to lose that. That's a good history to have. But I like the fact there's no guarantee I'm going to win it."
Of course the prospect of being beaten is something so alien to Cockroft, it makes her all the more determined. With Little pushing her on, it may not just be the 100m T34 world record that is at risk in Nottwil. Is Cockroft's 800m world record also likely to be beaten?
"I really hope so," she admitted. "I feel like I could definitely go for it. The race is there and I'm going to do everything I can to win it, but if the conditions are right, it's a fantastic track, really fast, I think it could be under threat."
They say old habits die hard – so don't bet against Cockroft making history in Switzerland again this weekend.
The IPC Athletics Grand Prix in Nottwil is supported by IPC Athletics international partner Allianz and will feature 350 athletes from 39 countries between 29-31 May.