Hat-trick of titles and world record for Durand at Toronto 2015
The Cuban T12 sprinter won her third gold by breaking the 200m world record she had set just 24 hours earlier.
15 Aug 2015
Imagen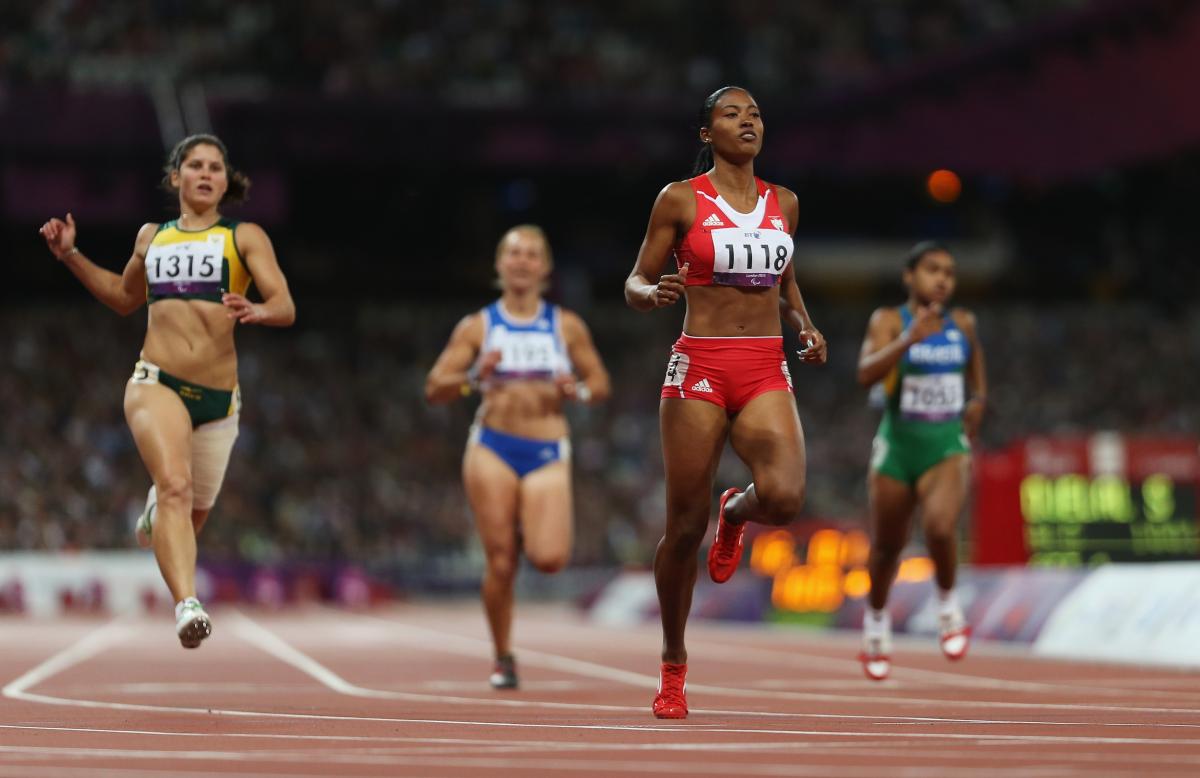 ⒸGetty Images
Cuba's Omara Durand took 0.21 seconds off her own 200m T12 world record to claim her third gold medal of the Toronto 2015 Parapan American Games on Friday (14 August), the final day of track and field action.
The 23-year-old has been in sensational form in Toronto and before her final race had already won 100m and 400m gold and run 11.65 in the heats of the shorter sprint to become the world's fastest female para-athlete.
In Friday's 200m final she made a trademark blistering start to blow away her opponents and reached the line in 23.68, 0.21 seconds faster than the world record she had set 24 hours earlier in the heats.
Well behind Durand in silver and bronze were Brazil's Alica De Oliveira Correa (25.13) and Venezuela's Greilyz Villaroel (26.64).
Trinidad and Tobago's Akeen Stewart (53.36m) also sealed his second gold in as many days with his second world record of Toronto 2015. Twenty four hours after breaking the discus F43 world record he set a new world mark to win the men's javelin F43/44.
The final day of action at the CIBC Athletics Stadium saw Brazil cement their position at the top of the medals table with nine gold medals.
Two of them were won by Terezinha Guilhermina (24.89) who first beat teammate Thalita Simplicio Da Silva (25.78) into silver in the women's 200m T11.
Less than two hours later, Guilhermina (57.45) led a Brazilian sweep, this time with a Games record in the 400m T11. Da Silva (59.62) again took silver and Dos Santos (1:00.14) the bronze.
An Americas record in the 400m T38 sealed Veronica Hipolito's (1:03.42) third gold of the Games. She took nearly a second off her previous best as Canada's Leah Ainslie Robinson (1:10.75) also broke the T37 record to win silver. Bronze went to Mexico's Maria Zamora (1:11.67).
Paralympic champion Alan Oliveira (22.08) won the 200m T43/44 overtaking the USA's David Prince (22.69) with 70m to go. Both sprinters broke the respective T43 and T44 Games records.
"I ran against this same athlete in Guadalajara. I lost to him and got silver. I've won my first Pan Am medal. I ran 22.08, near 21 seconds, which is what I intended to do. It's small and big details to get to the World Championships," said Oliveira, who did not compete much in 2013.
"For me it makes me shut up a lot of people who said I wouldn't return. I think I'm starting to return," he added.
After success in the long jump and over 100m, Mateus Evangelista Cardoso (24.02) won his third gold after winning the men's 200m T37. Venezuela's Omar Monterola (24.20) and Brazil's Paulo Pereira (24.70) claimed silver and bronze respectively.
Running into a 1.2m/s headwind, teenager Petrucio Ferreira (21.51) was just 0.02 outside his own world record as he won the 200m T47 to add to the 100m gold he won earlier in the week. His teammate Yohansson Nascimento (22.11) took silver, holding off Cuba's Ernesto Blanco (22.28) into bronze.
"For it being my first Parapan, I'm very happy for having won two gold medals, both in the 100 and the 200 m," said Ferreira.
"I am returning from injury, I had only two weeks to practise before coming here. So I'm very happy with the result."
Odair Ferreira Dos Santos (4:12.16) beat Canada's Jason Dunkerley (4:12.65) to the line in a thrilling finish in the men's 1,500m T11. Chile's Cristian Valenzuela (4:16.78) completed the podium.
A Games record by Yeltsin Ortega Jacques (3:56.73) saw him a clear winner in the men's 1,500m T12. The race for second and third was a close one with Colombia's German Angarita (4:06.23) leading home Venezuela's Roger Rodriguez (4:08.55).
Fittingly, Brazil (43.31) won their ninth and final gold of the day in the men's 4x100m T11-13 relay with an Americas record. Argentina (46.00) were second and Colombia (46.10) third.
The day started with a flurry of Americas' records, with two coming in the first race.
Mexico's Daniela Velasco (2:16.90) crossed the line first in the women's 800m T12 and took nearly a second off the previous record. Colombia's Maritza Arango Buitrago (2:20.33) broke the T11 record to take silver whilst her teammate Marcela Gonzalez Arias (2:22.59) claimed the bronze.
Argentina's Yanina Martinez (14.31) sealed the sprint double by taking 0.35 seconds off the Americas record in the women's 100m T36. Trailing her in silver and bronze medal positions was Brazil's Tascitha Oliveira Cruz (14.95) and Colombia's Martha Liliana Hernandez Florian (15.06).
There was a Venezuelan one-two in a thrilling women's 100m T37 race which saw just 0.06 seconds separate all three medallists. Yescarly Medina (14.68) took gold just ahead of teammate Berliana Castellanos. Bronze went to Argentina's Lis Scaroni (14.74).
Raymond Martin won his third gold of the Games in the 1,500m T52, an event that saw US athletes sweep the podium. Steven Toyoji (3:52.88) claimed silver and Isaiah Rigo (3:58.65) the bronze.
Martin's teammate Chelsea McClammer (56.54) finished the Games with two golds from two events after topping the podium in the women's 400m T53. Shirley Reilly (58.64) made it a US one-two, with bronze going to Canada's Jessica Frotten (1:01.13).
Alex Dupont (3:07.61) underlined why he is Canada's best T54 wheelchair racer collecting his third gold of the Games with a win in the men's 1,500m. Teammate Josh Cassidy (3:07.98) made the podium once again taking silver, whilst Colombia's Javier Rojas Diaz (3:08.08) took the bronze.
"I came with confidence mostly because you have to, if you come here expecting to finishing second or third that's what you will do. So every time I go somewhere I go there thinking, I will win whether it makes sense or not," said Dupont.
Canada's Brent Lakatos (48.91) made it three from three, adding the 400m T53 to his 100m and 800m titles. Brazil's Ariosvaldo Fernandes Da Silva (51.03) and Colombia's Jesus Aguilar (51.25) took the other medals.
Colombia's Juan Moreno Marquez (57.62) completed his hat-trick of sprint titles in Toronto in style with an Americas record in the men's 400m T36. Joining him on the podium was Argentina's Enrique Rotondo (59.62) and Nicaragua's GDJ Cuadra Holmann (59.96).
Field events
In the field Cuba's Leonardo Diaz (10.68m) broke the Americas records to win the shot put F56 and his teammate and world record holder Luis Gutierrez (7.47m) won the long jump T13.
Mexico's claimed four golds in the field thanks to an Americas record in the women's javelin F11/12 by Rebeca Valenzuela (36.33m), a Games record from Eliezer Gabriel Beunaventura (47.67m) in the men's javelin F46 and a personal best from Maria Salas Marin (11.69m) in the javelin F53/44. Their final gold was courtesy of Karla Caudillo Torres (22.30m) in the women's javelin F57.
The USA's Angela Marsden (18.77m) topped the podium in the women's javelin T55/56 after she threw a new Parapan record.
Overall
After 114 medal events, Brazil finished top of the medals table after winning 80 medals made up of 34 gold, 28 silver and 18 bronze.