Heinrich Popow changing lives with Ottobock
Paralympic champion helping runners to take first steps with blades
31 Oct 2017
Imagen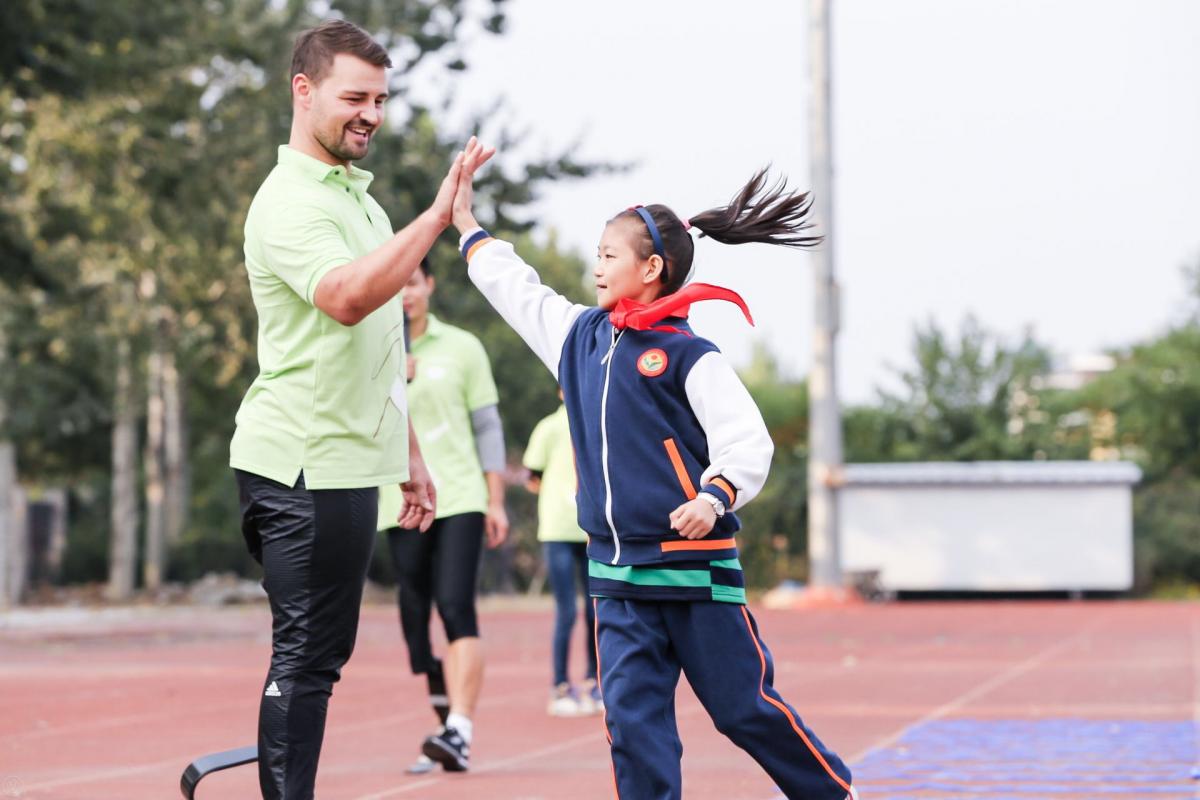 ⒸIPC / Ottobock
By IPC
Paralympic champion Heinrich Popow knows all about the challenge of learning to compete on blades. And after the help he received on his journey, he is now hoping to do the same for others around the world.
The German sprinter and long jumper has been working with Ottobock to host a series of running clinics this year that helps amputees get fitted with prosthesis and learn the art of running with a blade.
"I am who I am right now just because of the people who helped me during my life, so I want to help others," Popow said. "I want to play a role to bring positive information to all other amputees."
So far, Ottobock Running Clinics have been held in Switzerland, Argentina, China and Japan, with the final stop this year on 11-15 November in Saudi Arabia.
In Beijing, China, almost 100 people applied for the clinic through a social media marketing campaign. Fourteen were selected to experience the best in blade technology.
The participants ranged from beginners to experienced runners, with Popow providing support, encouragement and coaching.
Runners either used their own running equipment or had the opportunity to trial the Ottobock running knee and blades. Experienced prosthetists helped fit the participants with the equipment and provide professional advice in using it.
"There was zero complaining during the process and nobody said 'I can't do it,'" Popow said of the clinic in Beijing. "Their positivity and motivation are very impressive. Actually, there were new users, particularly one girl who had an amputation surgery this February.
"All of them were involved in Running Clinic with huge passion, no one even said that he or she can't do it or don't want to do it. I have travelled to so many countries for this project, almost every time a comment of the pain and regrets jump out of some one's mouth. But this time, no one quit. Every one focused on the positives and had a lot of passion and motivation."
Beyond all expectation
Twenty-five-year-old Liu Min had her right leg amputated following a 7.9 earthquake in 2008 in Wenchuan. After participating in the running clinic, Liu said the feeling of running again was strange but familiar.
"This experience is far beyond my expectation," Liu said. "Every amputee is a fighter in life. To be able to run seems simple but actually there are lots of professional knowledge and information behind it. Each step we achieved is poured by sweat and blood through hard work."
Popow has seen the unique differences in how different cultures experience the running clinic.
"In China, people like to know the information and the deep understandings of what we are doing," said Popow. "Whereas in Australia, people just want to do more practices in track, more running and less talking. In Argentina, people were more emotional, some of them were very [emotional], their eyes were full of tears during the event. So, the culture is different."
Aspiring Paralympian Jiang Heng, 19, lost his left leg above the knee to bone cancer two years ago. Although already an athlete who trains daily, Jiang discovered new knowledge on running with prosthesis. He said Heinrich improved his running skills and corrected his bad running habits.
An active cyclist, 42-year-old Jiang Honghai has continued exercising even after losing his left leg in a car accident when he was 19. The clinic was his first time running with a blade. He said it felt great that he can run on a track again and refreshed his understanding of possibilities. He even hopes to run a marathon or triathlon in the future.
"There are always possibilities that we can get our normal life back," Popow said. "The normal life is what you plan for instead of others' decisions. Build up your will and make it strong, you will achieve the goal you set up."