Para Athletics Explained: Keeping the wheels in motion
Team behind repairing and maintaining equipment at London 2017 tell us to 'expect the unexpected'.
20 Jun 2017
Imagen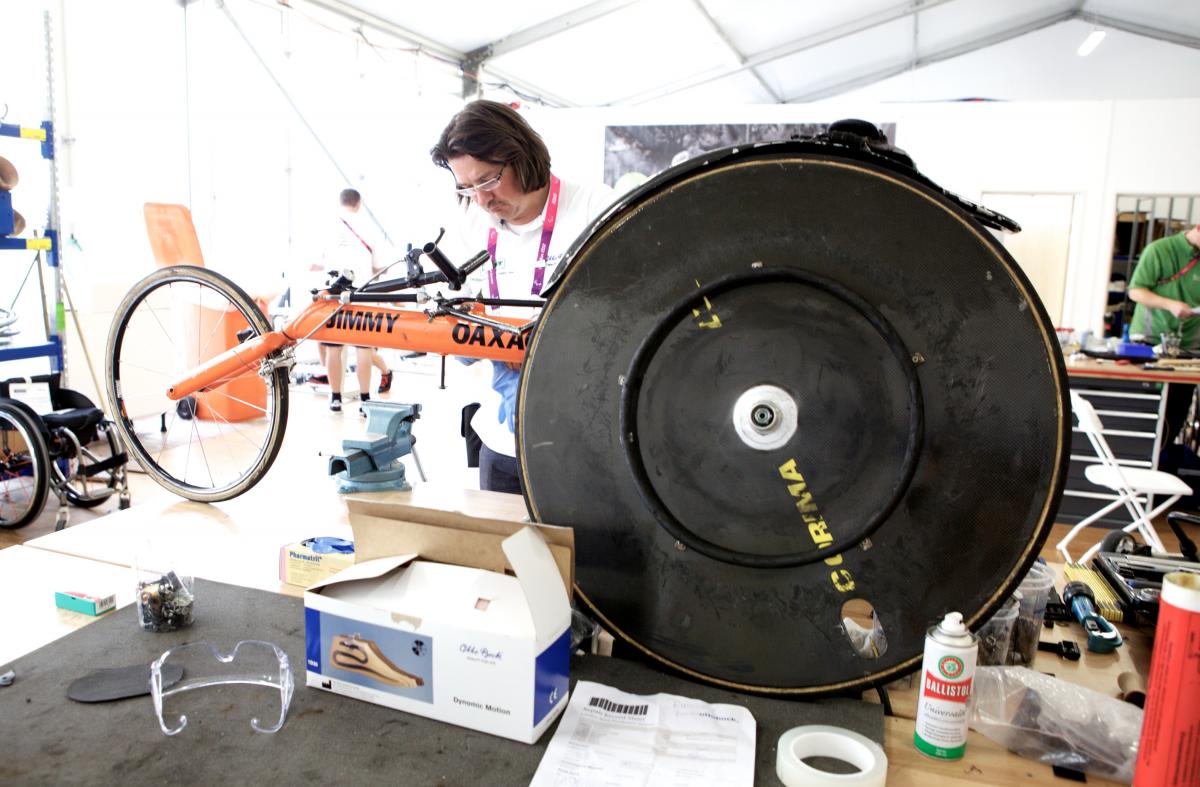 By IPC
"None of the athletes should be prevented from competing because of technical problems with their equipment. I always say to my team: 'Make them able to compete – find a solution!''
Any Para athletic event involves a huge amount of technical equipment, from racing wheelchairs to running blades. And the World Para Athletics Championships in London, Great Britain will be no different. So who makes sure every athlete's equipment is ready to power them to Para athletic glory?
Paralympic partner Ottobock will provide repair and maintenance services to Para athletes at London 2017, operating out of their Technical Service Repair Centre throughout the competition. It is a service they have carried out at numerous Paralympic Games and World Championships.
A team of technicians will be on hand - equipped with specialist tools, machinery and spare parts – to repair every type of equipment, from throwing frames to racing wheelchairs and running blades. But what does their work actually entail?
We spoke to Ottobock's Peter Franzel, Head of Events and Exhibitions, to find out.
1. What would a typical day involve at an event such as the World Championships?
Operating a Repair Service Centre for Prosthetics, Orthotics and Wheelchairs is like expecting the unexpected, we never know what will happen in the next minute. We have hours where no one comes to see us and then the door opens and you have 10 athletes at the same time. As we do not know what we have to repair (many different prosthetics, orthotics and wheelchairs from manufacturers from all over the world) we need to bring a huge variety of spare parts. Ottobock has provided a Technical Service for almost 30 years so we have a quite strong feeling of the unexpected. If we are missing a part we can count on our overnight logistic system and the local hardware stores. At the Championships we operate a 100 sqm workshop in two shifts so athletes can count on us from before training until after competition.
2. What are the biggest challenges you face?
None of the athletes should be prevented from competing because of technical problems with their equipment. I always say to my team: "Make them able to compete – find a solution!" We often have to be very inventive.
3. What training is required to be a technician?
They are all professionally certified prosthetists and wheelchair specialists with a minimum of three years job experience. Our welders need to have experience in welding all type of metal like steel, aluminium, titan. Besides the technical skills our team members need to be able to work under extreme pressure without losing focus on quality. Inter-personal and cultural skills are also absolutely important.
4. The repair centre has been compared to a Formula 1 pit lane - what is the typical turn-around time for repairs?
In the pit lane the mechanics know what to expect. They practice refuelling and changing the tyres using the exact equipment used during the race. With thousands of athletes from all over the world the variety of equipment and repairs is so huge we never know what we will get and cannot set standard times for repairs. Changing tyres on a wheelchair takes maybe 15 minutes, welding a broken throwing frame may take two hours.
5. What is the most common repair and why do you think this is?
It's repairs on wheelchairs. Wheelchairs are constructed out of many components so the chance that something is loose, broken, bent or wrongly adjusted is relatively high.
6. What is the most unusual repair you have encountered?
Our service is not only available to athletes. We repair anything that is essential to the operations of the whole team from every country – including coaches, administrators and support staff. So we often see lots of unusual items that you wouldn't expect to be essential for competition, but are critical to the smooth running of each teams operations. I think the most unusual was in London 2012, where someone came to us with a paper shredder that was broken. One of our technicians managed to repair it.
7. What changes have you seen in the work you undertake over recent years, especially as athletes get faster?
Yes, they are getting more and more professional at every major event. With more power and force applied to the equipment there is greater demand for our services. We have also seen changes in the type of machinery we need to provide. Top athletes are very sensitive of the right alignment of the equipment. We have a special machine so we can check the alignment of a sports prosthesis using laser measurement.
8. Are there any situations that are particularly special or memorable?
In Bejing 2008 we could help an athlete from Mongolia to win the first every medal for his nation – gold.
But there are too many to tell. When people arrive in the workshop with a problem, they've come to us because they know Ottobock can help but they are still worried that it will affect their competition. It is always great to see them leaving with a smile on their face.
9. Are there certain athletes you know you will see at the repair centre at each event?
Yes, a lot of athletes who we have helped come back to see us just to say 'Hi'. We also see that former athletes become trainers or coaches, so there are many we have known for years.