How surviving a hippo attack helps archer Philip Coates-Palgrave keep calm
'When you go down it is like being in a huge washing machine. You've got to give yourself and trust that you will go to the surface at some point'
25 Aug 2021
Imagen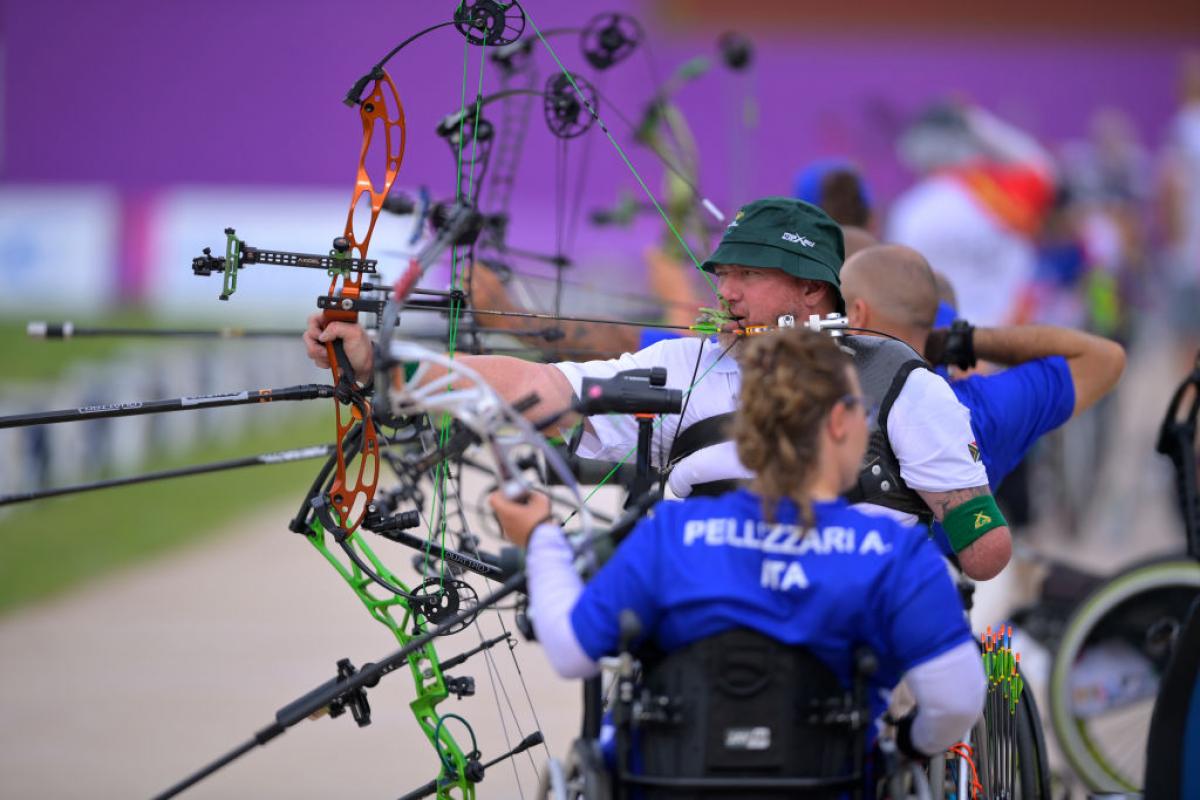 ⒸKoki Nagahama/Getty Images
By OIS
South African archer Philip Coates-Palgrave is trying hard to control his nerves as he prepares to compete against the world's best at Tokyo 2020 Paralympic Games.
The 50-year-old appreciates the value of calmness in stressful situations more than most: it helped save his life when he was attacked by a hippopotamus.
Coates-Palgrave admitted he is feeling the tension as a Paralympic Games debutant ahead of the men's individual compound tournament at Yumenoshima Archery Park.
"It's a mix of emotions obviously because of the magnitude of this event and how lucky we are to be here," he told the Olympic Information Service.
"At the same time there is this fear that gets me because at the end of the day this is hard competition. I'm constantly working on the emotions and to remain calm."
Coates-Palgrave was working as a canoe guide in Zimbabwe in 1995 when a hippo collided with his boat as it came up for air on the Zambezi River.
The startled beast attacked immediately and Coates-Palgrave was seized by his left leg while attempting to protect the tourists he was leading. He recounted how he resisted the urge to panic as he was dragged into the depths and mauled during a three-minute onslaught.
"When you go down it is like being in a huge washing machine. You got to give yourself and trust that you will go to the surface at some point," he said.
"When the hippo hit me underwater I had a flashback to being pulled under by the rapids in Victoria Falls (on a previous occasion). It was a similar power of nature that you have got no chance of fighting.
"I did kick him twice and after that I realised that it was just absolutely impossible, so I let it go, gave it over. The longer you can save your breath it helps you to relax every single muscle in your body. He thought he was killing me, and then let me go."
Coates-Palgrave's problems were not over. He faced an agonising 25-hour trip to hospital in Harare and underwent months of surgery before having his left leg amputated.
He discovered archery in 2016 when, following an impulse to take up a sport that could make him a Paralympian, he was advised to contact Shaun Anderson, who agreed to coach him.
"I have never been a sportsman, even when I had two legs. I was just lazy and useless.  Then five years ago I decided that I wanted to go to the Paralympics."