Jonathon Milne ready to repeat Rio
Australia's first Paralympic medallist in Para archery since 1984 says podium finish gives him 'more burn' to work hard for Tokyo 2020
02 May 2021
Imagen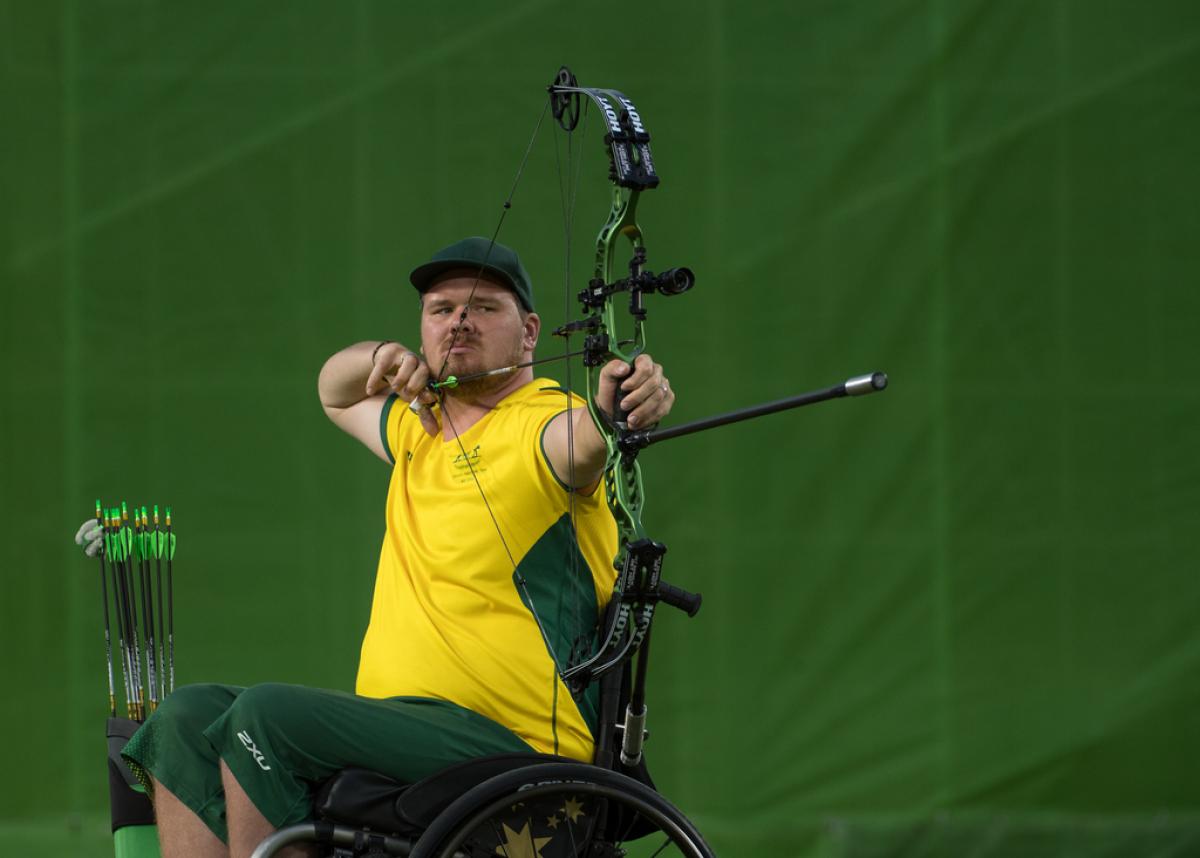 ⒸOIS
By Paralympics Australia
Jonathon Milne became Australia's first Para archery medallist in more than three decades at the Rio Paralympics, yet he will head to the Tokyo Games even more confident in his preparation compared to his major competitors around the world.
 
Milne was announced on Tuesday by Paralympics Australia as a member of the National Team for Tokyo, where he will seek to back up the bronze medal he claimed in the men's individual compound Open in Rio in 2016.
It was Australia's first podium finish in Para archery since the 1984 Paralympics in New York, USA.
 
Milne counts himself fortunate to have had constant access to an ideal training space near his home, where he spent much of the past year refining his skills, sometimes until late in the evening.
 
"I was really lucky that I have a family friend who has a rather large factory unit, about four acres of undercover, up in Warragamba which is about half an hour from my place. The place is almost empty and he lets me set up targets there," Milne said.
 
"It's indoors, perfect lighting, perfect conditions and I could just go in there and shoot for as long as I wanted. There were times I'd be shooting at 11 o'clock at night. If I had stuff on during the day, I'd go up in the afternoon and shoot until late at night, lock up and go home.
 
"So I literally went through the whole of lockdown as one of the only people in Australia who had somewhere to shoot. I actually got better during lockdown while most others went backwards."
 
Para archery head coach Ricci Cheah kept track of Milne's training scores and provided analysis through the Paralympic Connect app, a video conferencing app which connects Para athletes with their coaches and support teams.
 
The outcome has been an outstanding run of training, in which Milne consistently notched up potentially medal-winning scores.
 
"I just compared my scores to what the current world record is," he said.
 
"On the Para side of things, the perfect score is 720. If you can break 700, that's normally a really good day. In training all last year, I was doing it almost every single day. If I didn't break 700, I'd had a bad day. So I know I'm generally above that 700 mark and that's where I need to be."
 
Australian Team Chef de Mission Kate McLoughlin suggested she wasn't surprised by Milne's progress.
 
"I had the pleasure of watching Jonathon compete in Rio and was inspired by how focused, calm and unflappable he was in the heat of competition," McLoughlin said.
 
"He is a fairly quiet guy who is dedicated to his craft, well respected by his teammates and the wider Paralympic family and I can see why he is achieving so much success.
 
"After such a long period of uncertainty, it is so refreshing and exciting to be able to finally announce athletes like Jonathon onto the team for Tokyo. This is what we have all been waiting for and I'm thrilled to be able to welcome him onto the 2020 Australian Paralympic Team."
 
Life has changed somewhat for the 35-year-old since he captured Australia's first Para archery medal in 32 years. In competition since, he said, "it put a bit of a target on my back".
 
"After the last Games, a lot more people knew my name. Everyone wants to beat the person who's won a Paralympic medal. But that just gave me more motivation to keep pushing through, it gave me a bit more burn to work harder."