Hu breaks 100kg barrier at powerlifting European Open
Turkey's world and Paralympic champion Nazmiye Muratli also retained her European title in Eger, Hungary.
24 Nov 2015
Imagen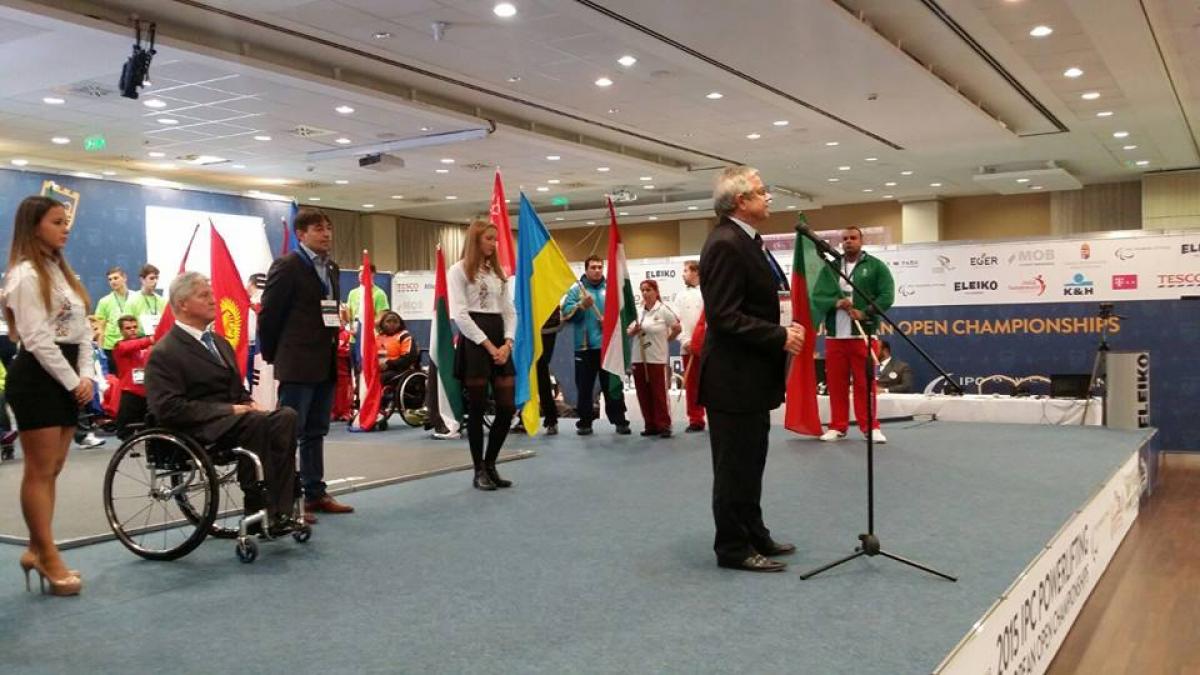 ⒸIPC
By IPC
Greece's Dmitrios Bakochristos improved on his silver medal from 2013, laying down a marker with a successful first round lift of 170kg.
The biggest ever IPC Powerlifting European Open Championships started with a bang in Eger, Hungary, on Tuesday (24 November), with a new world record for China's Dandan Hu.
Hu was triumphant in the Open women's up to 45kg setting the new mark with a second round lift of 100kg. The 26-year-old added 1kg onto her own world record.
Poland's Justyna Kozdryk (93kg), the champion from 2013 in Aleksin, Russia, retained her European gold and took Open silver.
Great Britain's Zoe Newson (90kg) claimed European silver and Open bronze. Ukraine's Rayisa Toporkova lifted the same as Newson, but finished with the European bronze because of her heavier body weight.
In the women's up to 41kg, Turkey's Paralympic and world champion Nazmiye Muratli (100kg) kept her European crown with ease.
Muratli required one good opening lift to secure victory over Chinese world record holder Zhe Cui (82kg) who took Open silver. Turkmenistan's Roza Matyakubova (70kg) claimed Open bronze.
Russia's Tatiana Rudyak (68kg) secured the European silver, whilst Poland's Emilia Kasak (52kg) finished with European bronze.
Greece's Dmitrios Bakochristos improved on his silver medal from 2013, laying down a marker with a successful first round lift of 170kg in the men's up to 54kg. The push stunned his competitors, who could not match the 32-year-old cheese-shop owner throughout the competition.
Bakochristos made sure of the gold in the second round with 176kg.
China's Qi Feng (155kg) took Open silver ahead of Kyrgyzstan's Esen Kaliev (150kg) with Open bronze.
Poland's Slawomir Szymanski (123kg) was second on the European podium, leading Russia's Semen Kublitskii (115kg) into bronze.
Russia's European champion Vladimir Balynetc continued his dominance in the men's up to 49kg.
Thirty-year-old Balynetc (161kg) beat Hungary's Nandor Tunkel (150kg) into silver. Russia's Ivan Arnautov (141kg) completed the podium.
Full results are available at the event website, along with live coverage and live results from each day.
Live updates are also being posted to @IPCPowerlifting and Facebook.com/IPCPowerlifting
Competition continues on Wednesday (25 November) with the men's up to 59kg, up to 65kg and up to 72kg and women's up to 50kg.
Around 230 lifters from more than 40 countries are in Eger for the final regional Championships of 2015. An Americas Open Championships was held in Mexico City in April and an Asian Open in Almaty, Kazakhstan, in July. The competition is also a Paralympic ranking event for the Rio 2016 Paralympic Games.