Training Tuesdays: Ali Jawad
Great Britain's powerlifting world champion reveals training plan ahead of European Open, which gets underway in Eger, Hungary, on Wednesday.
24 Nov 2015
Imagen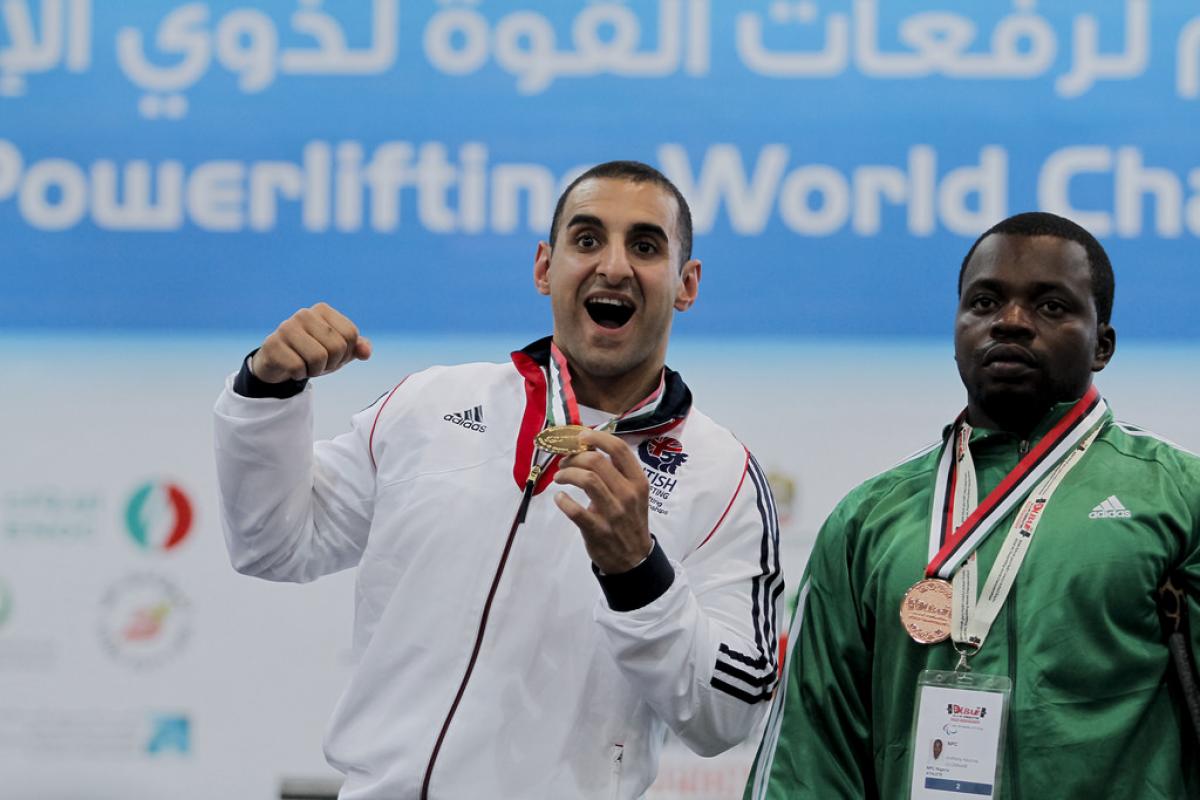 By Caryn Maconi | for the IPC
"My nutrition is very important, as it is designed to control my disease and allow me to recover from training,"
Great British world champion Ali Jawad has been busy perfecting his training regimen ahead of the 2015 IPC Powerlifting European Open Championships, where he will look to break the 200kg mark for the first time.
The competition, set for 24-28 November in Eger, Hungary, is a chance to contend for medals. It is also the last major stop on the road to the Rio 2016 Paralympic Games.
Jawad has his work cut out for him in Rio, where he will contend with Egypt's current world record holder Sherif Othman in the men's up to 59kg. That record stands at 210.5kg. Meanwhile, Jawad's personal best in competition is 195kg, set at the British Championships earlier this summer.
To keep pace with Othman, Jawad must consistently lift above 200kg – and he is putting in the work now to reach that goal and the podium at the European Open Championships.
A mix of strength and cardio
Jawad is in the gym every day – sometimes multiple times per day – working on his lifts and practicing technique.
"I'm in the gym eight times per week," Jawad said. "I literally wake up, have breakfast, morning training, lunch, afternoon training, dinner, and then sleep, all year round. Everything I do is geared toward making me a better lifter."
To maintain overall fitness and cardiovascular endurance, Jawad also practices on the hand bike twice per week. With the right mix of strength and cross training, Jawad believes he can push over the 200kg threshold.
"I know if I want to challenge for gold in Rio, I need to be lifting 205kg or more," Jawad said. "I feel confident that if I make smarter decisions in training, I will be very close to that number in Rio."
The British standout is closer than ever to his dream of becoming a Paralympic champion. Though the competition in Rio will be tough, he continues to aim high.
"I have a lot of work to do, but I know if I keep focused and keep doing the right things, I'll give myself the best chance of winning."
Importance of nutrition
Every athlete must maintain a healthy diet to reach optimal performance. For Jawad, though, making smart food choices is crucial for managing his Crohn's disease, a chronic condition with which he was diagnosed in 2009.
"My nutrition is very important, as it is designed to control my disease and allow me to recover from training," Jawad said.
No Crohn's sufferer has ever won a gold medal at the Olympic or Paralympic Games, but Jawad would like to change that statistic.
"The sole motivation in training is to try to push the boundaries of what the human body can tolerate with Crohn's disease," Jawad said. "Not many doctors believed I could compete at a world class level, and advised me to retire. However, I have had the dream of winning Paralympic gold since I was six years old, and I wanted to fight for my dream."
Jawad is also committed to clean competition: "Competing clean means an athlete can look himself in the mirror every day knowing he has pursued every natural avenue he possible can, to become the best possible version of himself," Jawad said. "I would rather come in second knowing that I am a clean athlete than come in first on drugs."
Jawad hopes to see his hard work pay off in Eger, where he will compete temporarily in the men's up to 65kg on Wednesday (25 November).
Full live coverage and results, with English commentary, is available at Eger 2015's website.
The competition will feature a record 230 athletes from 44 countries and is third regional Championships to take place in 2015, after the first Americas Open in April and the Asian Open in July.