Hug continues marathon season after Rio success
After winning the Berlin marathon, Switzerland's Marcel Hug is heading to Chicago hoping for more silverware.
07 Oct 2016
Imagen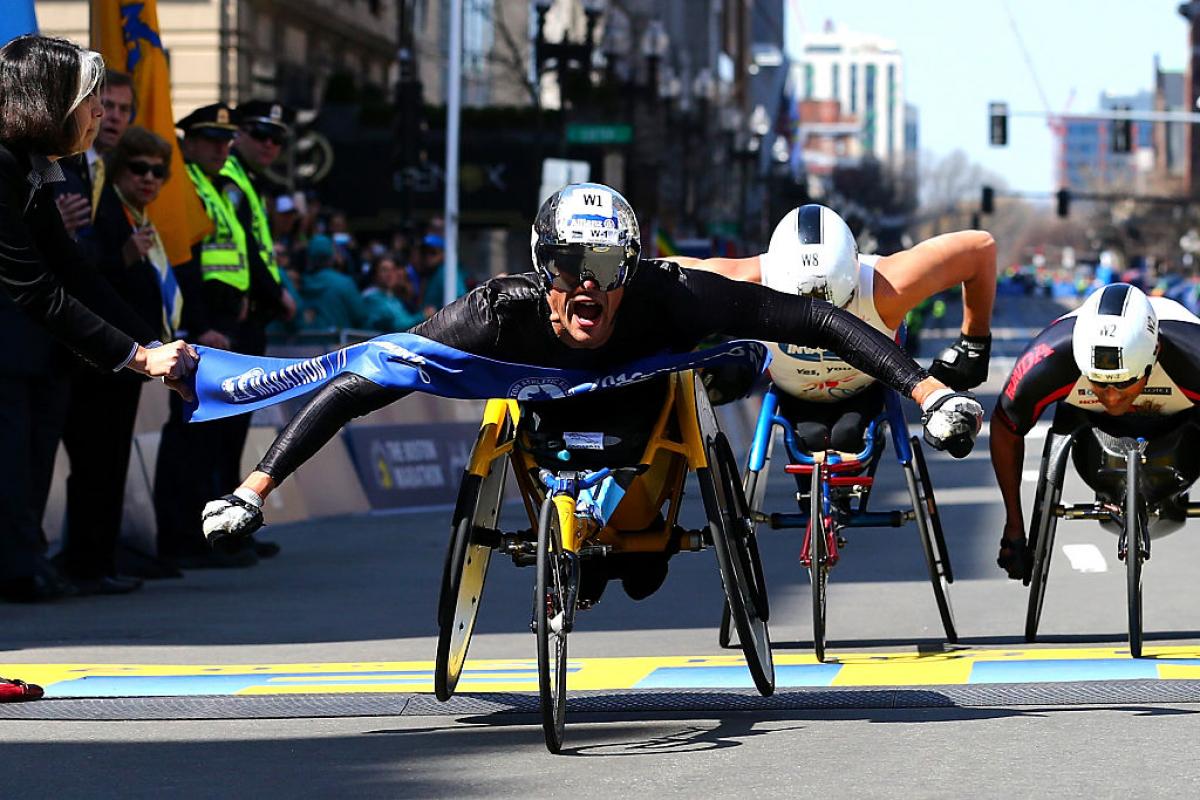 ⒸMaddie Meyer/Getty Images
By IPC
Swiss racer Marcel Hug returned home from Rio 2016 as the most successful male Para athlete, winning two gold and two silver medals. But celebrating has been far from his mind.
Instead, Hug, who won 800m and marathon T54 gold in Rio de Janeiro, Brazil, is focussed on notching up further success on the road.
In fact, just two days after returning home from the Paralympic Games, Hug travelled to Germany, where he raced at the Berlin marathon – and won.
Now he will line up at the Chicago marathon in the USA on Sunday (9 October), part of the Abbott World Marathon Majors series.
"I'm really looking forward to Chicago," said Hug, who faces the likes of five-time Chicago champion Kurt Fearnley - the winner last year; 2013 champion Ernst van Dyk of South Africa and the USA's four-time winner Josh George.
"It gave me a lot of confidence, the success in the last weeks. So I'm full of confidence and also maybe a little bit more relaxed. I just hope to enjoy myself," he added.
Hug has every reason to feel more confident than ever before. Success in Rio marked a significant moment for the 30-year-old, who had arrived in Rio still seeking Paralympic gold at his fourth Games.
His marathon victory along Rio's famous Copacabana seafront came after a terrific sprint finish against Australian Fearnley.
In Berlin, he also won a sprint finish against a strong field including van Dyk and Japanese duo Hiroki Nishida and Ryota Yoshida.
Only now are his achievements starting to sink in – although he admitted he had not yet found a 'special place' to display his Paralympic gold medals.
"It feels like a dream came true – a very long dream. Now I can close a chapter – that's the difference. But other things are still the same. I still have fun with sport, and new goals for next season."
One of Hug's goals is to break the marathon world record (1:20.14, set by his compatriot Heinz Frei in 1999). The Oita marathon in Japan and the Seoul marathon in South Korea both have favourable, fast courses; the World Championships in London, Great Britain next July are also high on the agenda.
But first, Chicago.
Hug, who won in Boston, USA, and London, Great Britain, earlier this year, has only raced the Chicago marathon once before. Twelve months ago he finished in second place; this time around he believes he can go one better.
"It's a flat course and I really like it – it was really new for me last year so maybe this year I know the course a little bit.
"I remember the last one or two corners, there was an uphill and a left corner, and I think this was the place where I lost the victory. So I will take care of the last part of it this time," he said.
Three marathons in less than one month may seem unfathomable to some, but Hug shrugs off any concerns as he remains focussed on cementing his place at top of the leaderboard.
A USD 50,000 dollar prize is at stake to the male and female winner of the series who accumulates the most points – with marathons in New York, USA and Tokyo, Japan, still to come, and the series ending back in Boston next year.
"The Abbott series is very important for me and it's a great motivation. So far I have a lot of points and I hope I can go forward with a good result," said Hug.
"At the moment I feel good. After Berlin I was a little bit tired but now I feel good again, I still feel strong and I think I can hold my shape until the New York marathon, the last marathon this season (Sunday 6th November).
"Then after New York I will be very tired - not only physically but also mentally. It was a tough season and I think I will be tired then."
Hug can look forward to a well-earned rest and a break in a few weeks' time – in November, his home town are organising a celebratory ceremony in his honour.
The Swiss Silver Bullet may even find time to display his medals in pride of place. And if everything goes according to plan on Sunday, he will have to find space for one more piece of silverware.
Related Images