Hug ready to challenge Weir for European glory
The Swiss 'Silver Bullet' is the man to beat according to his great rival David Weir of Great Britain.
12 Aug 2014
Imagen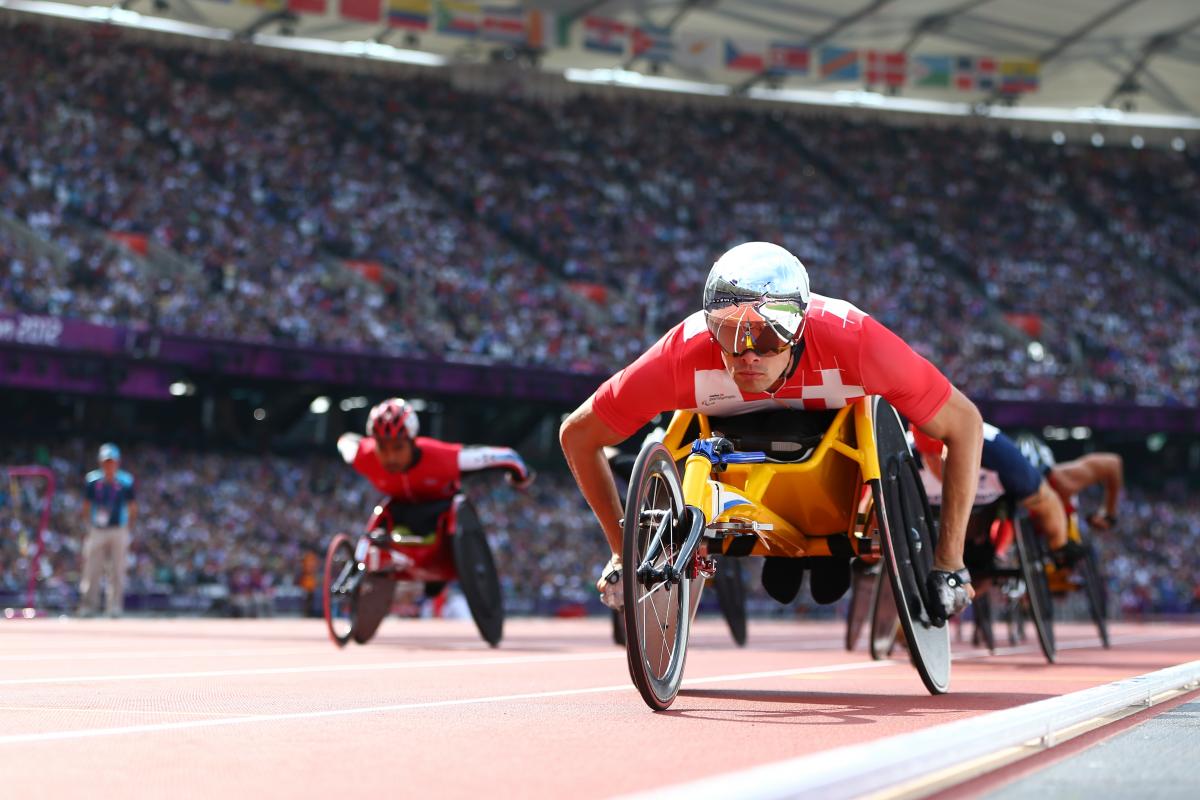 ⒸGetty Images
By IPC
"It's a pretty soft track and I know I am faster on tracks like this."
Switzerland's five-time world champion from 2013, Marcel Hug, cannot wait to line up against his Great British rival David Weir as they prepare to race together in their first major Championships since the London 2012 Paralympic Games.
With the IPC Athletics European Championships in Swansea, Great Britain, (18-23 August) just six days away, Hug believes their battle for the top of the podium will be one of the highlights of the meeting.
At London 2012 it was the Briton who came out on top, clinching four gold medals in the 800m, 1,500m, 5,000m and marathon T54, while Hug had to make do with silver in the 800m and marathon.
But since then, the Swiss 'Silver Bullet' has gone from strength to strength, taking full advantage of Weir's absence from the 2013 IPC Athletics World Championships in Lyon, France to win no fewer than five golds and one silver medal.
The 28-year-old was one of the stars of those Championships, but admits this time around every race will be tough, despite feeling in a similar physical shape to when he sealed those memorable victories 12 months ago.
"I think my form is about the same condition as last year at the World Championships," said Hug, the T54 world record holder over all distances from 800m through to 10,000m.
"My goal should be of course to win a European title - I hope at least one, if it's more that's fine - but I know it's hard because David is going well. He wants to win too, so it will be very exciting and difficult to win a title. But I believe it's possible."
The pair have only gone head-to-head on a handful of occasions this year, starting with victory for Weir back in January at the Oz Day 10k in Sydney, Australia.
Next it was Hug's turn, finishing ahead of Weir in the Lisbon Half-Marathon before a superb win at April's London Marathon, with local favourite Weir in second place.
Then came their only track encounter this year so far at the IPC Athletics Grand Prix in Nottwil, Switzerland – home territory for Hug, where he got the better of Weir in all but the 400m – his least favoured event.
Those stats add up to a tantalising series of races in Swansea, with both Weir and Hug set to start in the 400m, 800m, 1,500m and 5,000m.
Although Hug has yet to beat Weir at a major Championships, he believes his preparations have set him on the right track to victory. That is despite suffering an injury to his hand in June, when a knife he was using to prepare his glove slipped and cut his hand.
"Preparations are going good so far, I had some trouble in the end of June with an injury to my left hand. I had to do some different training – in the gym with my right hand only, or with the hand cycle. Now it is good again and I'm in good shape, with good preparation."
Weir meanwhile has not been short of race action, with recent victories in the 1,500m at the IAAF Diamond League meets in Paris, France and in Glasgow, Great Britain, then over a mile in the streets of London at the Anniversary Games.
Then came Commonwealth gold, with a convincing victory back on the Glasgow track last week.
"I was really interested to see him race - how he did it, what tactics he used," said Hug. "David sees me as the man to beat. But it's fine, it's not a lot more pressure for me, even though he is strong and I know he is the favourite too."
Hug may be quick to recognise the reputation that goes before him and Weir, but he also knows it is not just a two horse race.
"David and me are favourites, but there are also some other good athletes who can win medals," he added. "It's so important that we don't ignore them. They are strong as well, especially Julien Casoli and Kenny van Weeghel, they could have a surprise. We have to keep an eye on them and be careful."
But it's inevitably Weir that requires the most consideration. "Shape, mental strength and tactics are all very important and it will take all three elements to beat him," said Hug. "David is very strong in his mind, and his tactics are good as well."
But Hug believes the Swansea track could be to his advantage:
"It's a pretty soft track and I know I am faster on tracks like this." And having missed the 2012 Europeans to concentrate on the Paralympic Games, the prospect of adding European titles to his collection has great appeal.
"The European Championships is the most important event for me this season. And of course remembering other good competitions gives me a good feeling. I know I can do it if I stay focussed on the race, and on other athletes, and try my best."
Hug and Weir are two of 560 athletes from 39 countries competing at the Swansea 2014 IPC Athletics European Championships between 18-23 August.
Tickets for the event at Swansea University are now on-sale and can be purchased via the the Swansea ticket website. Prices start from £3 per session.
All events from the 2014 IPC Athletics European Championships will also be live streamed at the Swansea 2014 website.