Hug targets elusive first Paralympic gold at Rio 2016
At his fourth Paralympic Games, the Swiss wheelchair racer hopes to finally top the podium
02 Sep 2016
Imagen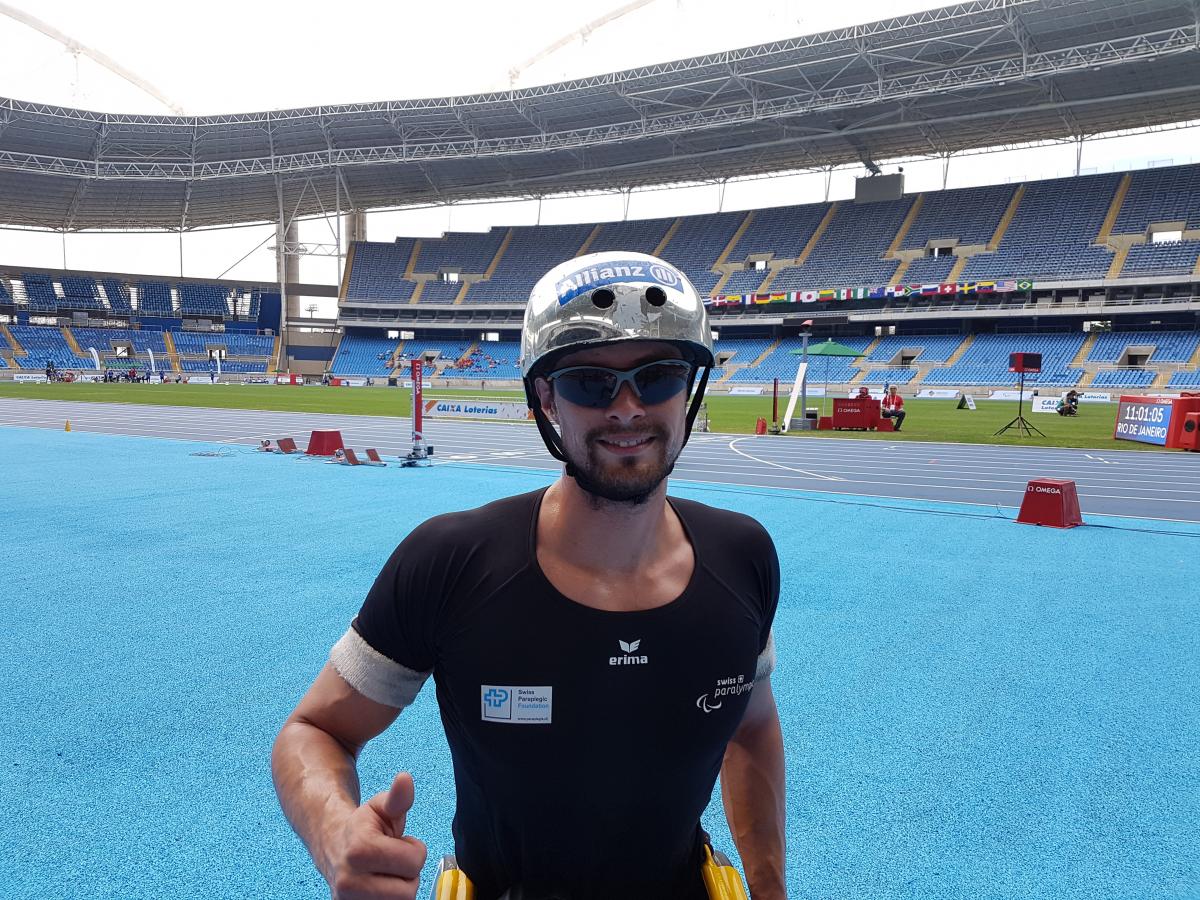 ⒸIPC
By IPC
Swiss racer Marcel Hug believes defeat has made him stronger as he aims for the title that has so far eluded him – Paralympic gold.
Hug has won national, world and European titles; he has won marathons, road races and Grand Prix. He is the world record holder in the men's 800m, 1,500m, 5,000m and 10,000m T54.
But in the three Paralympic Games – which included 14 individual finals – he has competed in, he has never won gold.
At Athens 2004 he won 800m T54 bronze; at Beijing 2008 his best placed finish was fourth in the 5,000m T54. Two silvers – in the 800m and marathon T54 – came his way at London 2012.
There is no doubt that for the 30-year-old Swiss, Paralympic gold would be the vital last glittering entry on his Para athletics curriculum vitae.
"It would mean so much for me because it's the only thing that's missing," admitted Hug, who takes on the 800m, 1,500m, 5,000m and marathon T54 in Rio de Janeiro, Brazil.
"It was a dream when I was a young kid when I started racing. It was a big dream and a big goal. As long as I am in good condition and good health that's motivation for me to fight for that gold in Rio - it would mean a lot."
After finishing runner-up twice at London 2012 behind Great Britain's David Weir, Hug went on to clinch five world titles at Lyon 2013; three European titles followed in Swansea, Great Britain, a year later.
But at last year's IPC Athletics World Championships in Doha, Qatar, there was disappointment once more for the man known as the 'Silver Bullet.'
Hug returned home with one silver and one bronze, as Thailand's Rawat Tana took gold in the 1,500m and 5,000m T54, and China's Chengming Liu won the 800m T54.
Now Hug is determined to use those defeats as motivation to succeed.
"I think it's very important, this experience – not only from the World Championships but from every big competition I learned a lot," he explained.
"It's very important that you have a win, but also if you lose sometimes it also makes you stronger.
"It's good experience and you need to lose sometimes – that's also what makes a champion - If you can deal with loss. If you are not able to lose, then I think you are not able to win. So it's very important."
The men's T54 field has for many years been bursting with talent, and there is no doubt a number of today's top T54 wheelchair racers are capable of winning in Rio. For Hug, mental strength – a psychological edge – takes on even greater importance.
"I think that will be a really big important part, the mental strength," he acknowledged.
"We are so many athletes about the same level, so in the end it's the mental strength that can make the difference.
"I don't know if it's an advantage but the last few weeks I was working also on my mental strength because the Paralympics Games are different – there is more pressure, so I've been working on that."
Tactics also play an important part, particularly in the distance events which Hug prefers.
"It's the most important thing and you have to be careful that you are not boxed in and have a good position for the sprint," he explained.
"You have to be very clean in your mind and very focussed for the tactics. I'm feeling prepared with that, but you never know - if you are very nervous and you feel a lot of pressure, everything can change."
One thing that hasn't changed in recent years is Hug's quest for gold. Whether that goal will be fulfilled in Rio remains to be seen, but the Swiss star is not about to limit his chances.
"The 1,500m is maybe the most important distance for us, also the marathon. I feel good in every distance," he said.
"I would take a gold medal in any distance, it doesn't matter which one."
__
Sport fans from around the world can now buy their Paralympic tickets for Rio 2016 from authorised ticket resellers (ATRs)
The IPC's Global ATR is Jet Set Sports, and Rio 2016 tickets and packages can be purchased on the CoSport website.
Residents of Brazil can buy 2016 Paralympics tickets directly from the Rio 2016 website.
Visa International is the exclusive payment card and the official payment system for the Paralympic Games.