The importance of rituals in powerlifting
Some of the world's strongest powerlifters explain why having effective rituals is key to successfully lifting the bar.
18 Oct 2016
Imagen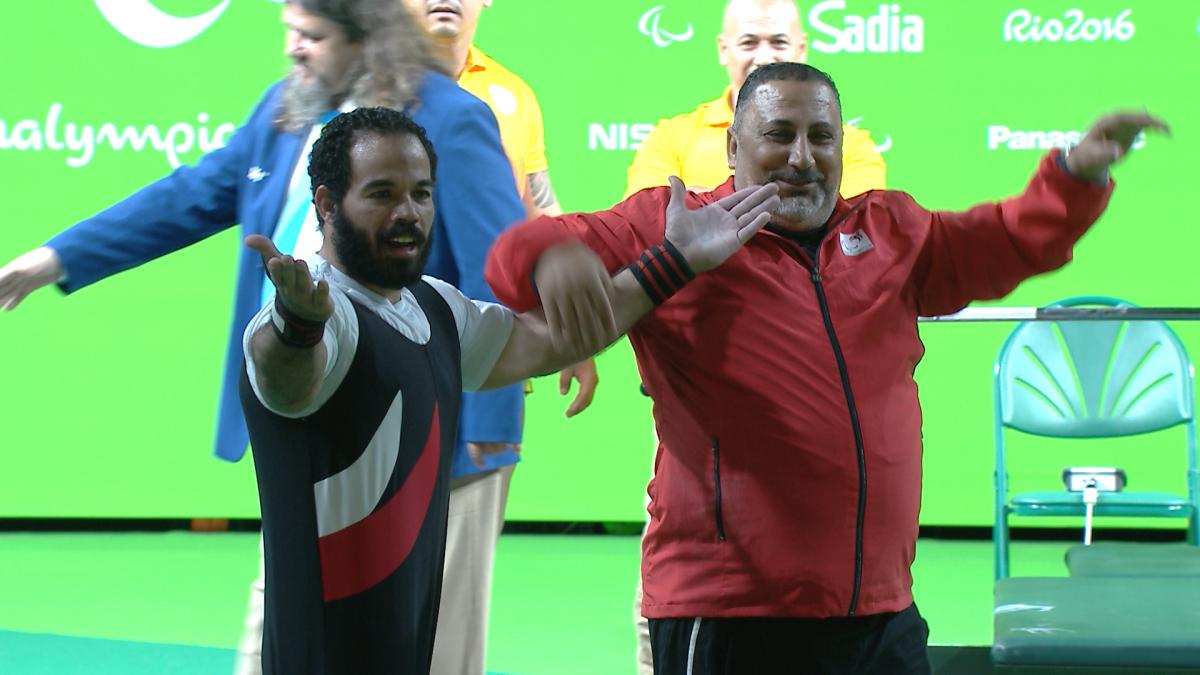 By IPC
Ali Jawad entered Rio 2016's powerlifting arena with determination, confident he was prepared to claim his first Paralympic medal.
The British stood on the bench and stared at the bar up and down with a fierce look in his eyes, challenging it to beat him. He was in the middle of a mental battle, "a battle that I need to overcome.
"The ritual makes me focus and get into the zone. On the platform, it is me against the bar and nothing else can affect my performance," he said.
After his 20-seconds-long ritual, Jawad was ready to make his attempt. And the 27-year-old cleared the bar at 190kg to win a much-celebrated silver medal in the men's up to 59kg.
"Every powerlifter uses rituals to prepare for competitions and every ritual has a meaning for different powerlifters," he explained.
"Rituals are usually the last piece of the puzzle to put everything together on competition day."
Jawad's ritual began at the London 2012 Paralympic Games and has done it at every important training session and major competition since then.
"In London, I did it on instinct. I felt it really worked for me, so I have used it ever since," he said.
Egypt's Sherif Othman, Jawad´s main rival and Rio 2016 gold medallist, also uses a ritual to concentrate.
Othman walks slowly towards the bench trying to control his nerves and, as his opponent, challenges the bar with a long hard stare.
"It is either the bar or me, and I must defeat it," he said.
"This ritual makes me feel self-confident and stronger. I began with it in 2006 and continued doing it in trainings and especially when I compete."
The 34-year-old sealed his third consecutive Paralympic gold thanks to a 203kg lift, which is only half of the titles he is planning to win.
"I am just in the middle of the way because I have a big dream which is to win six Paralympic gold medals. Nothing is impossible," he said.
In the men´s up to 49kg, Vietnam's van Cong Le and Jordan's Omar Qarada were the main gold medal contenders for the Rio Games, but Japan's Hiroshi Miura, who finished fifth with a 126kg lift, drew everyone's attention with his particular ritual.
Miura lay on the bench, stretched his arms and moved them in a circular motion as if he was a samurai warrior holding his swords.
"I relax my shoulders and imagine how my performance is going to be when I do my ritual," he said.
"It is very important and necessary for me. Before lifting the bar, it helps me concentrate and find the proper body-balance.
"Without this ritual, my performance would not go smoothly. It is indispensable for me to perform well."
Mexico's multi-Paralympic and world champion Amalia Perez also performs a pre-competition ritual at every important event.
The 43-year-old sits on the bench, takes several deep breathes, nods her head, points upwards, places her hands on her chest and hits her legs three times while giving shouts of encouragement.
"The ritual is part of every powerlifter´s strategy. Hitting my legs gives me extra adrenaline," she said.
"Thanks to it, I have more energy and strength to lift the bar. You need to be focused because it is a unique moment and you cannot fail."
Last month, Perez won her third Paralympic gold in the women´s up to 55kg, in Rio.
"I wanted to show myself that I could still have excellent results at my fifth Paralympic Games," said Perez, who also sealed silver at Sydney 2000 and Athens 2004.