Incredible nine world records at swimming Euros
New marks for Singapore, Ukraine, Norway, Sweden and Russia in Funchal, Portugal.
04 May 2016
Imagen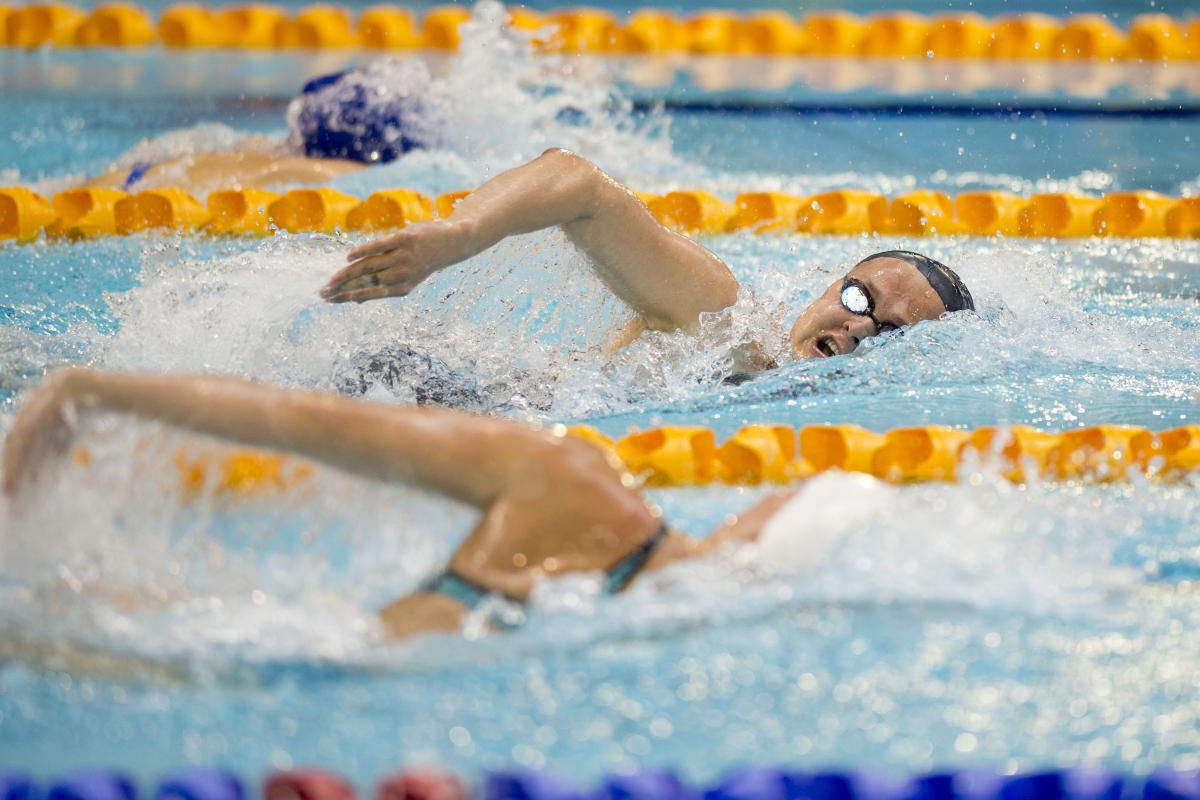 ⒸLuc Percival Photography. All rights reserved.
An astonishing nine world records peppered the pool at the 2016 IPC Swimming European Open Championships on Wednesday (4 May), as athletes continued to grab titles on their road to the Rio 2016 Paralympic Games.
Ukraine's world champion Anna Stetsenko (58.05) was pushed to her new world best in the women's 100m freestyle S13. Third on the turn, Stetsenko had to explode into the last 25m to bring down her own previous time of 58.72. Russia's Darya Stukalova (58.93) and Great Britain's Hannah Russell (59.32) were second and third respectively.
Sweden's silver medallist from 2014, Maja Reichard (30.87), lowered the world record in emphatic style on her way to gold in the women's 50m freestyle S11.
"I had no idea that I could go so fast, I was just like 'I want a medal and I'm going to swim as fast as I can," an ecstatic Reichard said. "And then I heard everybody screaming and I thought 'ok someone did something really, really, good' and I didn't recognise it was me! I am so happy!"
The Netherlands' Liesette Bruinsma (31.22) took silver and Cecilia Camellini (32.00), the former European champion and world record holder from the London 2012 Paralympic Games, was third.
There were four world records in one race in the women's 100m backstroke S2.
Singapore's Beijing 2008 Paralympic champion Pin Xiu Yip (2:09.79) destroyed the S2 world record, taking just under seven seconds off the previous best of 2:16.31 for the gold.
"I am happy with my timing, and I think I am making good progress towards Rio and I'm very excited about Rio," Yip said.
Ukraine's Iryna Sotska (2:16.63) took the European gold and Open silver but Norway's Ingrid Thunem (2:25.71) lowered her S1 world record in the combined class race for Open bronze and European silver. Russia's Alexandra Agafonova (2:34.63) completed the European top three.
Russia's Dmitrii Kokarev put everything he had into the men's 100m backstroke S2, winning his second gold and retaining his title in a new world record time of 2:02.25. The new mark was more than two seconds inside the former best of China's Yang Yang set in 2015. Ukraine's world champion Serhii Palamarchuk (2:06.47) also swam within the European record time for silver. Greece's Aristeidis Makrodimitris (2:11.23) was third.
As well as breaking their respective records, all three swimmers also improved on the 50m world marks. Kokarev's touch of 58.06 seconds, Yip's 1:01.39 and Thunem's 1:07.73 are now the times to beat.
Yip went on to set a new Asian record in the 100m freestyle, also bettering the 50m S2 mark.
Another gold and world record came for Ukraine in the men's 100m backstroke S1. World champion Hennadii Boiko (2:23.75) shaved more than four seconds off his own best from the last European Championships in 2014.
Italy's Francesco Bettella (2:26.63) and Ukraine's Anton Kol 2:31.05 completed the podium.
Norway's European champion Sarah Louise Rung (1:44.49) took her fourth gold of the Championships in the women's 100m breaststroke SB4. Italy's Giulia Ghiretti (1:53.63) took silver ahead of Singapore's Theresa Goh (1:59.90) with Open bronze, and a new Asian record. Russia's Irina Deviatova (2:01.96) occupied the last spot on the European podium.
Belarusian world and European champion Ihar Boki (50.87) secured his third gold medal of the week in the men's 100m freestyle S13. Ukraine's Iaroslav Denysenko (52.60) was second and his teammate Maksym Veraksa (53.02) third.
Italy's Federico Morlacchi took his second gold of the week in the men's 200m individual medley SM9. Leading throughout the race the world and European champion touched in at 2:18.39.
"It was better than yesterday [gold in the 100m butterfly S9], maybe because of the pressure and the butterfly is my favourite race," Morlacchi said. "And I enjoyed here the individual medley. I am ready for Rio, I feel ready.
Hungary's Tamas Toth (2:21.43) came back from fourth to take silver. His teammate Tamas Sors (2:22.42) claimed bronze.
Spain's Sarai Gascon (2:36.31) made it three golds from three races in the women's 200m individual medley SM9. The 23-year-old had to fight for the win, reclaiming her lead on the turn into the last 50m from Poland's Paulina Wozniak (2:38.12). Spain's Nuria Marques Soto (2:38.26) took a birthday bronze.
Michelle Alonso Morales (1:13.46) notched another gold for Spain, keeping her title in the women's 100m breaststroke SB14. Great Britain's Bethany Firth (1:14.31) finished with silver and Russia's Valeriia Shabalina (1:18.48) bronze.
Soto was also part of the winning women's 4x100m freestyle relay 34 points team, putting in a stunning last leg to touch the wall in 4:34.68 alongside Teresa Perales, Gascon and Isabel Yinghua Hernandez Santos.
Russia (4:40.64) took away silver and Hungary (5:00.47) bronze.
Ukrainian swimmers left with four more gold medals.
Denis Dubrov (56.84) took gold in a close men's 100m butterfly S10 race with Russian European champion Dmitry Grigoryev (57.73). Brazil's Paralympic champion Andre Brasil (58.33) got Open bronze and Spain's David Levecq took the European bronze.
Paralympic, world and European champion Yevheniy Bohodayko (1:22.85) just had the edge on Colombia's Open silver medallist Nelson Crispin (1:23.00) and Germany's Torben Schmidtke (1:23.77) in the men's 100m breaststroke SB6. There was nothing to separate the trio for the majority of the final 50m, but Bohodayko had the stamina to touch for gold. Norway's Andreas Skaar Bjornstad (1:26.45) completed the European podium.
Viktoria Savtsova (1:38.41) and Yelyzaveta Mereshko (1:40.16) blocked out gold and silver respectively in the women's 100m breaststroke SB5. Hungary's Fanni Illes (1:48.66) was third.
Oksana Khrul (1:37.62) turned her fastest qualifying time golden in the women's 100m breaststroke SB7. Russia's Mariia Pavlova (1:44.47) and the Czech Republic's Vendula Duskova (1:46.88) were second and third respectively.
Russia also secured three more medals on Wednesday evening.
Nina Ryabova (1:07.48) swam close to the European record in the women's butterfly S10. The Russian, who set a new world record on Tuesday (3 May) in the women's 50m freestyle S10, was just 0.12 seconds away from the regional best to take gold. Poland's former European champion Oliwia Jablonska (1:09.08) was second ahead of Spain's Isabel Yinghua Hernandez Santos (1:10.62).
World champion Denis Tarasov (1:01.76) had a close race with France's European gold medallist Charles Rozoy (1:01.95). The face-off ended with gold for Tarasov, just 0.19 seconds ahead of Rozoy, for his third title of the week. Denmark's Niels Korfitz Mortensen (1:05.74) took bronze.
Another medal for Russia came in the men's 100m breaststroke SB5 courtesy of world champion Iurii Luchkin (1:30.18). Sweden's Karl Forsman (1:34.17) lost his title but took silver. Bronze went to Italy's Marco Maria Dolfin (1:38.61).
In the women's 100m butterfly S8, Great Britain's Stephanie Slater (1:09.67) retained her title after pulling away from Ukraine's Kateryna Istomina (1:10.24) in the last few metres. Russia's Olesia Vladykina was third (1:17.62).
Scott Quin (1:07.29) won the men's 100m breaststroke SB14 for Great Britain.
"I'm happy with my time, we had trials last week and I'm not far off my PB [personal best] so I can't complain about that swim there too much," Quin said.
"That's me done now. I'm basically a one trick pony!" he joked.
He beat Russia's Artem Pavlenko (1:07.63) and Norway's Adam Ismael Wenham (1:08.60).
Great Britain's World Championships silver medallist Charlotte Henshaw (1:37.55) won the women's 100m breaststroke SB6.
Ireland's Nicole Turner (1:46.29) secured her second silver medal of the meet ahead of Ukraine's Nina Kozlova (1:51.47) in bronze.
Kazakhstan's Zulfiya Gabidullina (1:39.61) won the women's 100m freestyle S3, her second gold of the Championships. Ukraine's Olga Sviderska (1:39.97) and Russia's Iuliia Shishova (1:49.04) were second and third respectively.
Colombia's world title holder Carlos Serrano (1:16.19) took the Open crown in the men's 100m breaststroke SB7. Russia's Egor Efrosinin (1:21.34) was second on the Open podium but took the European gold. Ukraine's Bohdan Hrynenko (1:21.66) claimed Open bronze and European silver. Russia's Viktor Chebotarev (1:27.50) took away European bronze.
Colombia's Moises Fuentes Garcia (1:36.83) beat Brazil's world and Paralympic champion Daniel Dias (1:38.08) to the Open title in the men's 100m breaststroke SB4. Dias tried to come back against the Colombian in the dying moments of the race, but he left it too late. Spain's Ricardo Ten (1:39.81) kept his European title and sealed Open bronze. Greece's Antonios Tsapatakis (1:40.38) and Russia's Dmitrii Cherniaev (1:41.58) were second and third respectively on the European podium.
South Africa's Hendri Herbst (26.96) stormed to a new African record in the men's 50m freestyle, beating Brazil's Matheus Sousa (27.60) to the Open title. Belarusian Hryhory Zudzilau (27.61) took the European title and Open bronze as Ukrainian teammates Oleksandr Mashchenko (27.64) and Viktor Smyrnov (27.92) rounded off the European top three in second and third respectively.
At the end of day four, Ukraine lead the medal table with 22 gold, 18 silver and 14 bronze. Russia are second (17 gold, 19 silver and 14 bronze) and Great Britain (11 gold, nine silver and four bronze) are third.
Live coverage and results will be available every day until 7 May at www.Funchal2016.com. Morning sessions begin at 9:00am (WET) and evening sessions at 5:00pm (WET) each day.
Live updates and behind the scenes coverage will be posted at @IPCSwimming and Facebook.com/IPCSwimming or search #Funchal2016.
Broadcast
For non-rights holders, the following material will be available:
Daily newsfeed x 1 (following News Access Rules)
Race clips (at cost)
For more information and for access to broadcast footage, please email sascha.beck@paralympic.org.
Photographs
A selection of rights-free images will be available for download from the heats and final every day at www.flickr.com/photos/paralympic/.
For high resolution versions, please email eva.werthmann@paralympic.org.
Contacts on site
Lucy Dominy, IPC Public Relations and Campaigns Manager, +49 151 29806543
Eva Werthmann, IPC Media Operations Senior Manager, +49 171 7433327
Sascha Beck, IPC Broadcast Manager, +49 151 5198174