IPC President's speech at Closing Ceremony of Rio Games
Sir Philip Craven, President of the International Paralympic Committee, addressed the Closing Ceremony of the Rio 2016 Paralympic Games on Sunday (18 September).
18 Sep 2016
Imagen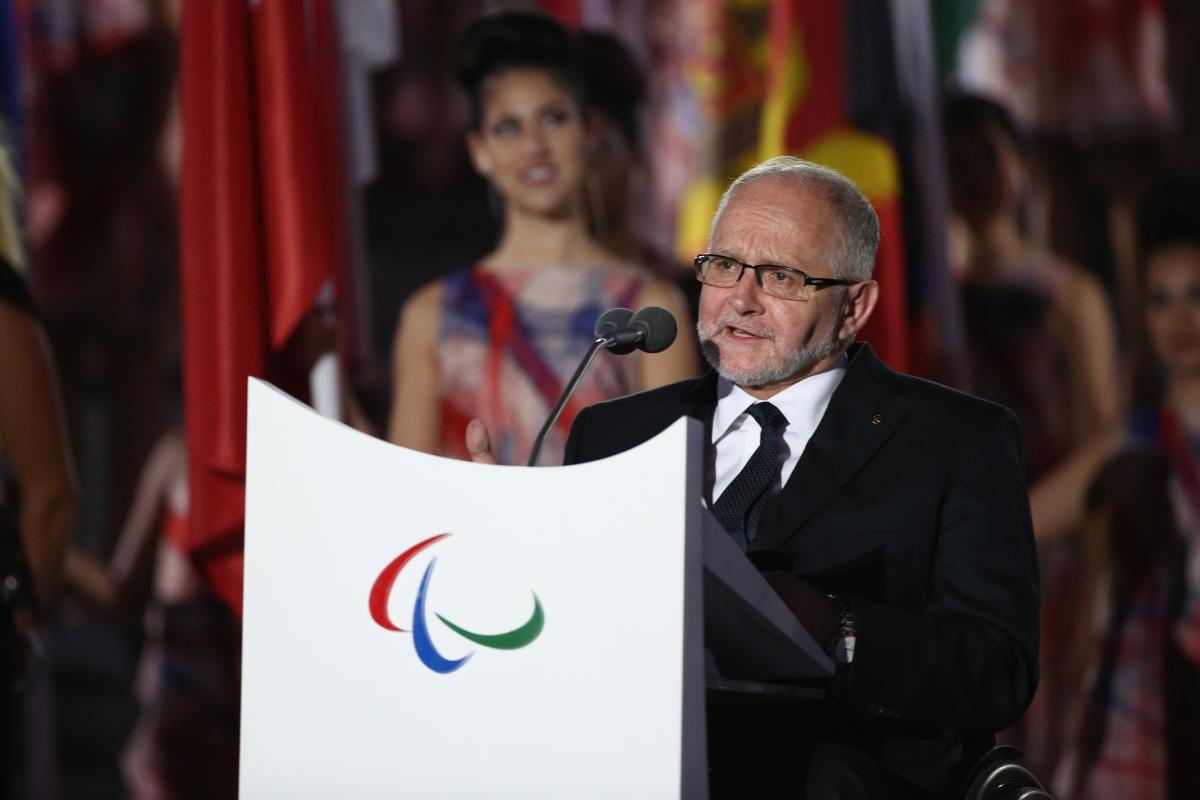 ⒸGetty
By IPC
Tonight is a celebration of the last 12 days of sport but it's also a very sombre occasion following yesterday's extremely tragic events. The passing of Iranian cyclist Bahman Golbarnezhad has affected us all and left the whole Paralympic Movement united in grief.
Tonight, I would like you to join me in paying our condolences to his family, friends, his teammates and the people of Iran by observing a moment of silence in his memory.
Thank you.
Marvellous Cariocas,
You warmly embraced these Games and took the athletes to your hearts. You made the Paralympics your Games, the People's Games, and we will forever cherish our time spent with you.
Your vocal support has been even more beautiful than this stunning city. Each day you created a family carneval of sport. You were rewarded with incredible athletic performances that were out of the ordinary.
In a city world famous for its landmarks, the most prized souvenir I take away is the memory of you, Cariocas fantasticos.
The noise you created, the passion you shared, the warmth you provided inspired Paralympians to achieve what some thought impossible.
In a Games of many golds, I have one last medal to present. The IPC Governing Board has decided unanimously that tomorrow I will award the people of Rio and Brazil, the Paralympic Order, the highest honour a person or group of people may receive, for your outstanding support of the Rio 2016 Paralympic Games. Welcome as members to the Paralympic Movement.
Muito Obrigado Cariocas.
Paralympians, your exceptional performances focussed the world on your sensational abilities. People were in awe at what you could do and forgot about what they believed you could not. You showed to the world that with a positive attitude the human body, and above all the human heart and mind, knows no limits and absolutely anything is possible.
You defied expectations, rewrote the record books and turned ill-found pity into pride. You are now heroes and role models for a new generation of sports fans from all over the world.
Independent Paralympic Athletes, you overcame more challenges than most, but I hope from now on you will always call the Paralympic Family your home.
Thanks to the superb work of Olympic Broadcasting Services, the world's media and millions on social media, the performances of Paralympians reached record numbers around the world. Billions now know who you are, what you stand for, what you believe in and what you can achieve. You should all be Proud Paralympians.
Thank you to every member of the Rio 2016 Organising Committee for staging these excellent Games. Thank you to the IPC Staff Team. Thank you to every partner, every Games Official, and especially every volunteer. Your yellow t-shirts shone as brightly as your smiles; you are the unsung heroes of the Games. You are the best of Brazil.
By tradition, it is now time for me to officially close these marvellous Paralympic Games. But firstly I want to take you back to the Beijing 2008 Closing Ceremony where we celebrated the falling leaves of autumn with the theme "A Letter to the Future".
The letter wended its way from Beijing via the amazing London 2012 Games to land in Rio de Janeiro at Latin America's first Paralympics.
That letter signalled a very bright future for Para sport and with spring approaching here in Brazil, and my favourite tree – the jacaranda – about to show its stunning blue flowers in Bahia, these Games importantly signal a very bright future for this youthful and wonderful nation. I, through the passage of that 'Letter to the Future', now call upon athletes to assemble in Tokyo in August 2020 where the Paralympic Spirit will be re-ignited and Paralympians will once again inspire and excite the world through Para Sport.
These Games have been uniquely Brazilian and wondrous. I want to thank Rio de Janeiro, cidade Paralímpica, cidade maravilhosa, coração do meu Brasil!