IPC President tells UN the Paralympics are a world leader in driving social inclusion
Sir Philip Craven and three-time Paralympian were speaking at a special event to commemorate the International Day of Sport for Development and Peace.
16 Apr 2015
Imagen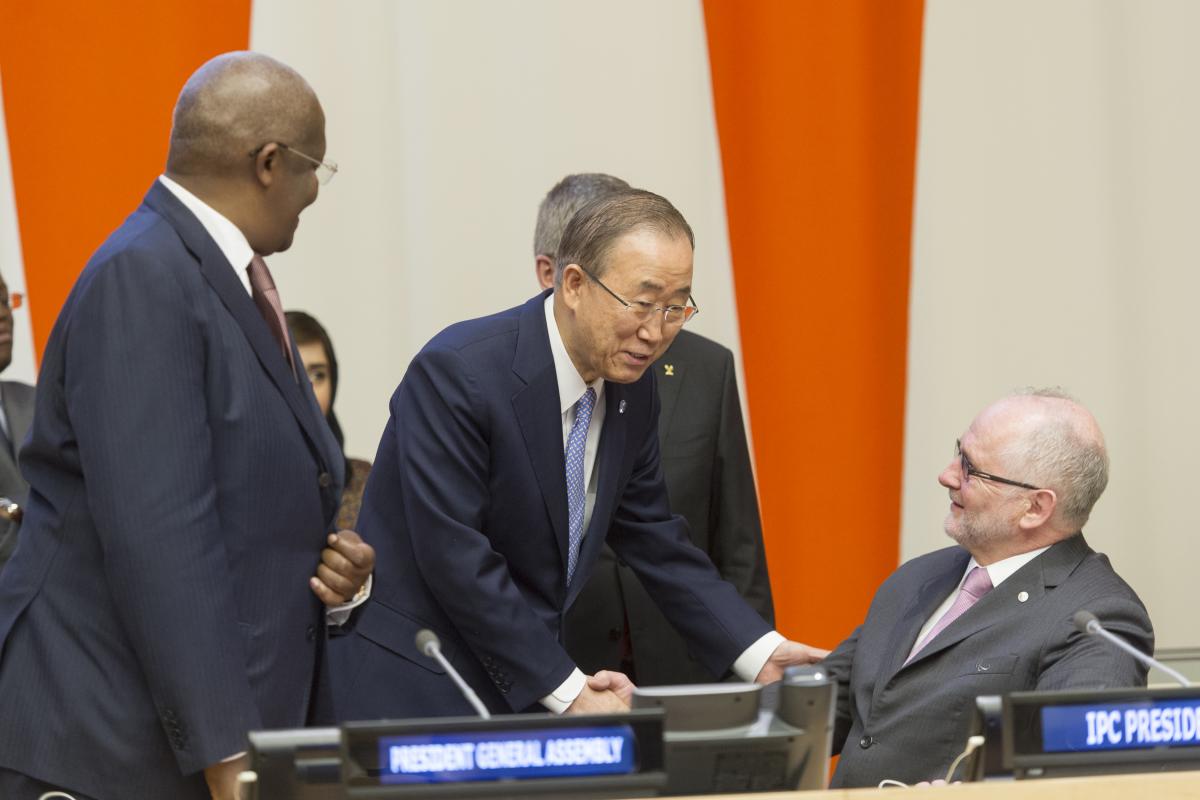 ⒸUN
By IPC
"Sport truly has the power to turn stereotypes of disability on their head – portraying individuals with disabilities as mobile, empowered, and capable."
International Paralympic Committee (IPC) President Sir Philip Craven told an audience at United Nations headquarters in New York, USA, on Wednesday (15 April) that he believes the Paralympic Games are the world's leading sporting event for driving social inclusion.
Sir Philip, together with three-time Paralympian Dr. Cheri Blauwet, was speaking at "United action towards sustainable development for all through sport", a special event hosted by UN Secretary General Ban Ki-Moon to commemorate the International Day of Sport for Development and Peace.
During a short address to an audience which included Members States, athletes, high level representatives of the sport sector and UN officials, Sir Philip shared his own experiences of practicing sport as a five-time Paralympian in wheelchair basketball and described sport as "life's great educator".
Using three para-athletes – Ugandan Charles Okwanga, Australian Donna Ritchie and China's Tao Zheng - as examples, Sir Philip explained how their involvement in sport can not only transform their own lives but drive equality and social inclusion in other peoples' lives too.
"In my opinion, no other sporting event in the world can deliver such seismic shifts in attitudes or drive social inclusion as well as the Paralympic Games," said Sir Philip, who highlighted that around 20 million people in Great Britain, one third of the population, changed their view of people with an impairment as a result of the London 2012 Paralympic Games.
"Thanks to our tremendous partnership with the IOC, which involves staging the Paralympics immediately after the Olympic Games in the same city, the Paralympic Movement has developed a track record for building a bridge which links sport with social awareness," he added.
Sir Philip stressed that although the UN Convention on the Rights of Persons with Disabilities had achieved much since its adoption, more could be achieved. The key he said to making for a more inclusive society would be through sport and physical activity playing a greater role in the education of young people around the world.
"Many precious life skills are acquired by the regular practice of sport, such as hard work, fair play, honesty and integrity," he said.
"For me sport is the antithesis of war; it improves self-discipline, respect and tolerance and leads to a greater understanding of why in life you must play by the rules. Where else can you pit two fierce rivals head-to-head in peaceful conflict other than in sport?
"Apart from the obvious health benefits, sport helps the individual to help themselves, and enables them to achieve personal freedom. It awakens their hearts, minds and souls so that they can discover with a passion their own talent.
"Looking at the advantages sport can bring, it makes sense to get young people active and involved as early as possible. The best way to achieve this is through school. In my view very few academic subjects can teach such a wide range of skills as sport.
"Together we need to embark on a long-term programme of education where sport and activity play a key role in encouraging people to maximise their development of what they possess, not worrying about what they don't.
Dr. Blauwet, a Paralympic wheelchair racing champion, also spoke of her own experiences as an athlete and the societal changes she had witnessed through sport.
"I had the privilege of meeting athletes with disabilities from all corners of the world who had experienced a staggering level of stigma, first having to prove their self-worth simply as human beings prior to rising to the opportunity to represent their country. I was humbled," said Dr. Blauwet.
"All spoke of the manner in which sport had first and foremost transformed the way society viewed them as strong, competent individuals. Once they were personally empowered, they were then able to truly compete, and excel.
"Empowering individuals through inclusion and societal opportunity: this is the power of sport for development and peace, and the legacy of the Paralympic Movement."
She also echoed Sir Philip's comments about the Paralympic Games' ability to change attitudes, highlighting the success of the Beijing 2008 and Sochi 2014 Paralympics, and emphasised the vital role the world's media has to play in triggering further change.
"Sport truly has the power to turn stereotypes of disability on their head – portraying individuals with disabilities as mobile, empowered, and capable. Key to this societal shift is the importance of media coverage of the Paralympic Games and athletes with disabilities. Stereotypes are only broken when one is able to tangibly see an alternative. Our global viewership and ability to show the world our strengths and capabilities must continue to grow."
Dr Blauwet finished by explaining that even had she won more titles in addition to her Paralympic gold in Athens 2004, she could never truly call herself the "best in the world".
"This is simply because the majority of women with disabilities have never yet had the chance to complete. Until every athlete – male, female, impaired, able-bodied, tall, short, you name it, has the same opportunity to be on the start line of that race, none of us have the right to claim this title. We must continue to utilise sport as a tool for inclusion throughout society, and for all individuals," she said.
Amongst the other speakers during the three-hour long event were UN Secretary General Ban Ki-moon, IOC President Thomas Bach, Sam Kutesa, President of the UN General Assembly, Wilfried Lemke, Special Advisor to Secretary General on Sport for Development and Peace and former world No.1 tennis player Billie Jean King.
Wednesday's event was to celebrate and raise awareness on sport's role as a tool for social change and peace. It commemorated the International Day of Sport for Development and Peace by examining how sport has been utilised as a means to foster the development and well-being of persons and communities, such as children and youth, women and girls, and persons with disabilities through various local and global initiatives.
Related Documents