#IDSDP2015: Wheelchair basketball emerges in Uganda
Since the late 1980s Uganda has been recovering from the impacts of civil war, including developing para-sports for those affected by the conflict and the wider community.
06 Apr 2015
Imagen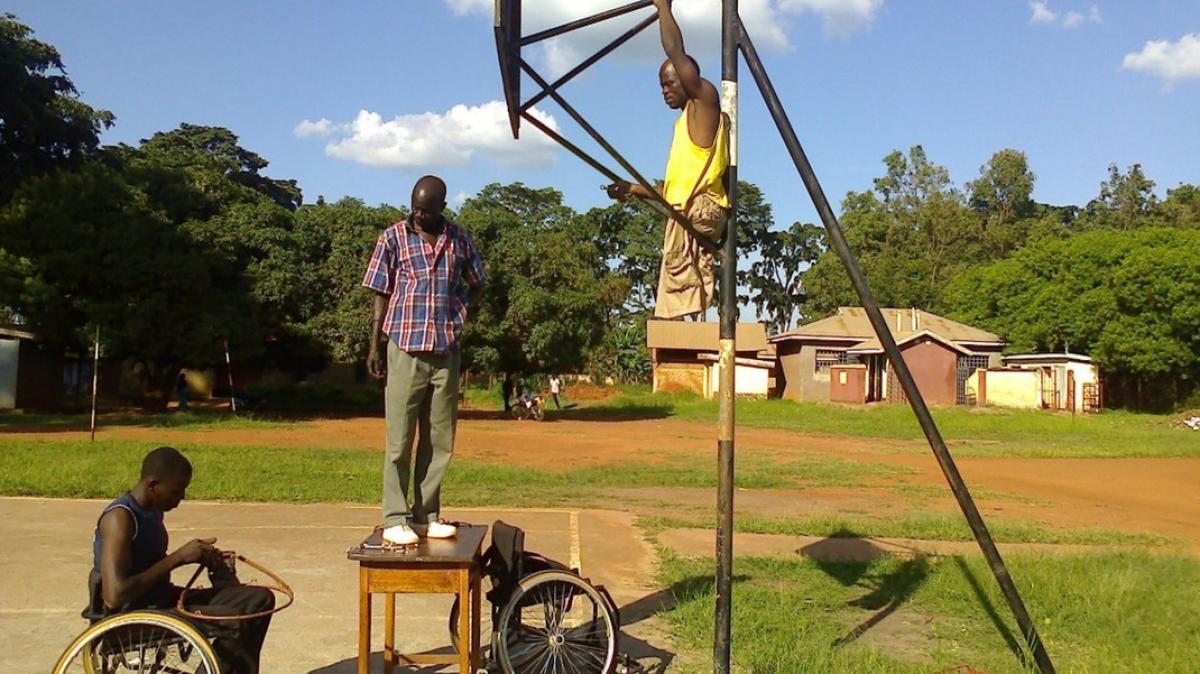 ⒸUgandan Paralympic Committee
By IPC
"There are certain things I can't do because of my impairment just like there are many things I can do with my impairment that others can't do.
To celebrate the United Nations' International Day of Sport for Development and Peace, the IPC and its development arm the Agitos Foundation are catching up with some of the most successful projects they have supported since the Foundation was officially launched in 2012.
Funding received from the Chinese Lions Club has helped with the introduction of the Uganda Paralympic Sports Development Project, an initiative that has led to wheelchair basketball becoming one of the fastest growing para-sports in the country.
The support, which was made available through the Agitos Foundation in August 2013, has helped the Uganda National Paralympic Committee to develop their capacity and leadership and as well as the Uganda Para-Athlete Association, has led to the establishment of the Uganda Wheelchair Basketball Association.
Now over 100 people in six clubs practice athletics and wheelchair basketball, thanks to the distribution of eight racing wheelchairs and 14 chairs for basketball.
Charles Okwanga, 25, is one of those players. In 1996 he stepped on a landmine on his way to school, leading to the amputation of both of his legs. He thought his life was over but after hearing about a workshop taking place at the Gulu Sports Club nearly ten years later, decided to give wheelchair basketball a try.
"After the landmine my life and dreams were shattered," Okwanga said. "Before the land mine, I used to play football and I loved sports so much. When I heard about wheelchair basketball, I asked myself, "How can a person like me play basketball?" But I thought "wheelchair basketball, yes, I sit in a wheelchair maybe I can play".
"It was my first time to play a sport after the land mine"
Okwanga now plays regularly for Gulu including at events such as Friday Night Lights, an off-season tournament that brings together players, fans, corporate bodies and the entire basketball fraternity. The competition brings in much needed income that is used for training and raises awareness of the sport across Uganda.
"At the beginning we were few but after a few months people started coming to watch us train. The game became popular and we were invited to play before a big crowd at International Women's Day, disability and other national celebrations like the peace day celebrations.
"We used to take the game to the community to demonstrate our abilities but nowadays people are attracted to come and watch us play."
Through systematic advocacy meetings and awareness campaigns, the Uganda National Paralympic Committee, through the Uganda Sports Development Project, presented a petition to parliament to enable affirmative action in physical education and sports.
The petition resulted in significant policy changes and a review of the national sports policy. As of May 2014 school sports competitions are inclusive and physical education is compulsory in all schools.
The government of Uganda also organises an annual event named the 'National Disability Gala' to celebrate the achievement of people with impairments, recognising special talents and the diversity of Uganda's people and to promote para-sports in the country.
"I just believe I am not disabled," Okwanga said. "There are certain things I can't do because of my impairment just like there are many things I can do with my impairment that others can't do.
"People in my community look at me differently; they consider me special and important. Now I can go back to school and achieve my dream of becoming a social worker, to give back to my community and improve the situations of people with impairments."
You can find out more about the projects that the Agitos Foundation is involved with at their website.
The Agitos Foundation is the only organisation dedicated to the global development of para-sport. Working from grassroots through to Paralympic Games, it harnesses the power of sport as a force for change.
Related Images