Italy clinch best-ever finish with fifth place at Buffalo 2015
Italy beat Germany for fifth place and the Czech Republic defeated Japan for seventh at the IPC Ice Sledge Hockey World Championships A-Pool.
03 May 2015
Imagen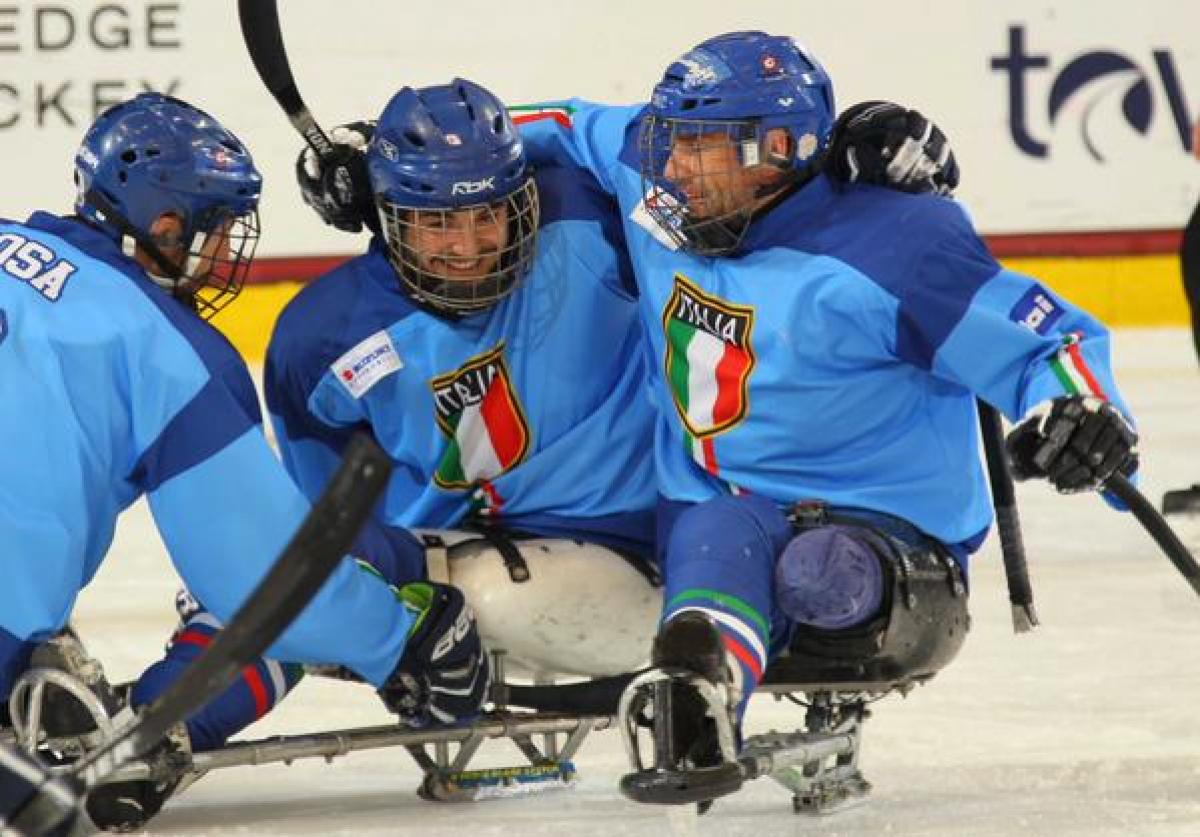 ⒸBill Wippert
By Stuart Lieberman | For the IPC
"Finishing fifth place for us is really important because our National Paralympic Committee will now put us in a new category for support for our training."
After finishing in sixth place at the last World Championships and Paralympic Winter Games, Italy did one better on Saturday (2 May) by defeating Germany, 4-2, in the fifth-place game at the 2015 IPC Ice Sledge Hockey World Championships A-Pool.
The result marked Italy's best-ever finish at an IPC Ice Sledge Hockey World Championships, with this edition of the event taking place at the HARBORCENTER in Buffalo, New York in the USA.
"Finishing fifth place for us is really important because our National Paralympic Committee will now put us in a new category for support for our training," said Italian star defenceman Gianluigi Rosa.
Torino native Valerio Corvino hit a slap shot into the net to break open the game's scoring with just two minutes left in the first period, giving Italy a lead they would keep for good. Nine seconds later, the Italians struck again, as dual-sport athlete Andrea Macri scored, assisted by forward Florian Planker.
Joerg Wedde, who lost both his legs after falling under a train at age 13, put Germany on the board just 1:15 into the second period when he scored in the midst of a pack crowding the front of the net. Greg Leperdi responded for Italy toward the end of the period with a goal of his own to push his team's lead back to two, and 36 seconds later Rosa tallied another score for the reigning European champions.
In the third period, Germany's rising forward Felix Schrader found the net for the second straight game. But Italian goaltender Gabriele Araudo did not allow any more pucks past him after that, finishing the day with 12 saves to complement the stellar defence of Rosa, who was sidelined for two months earlier this season with a shoulder injury.
"In this tournament we've played really strong on defence without shooting so much, and in this game were able to do both," Rosa said.
He added that he is dedicating the win to Gianluca Cavaliere, one of the team's defencemen who was not able to make the trip to Buffalo due to a last-minute injury, along with his girlfriend, who motivated him to come back from his injury.
SEVENTH-PLACE GAME: CZECH REPUBLIC 5, JAPAN 1
Earlier in the day, in the seventh-place game, the Czech Republic outshot Japan, 21-6, en route to clinching the top seed for the 2017 World Championships B-Pool.
Two-time Paralympian Zdenek Krupicka got the Czech Republic's scoring rush going, netting the puck just over five minutes into the first period with help from stellar defenceman Pavel Kubes. About two minutes later, the roles were reversed, with Kubes scoring off a pass from Krupicka. Jiri Berger then scored two-even strength goals to extend the Czechs' lead to four at the first break.
After a scoreless second period, Kubes slid the puck underneath a wall of Japanese defenders on a power play early in the third for another Czech score.
"In the tournament, we didn't always score when we had the opportunity, and our penalty kill wasn't so good," Kubes said. "But we weren't as nervous for this last game, and thus were able to enjoy it more and do better."
Former able-bodied hockey player Kazuhiro Takahashi scored Japan's lone goal of the game in the final period, while Japanese goaltender Mitsuru Nagase made four saves in the opening 14:18 of the game before being replaced by Kazuya Mochizuki, who recorded 12 saves.
"We need to get on our opponents as fast as possible, which is something we didn't do," Takahashi said. "We lost one goal, then two goals, and it just went down from there. I think we have to rebuild our team in a more robust way, system-wise. We need to be ready when the puck drops."
As the eighth-place finisher in Buffalo, Japan will now be the second-seeded team at the 2017 World Championships B-Pool.
CHAMPIONSHIPS COVERAGE
Live coverage of all the games at the World Championships, along with results, statistics and ticket information can be found at Buffalo2015.com.
Up-to-date details of where games can be watched live nationally can be found at Buffalo2015.com.
IPC Ice Sledge Hockey will tweet live updates from on site in Buffalo from @IPCISH and is encouraging all fans to use the #Buffalo2015 hashtag when tweeting about the tournament.
Images from the Championships are available at www.Flickr.com/Photos/Paralympic. Media wishing to receive high-resolution images should contact Lucy.Dominy@paralympic.org.