Jason Smyth: How I got into para-athletics
Just what led our Ones to Watch to take up athletics? This month we talked to Irish sprinter Jason Smyth – the Paralympic, world and European double sprint champion - to find out his story.
19 Mar 2016
Imagen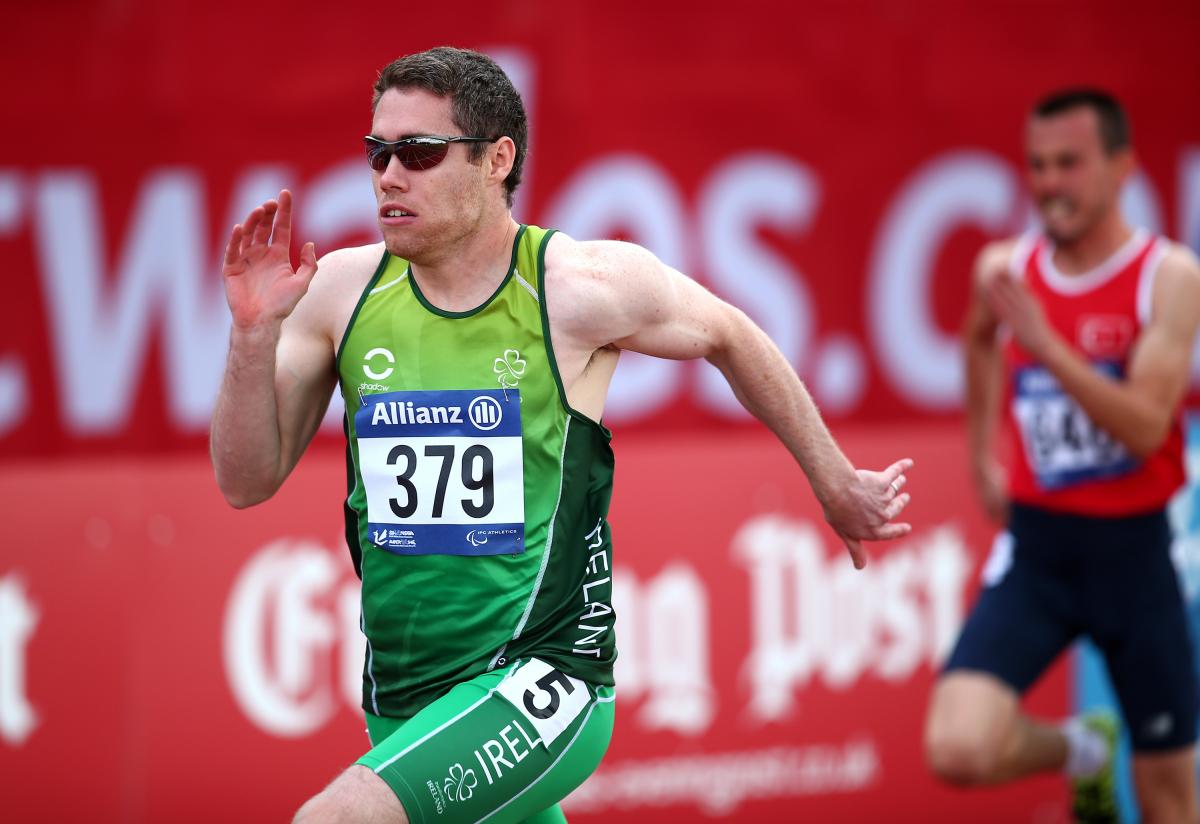 ⒸGetty Images
By IPC
"The thought of running for your country – at that age too when you are at school - it sounds cool, you think you're cool, it is cool. "
A good teacher can help shape their pupil's life and help them discover talent they did not know existed.
That was certainly the case for double world and Paralympic sprint champion Jason Smyth.
The Irishman credits his teacher for giving him the chance to become what he is today – the fastest Paralympian in the world.
In 2004, Smyth was studying Physical Education at Limavady Grammar School in Northern Ireland.
After a few weeks of assessments his teacher Liz Maguire approached him, having spotted his potential, and suggested the 16-year-old try out at his local athletics club in Derry.
Smyth was not convinced; up until then football had been a particular passion - his speed on the pitch had already earned him a reputation – but certainly not athletics. Still, he was willing to strike a deal.
"To be honest I didn't know much about athletics, wasn't overly bothered about it, and was happy doing what I was doing," he explained.
"I kind of threw the ball back in her court and said 'If you come back with the information and the time, then I'll go along and see' – but I wasn't bothered if she didn't come back to me."
His teacher duly came back with the details – and Smyth kept up his end of the bargain. At the local track that night, Smyth was sent across to work with a coach who focused particularly on sprints – it was Stephen Maguire, the man who would become his coach for the next nine years, and guide him to four Paralympic gold medals.
Within a year, Smyth was racing at the Irish Schools Championships - and winning.
Smyth was diagnosed with Stargardts disease, a genetic disorder resulting in partial loss of sight, when he was eight-years-old. But it never stopped him from taking part – and excelling – in the sports he loved.
"I know I was hindered in how good I could've been, but I'm one of those people, you can throw me in to any sport and I'm generally quite good at it, I just somehow had the knack of picking it up," he explained.
"So even if I did have a disadvantage, I always was good enough to be on school teams - and I had the speed. When you have the speed it becomes quite dangerous. What you lack in things like long passes you've got on the ground in speed."
Not long after, Smyth qualified for the (able-bodied) Commonwealth Youth Games in Australia – his first international competition – and a trip of a lifetime for any teenager.
"I thought wow, I've been doing this for a year and I've been given a free trip to Australia, this sounds right up my street!" he laughed.
Then in 2005 he travelled to Espoo in Finland for the IPC Athletics European Championships – his first para-athletics event, where he won the sprint double.
"There was no doubt that it was exciting," explained the 100m and 200m T13 world record holder.
"The thought of running for your country – at that age too when you are at school - it sounds cool, you think you're cool, it is cool.
"It was enjoyable and exciting but did I really know what was down the line? Not really. Because I didn't really have a background in the sport, I knew very little about it, so I didn't really realise the opportunities. I just took it in my stride and went with it."
Smyth stuck at it – the street cred of teenage success matched with a perfectionist's will – "If I'm going to do something I do it properly," – helped the young Irishman to strive for further success. To this day he had not lost a para-athletics race.
Looking back, can he believe the way things have turned out?
"No absolutely not – I would never have known everything that was possible.
"When I think of that one moment when a school teacher threw an opportunity in my path, nobody in that situation would look and think 'If you say yes and go to an athletics club this is what actually may happen.' You don't think it.
"It's crazy even just to think if I hadn't gone, all the things I would have missed out on. It puts such an emphasis on taking opportunities because you just don't know where they may go.
"Obviously there's a huge amount of work I've had to do, but back to the first moment, if she hadn't decided 'Let's see if he's interested,' the rest wouldn't have happened."