Hug hungry for Paralympic gold after Doha disappointment
The Swiss wheelchair racer will start his 2016 season at the IPC Athletics Grand Prix in Dubai
15 Mar 2016
Imagen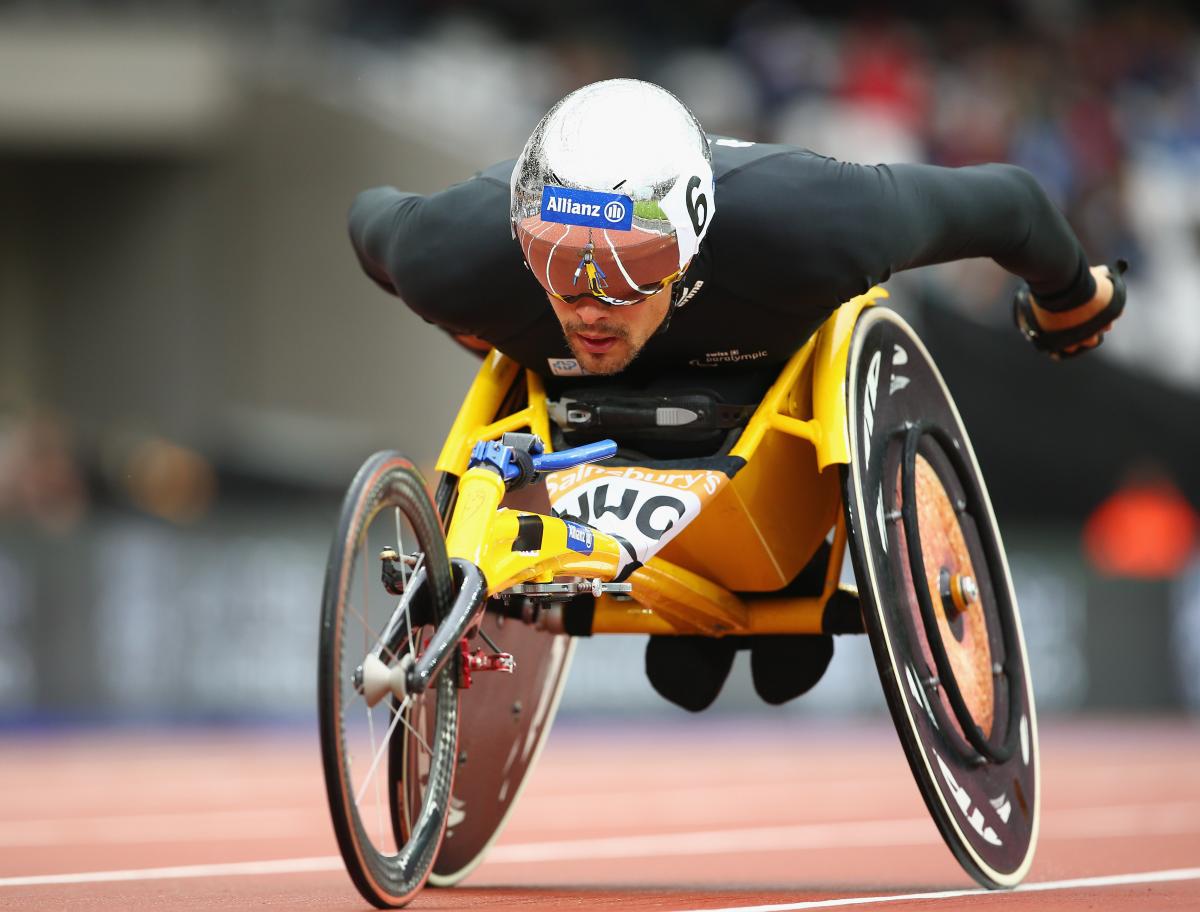 ⒸGetty Images
By IPC
"I've been wheelchair racing now for so many years – it's my 20th year this year, and my fourth Paralympic Games, so I really, really want a gold medal. I really hope this will be my year."
There is a special empty space in Marcel Hug's vast medal collection which the Swiss wheelchair racing ace is intending to fill this year.
It's marked Paralympic gold – and provides the one missing link in an otherwise stellar career.
A five-time gold medallist at the World Championships in 2013, it was no surprise that Hug went to Doha 2015 as one of the key contenders for gold.
But it was not to be – instead, he returned home with one silver and a bronze.
Defeat – and the disappointment that came with it – failed to dent Hug's confidence. In fact just one week after the end of the 2015 World Championships the 'Swiss Silver Bullet' raced in the Oita marathon in Japan – and won, for a remarkable sixth consecutive time.
This year holds the prospect of an even bigger prize – the Paralympic Games, which take place in Rio de Janeiro, Brazil, in less than six months' time. It is a stage he relishes – and a stage on which he has also suffered defeat in the past.
Now, when it comes to success, he is hungrier than ever.
"I am very, very hungry, it's sure!" he acknowledged. "I've been wheelchair racing now for so many years – it's my 20th year this year, and my fourth Paralympic Games, so I really, really want a gold medal. I really hope this will be my year."
For Hug, that year - and the promise it holds – starts in the United Arab Emirates this week.
The 30-year-old lines up in the 100m, 200m, 400m, 800m, 1,500m and 5,000m T54 at the 8th Fazza IPC Athletics Grand Prix which takes place in Dubai from 17-20 March. There is already plenty at stake – not least, qualification for Rio.
"It is very important for me to do the qualification standards for Rio, because in Switzerland qualification starts now," said Hug, who hopes to compete in the 800m up to the marathon in Brazil.
"The track events I have to qualify for this year – marathon qualification can be earned last year - so that is the plan, to do the qualifications here in Dubai."
It is clear Hug has moved on from the frustrations and dismay he experienced in Doha – was he able to take away any positives from last October's World Championships?
"Yes definitely – the results for me was not very positive - there were medals at least – but not any gold medals, which was what I wished for," he said.
"But the positive was to see what the reality is; how strong other athletes are. It was very important also to see the Chinese athletes, we never saw them before."
Chenming Liu and his compatriot Yang Liu both won world golds at Doha 2015 – Chenming won the 800m T54; Hug picked up bronze. Yang won the 400m T54 – Hug finished out of the medals.
"Now I know there are a lot of them and they are really good," he added. "It was really important to see how good I am and how good other athletes are. It's the reality to see that I still have a lot of work to do."
Then there was the 1,500m T54, where the defending champion finished back in fifth place – the race was won by Thailand's Rawat Tana, who also won the 5,000m having controlled the race from start to finish, as Hug settled for silver.
It may not have been the outcome many expected – but Hug himself was not entirely surprised.
"I had never seen the Chinese before so I didn't know (about them), but I had experienced that they are really good from other big competitions, so I was not surprised.
"Also the Thailand guys, I was not really surprised, because especially Rawat had been really strong in competitions before."
Now though, with a solid block of training behind him – and decent weather conditions back home in Switzerland, which meant he was able to train outside during the winter months – Hug is feeling more prepared than ever.
Some small but vital changes were made over the winter, as Hug and his coach Paul Odermatt worked on what they needed to do differently in order to top the podium this year.
Did the results in Doha change how they approached this year?
"Yes a little bit – especially in my mind; I have a really, really hard focus, also in training, I'm really motivated. I had a good winter, a lot of training. I had no infections or anything – everything was very good with my health. I had one extra training camp too in the winter.
"Do I feel better this year than 12 months ago – yes I think so. I feel very good – maybe a bit better. We did analyse the season from last year and so we made some changes – not very big, but some small ones," he added.
Hug says they might be small changes - but he is hoping they make a big difference in what could be a year to remember.
__
Sport fans from around the world can now buy their Paralympic tickets for Rio 2016 from authorised ticket resellers (ATRs).
The IPC's Global ATR is Jet Set Sports, and Rio 2016 tickets and packages can be purchased on the CoSport website.
Residents of Brazil can buy 2016 Paralympics tickets directly from the Rio 2016 website.