Jebali breaks discus world record
Raja Jebali adds 56 centimetres to the women's discus throw F40 world record
27 Mar 2016
Imagen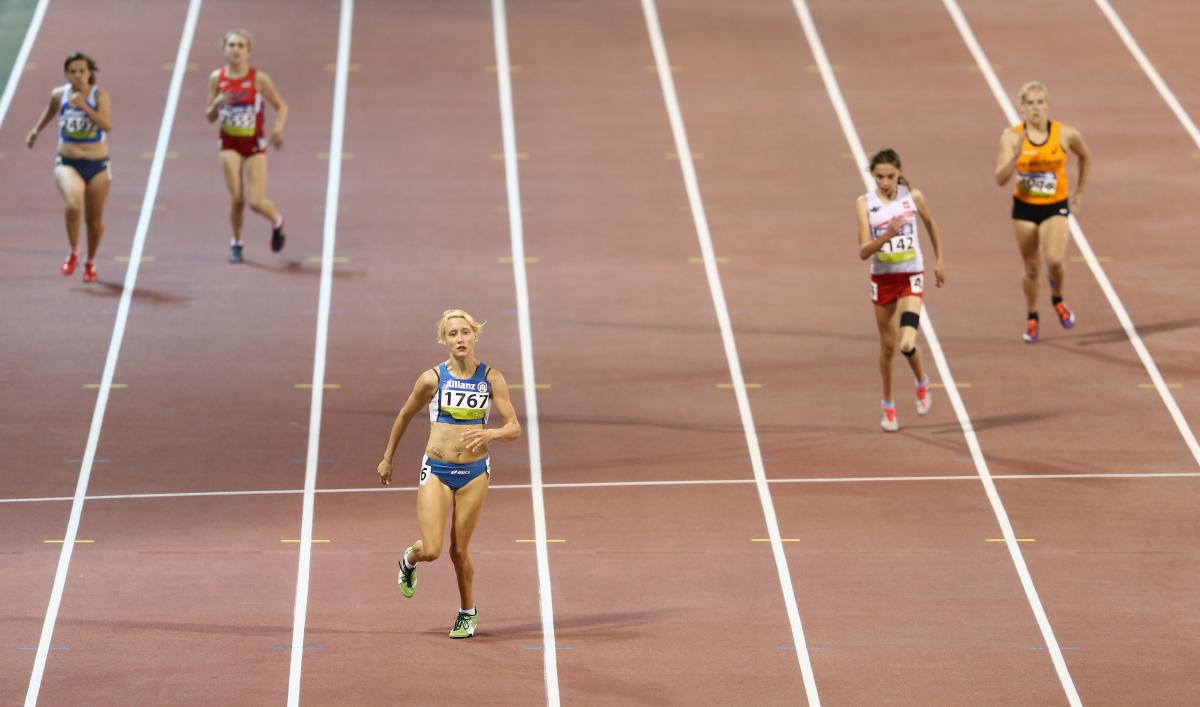 ⒸGetty
Tunisia's Raja Jebali smashed the women's discus throw F40 world record on her way to gold on Saturday (26 March), the third and final day of competition at the IPC Athletics Grand Prix in Tunis, Tunisia.
The 18-year-old added an impressive 56 centimetres on to the mark set by Nigerian Lauritta Onye at last year's World Championships with a throw of 21.50m in the final round at Rades Athletics Stadium.
Tunisia filled the podium as F41 world gold and silver medallists Raoua Tlili (29.37m/922 points) - who only managed to record one legal throw - finished second and Fathia Amaimia (27.27m/842 points) took third.
Algeria's Mohamed Nadjib Amchi (F31) saw off Poland's world and European bronze medallist Maciej Sochal (F32) (32.48m/900 points) and Algeria's Paralympic bronze medallist Mounir Bakiri (F32) (31.74m/874 points) to take the gold in the men's club throw F31/32/51 with a second round effort of 30.35m (979 points) – just 19 centimetres shy of the world record mark.
The women's shot put F53/54 went to form as Tunisia's Hania Aidi finished top with a best of 7.11m (933 points), while Algeria's former world silver medallist Nadia Medjmedj (F56) dominated the shot put F55/56/57, sealing victory with a best of 9.34m (1053 points) - well clear of the rest of the field.
Greek world champion Manolis Stefanoudakis made it two wins in Tunis as he threw 28.60m (999 points) in the men's javelin F53/54/55, adding to the shot put gold he secured a day earlier. Tunisia's Faouzi Rzig (32.46m, 842 points) won the men's javelin F34.
Hamza Larak's first round throw of 31.62m secured the Algerian the win in the javelin F57 while Tunisia's Yousra Ben Jemaa threw 16.03m to win the women's javelin F34 – just three centimetres further than Algeria's Louadjeda Benoumessad in second place.
Victory in the women's discus F11/44 went to Turkey's world finalist Busra Nur Tirikli (F11) with a best of 27.63m (849 points).
Poland's Tomasz Paulinski (F35) finished top in the men's discus F35/36/37 (44.08m, 977 points) and Algeria's Nacir Sahli (F40) took gold in the discus F40/41/42 – 44/46 (18.76m, 840 points).
Gold in the men's long jump T11/12 went to Doniyor Saliev of Uzbekistan with a leap of 7.12m (972 points); the women's event was won by Ivorian Fatimata Diasso (T11) with 4.56m (944 points) and India's Ram Pal (T46) cleared 1.83m to take gold in the men's high jump T42/46/47.
On the track Polish sprinter Joanna Mazur (27.01) took gold in the women's 200m T11 to add to her victory over 400m on day one, while Mozambique's Edmilsa Governo (T12) also secured her second win of the meeting with victory in the women's 200m T12/13/46/47, clocking 26.29.
Tunisia's former world and Paralympic silver medallist Sonia Mansour (T38) took the win in the women's 200m T35/36/38 (29.40).
Algeria's Hadi Tedjani (T52) took gold in the men's 100m T51/52 (18.84); Nigeria's Suwaibidu Galadima (T47) won the men's 100m T46/47 (11.19).
A number of 400m finals also took place on Saturday.
Ethiopia's Megersa Tassisa Bati (52.39) won the men's 400m T12; Algeria's Mohamed Hamoumou (50.32) finished first in the 400m T13, and Poland's Krysztof Ciuksza (T36) clocked 58.04 to win the 400m T36/37/44.
The men's 400m T20/47 was won by Frenchman Rodrigue Massianga (T20) in 50.48 while victory in the 400m T46 went to Rwandan Hermas Muvunyi in 52.61.
Tunisia's Yassine Gharbi (1:50.86) also took his second win of the Grand Prix as he raced home in the 800m T54 ahead of his compatriot Fethi Zouinkhi (1:52.35).
There was a win for Uzbekistan as Yokutkhon Kholbekova (T12) took the tape in the women's 1,500m T11/12 (4:55.91); Algeria's Souhila Lounis (T13) won the women's 1,500m T13/20 (4:44.42).
Kenya and Poland came out on top in the two longer distance events of the day as Bernard Koskei (T12) won the men's 5,000m T11/12 (15:19.34) and Lukasz Wietecki (T13) triumphed in the men's 5,000m T13/20/46 (15:00.25).
Tunisia finished top of the medal standings at the end of the three days of competition with 31 golds, 22 silvers and 10 bronze; Algeria finished in second place and Poland were third.
The IPC Athletics Grand Prix series now heads to Grosseto, Italy from 8-10 April.