Johnson believes New Zealand can increase Rio 2016 squad
Michael Johnson will lead his team to the 2015 IPC Shooting World Cup in Sydney, where he has confidence more of his teammates can qualify for the Paralympic Games.
09 Sep 2015
Imagen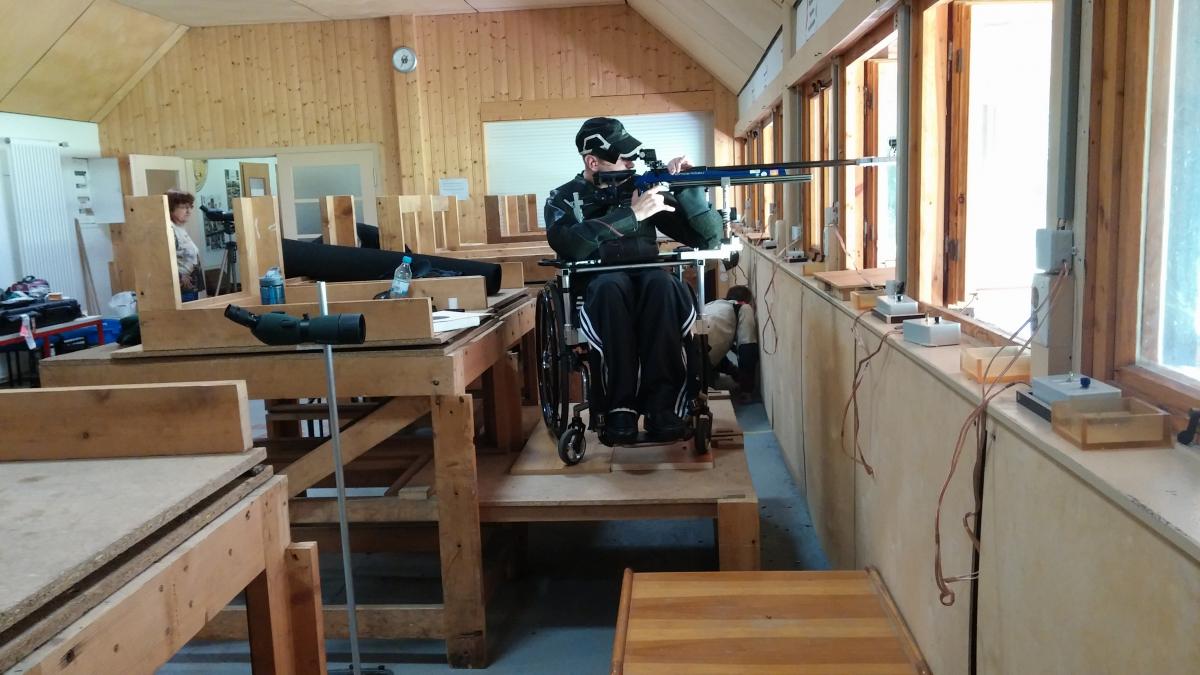 ⒸParalympics New Zealand
By Jake Smith | For the IPC
"The build-up year before Rio is a good chance to go to as many competitions as you can. You always need to keep up with competition exposure, so for me it's business as usual with training, domestic competitions, and World Cups."
Fresh from a successful whirlwind tour of Europe, New Zealand's premier shooter Michael Johnson is gearing up for yet another World Cup, but this time he will be competing just a stone's throw from home.
The IPC Shooting World Cup begins in Sydney, Australia, on 15 September and the Kiwi sharp shooter is relishing the chance to compete so close to home.
"After traveling and competing in Poland, Germany and Turkey it's felt like a pretty big year of competition already, but I'm really looking forward to Sydney," the Athens 2004 Paralympic champion said.
Trans-Tasman competitiveness is rampant across all sporting codes and shooting para-sport is no exception. Johnson will lead New Zealand's biggest ever IPC Shooting team out to Australia in a quest for glory and places at the Rio 2016 Paralympic Games.
"The Aussie shooters are some of the best in the world and we are great rivals, but at the same time we are very supportive of each other too. We've held numerous training camps together and this has definitely helped in our build up to international events."
"With upcoming World Cups in Sydney and the USA, New Zealand has the potential to send more than one Paralympic shooter to Rio; it's just up to those shooters to perform."
Johnson sealed a quota spot for Rio 2016 after winning a bronze medal at the 2014 World Championships in Suhl, Germany. Part of his strategy in the penultimate year of the Paralympics is to shoot as often as possible and get comfortable with new equipment and the trepidations that come with competition.
"The build-up year before Rio is a good chance to go to as many competitions as you can. You always need to keep up with competition exposure, so for me it's business as usual with training, domestic competitions, and World Cups."
"Every year shooters are getting better and better, so I guess the main thing is to always work on the basics of your shooting. If those skills are solid you can always fall back on them when it counts.
"With technology I see more new rifles coming out, this has a lot to do with everybody's need to be more and more accurate. You can have the best equipment, but it's still up to the shooter to pull the trigger at the right moment."
Johnson's pet events are the R4 (mixed 10m air rifle standing SH2) and R5 (mixed 10m air rifle prone SH2), which are two of the most hotly contested events. Johnson has to stay ahead of the pack if he wants to land a spot on the podium for the fourth consecutive time at a Paralympic Games.
"To maintain a competitive edge is definitely challenging and with the new decimal scoring system in qualification and the 20-shot final, anybody has a chance," he reflected. "Sometimes it can just be luck. The first challenge is to get into the final, then anything can happen."
Having competed at three Paralympics and a host of international events, Johnson is expecting big things from Rio 2016. He is anticipating the competition to be tougher than ever, but more importantly he is hoping the Brazilians and the millions watching around the world will develop a unified sense of respect and admiration for the athletes.
"I've noticed every Paralympics I've been to since Athens in 2004 has gotten better and better, with London especially breaking barriers for people with disabilities," he said. "Each Paralympics demonstrates to the world that para-athletes are every bit as professional as Olympic athletes. And to achieve as we do on the world stage is no easy task, in fact at times there can be more pressure on a Paralympic athlete to prove just how good they are at what they do.
"I am expecting and hoping that the Rio Paralympics will improve the lives of the people of Brazil, with more accessibility, more awareness and more recognition."
The 2015 IPC Shooting World Cup, which also acts as the penultimate qualifier for Rio 2016, runs from 15-19 September.
Live results are available at IPC Shooting's website, and live updates will be available on Twitter and Facebook throughout.
The last qualification opportunity takes place in Fort Benning, USA, from 3-7 November.