Josh Pauls fine-tuning his game under new coach
Team USA learning better puck retrieval skills heading into 2017 World Championships.
04 Apr 2017
Imagen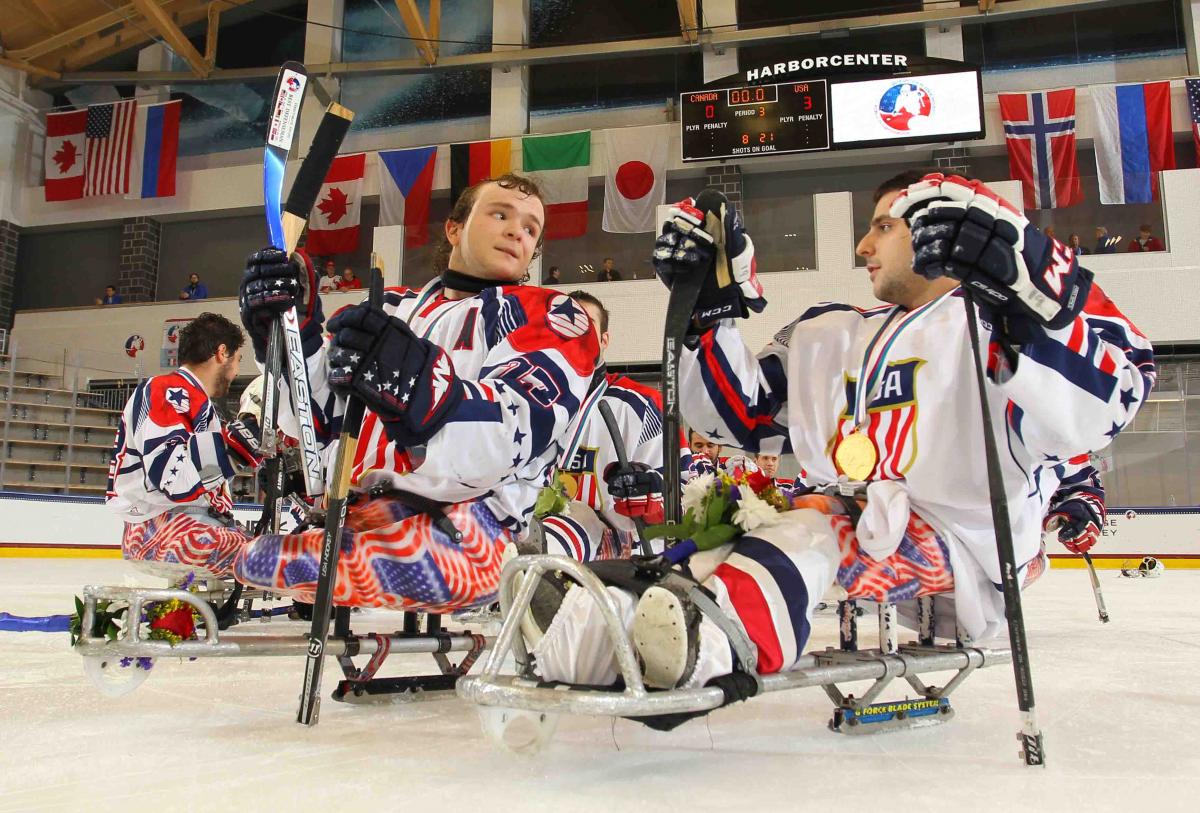 ⒸBill Wippert
By Stuart Lieberman | For the IPC
The US will enter the 2017 World Para Ice Hockey Championships A-Pool in Gangneung, South Korea, having won six straight major international tournaments, including the last World Championships and two Paralympic Games.
From bearded goaltender Steve Cash and "Mr. Potatohead" defenseman Josh Pauls to the not-teenagers-for-much-longer power duo of forwards Brody Roybal and Declan Farmer, the US team will once again feature all of the faces popular among fans.
But this time around, Guy Gosselin will be making his international head-coaching debut behind the boards. He will take over from Jeff Sauer, who helped guide the US to gold medals at the Sochi 2014 Winter Paralympics and 2012 and 2015 World Championships before passing away earlier this year. Gosselin is a two-time US Olympian who played in the NHL for parts of six seasons, and who more recently coached alongside Sauer.
"Losing such a great coach in Jeff Sauer has been tough," said Pauls, who has been with the national team since the 2008-09 season. "It's been tough adjusting to life without him. But we all know Guy Gosselin, who's worked with us the past few years, and is a great coach. He's going to be a great fit to finish up the year with us. He focuses more on the little things, such as puck retrieval off the boards, which helps us fine tune or game."
Two years ago, Pauls was named Best Defenseman at the World Championships in Buffalo, USA, where he recorded four goals and three assists in seven games.
"A lot of my teammates contributed to that award," he said. "I'm far from perfect, and just like any other player am always looking to improve my game."
Pauls, who has played 114 international games over nine seasons and has averaged nearly an assist per game over the last two seasons, is welcoming the chance to work with Gosselin on the finer details of his game. Most notably, this has included his puck retrieval skills off the boards, which is important in Para ice hockey because athletes cannot maneuver as well in their sledges along the boards as able-bodied players can in skates.
These small stylistic changes have helped Pauls fine-tune his defensive play in order to be more capable of making crucial passes come crunch time during close games.
As the World Championships will also serve as the Paralympic Test Event, Pauls is ecstatic that he will be able to situate himself in the venue and on the ice that he will likely play in on the big stage in 2018.
"To go and get on the ice in the same arena we'll be playing in next year is really something," Pauls said. "You get to see what all the facilities are and won't be going in blind for next year."
Also competing at the World Championships, where five Paralympic qualification spots for PyeongChang 2018 will be up for grabs, are: Canada, Germany, Italy, South Korea, Norway and Sweden.
The World Championships will take place from 11-20 April at the Gangnueung Hockey Centre, and all games will be streamed live at Gangneung2017.com.