Lakatos believes 2016 presents his best opportunity yet to win Paralympic gold
The Canadian T53 wheelchair racer aims to use the Nottwil Grand Prix to qualify for Rio 2016.
20 May 2016
Imagen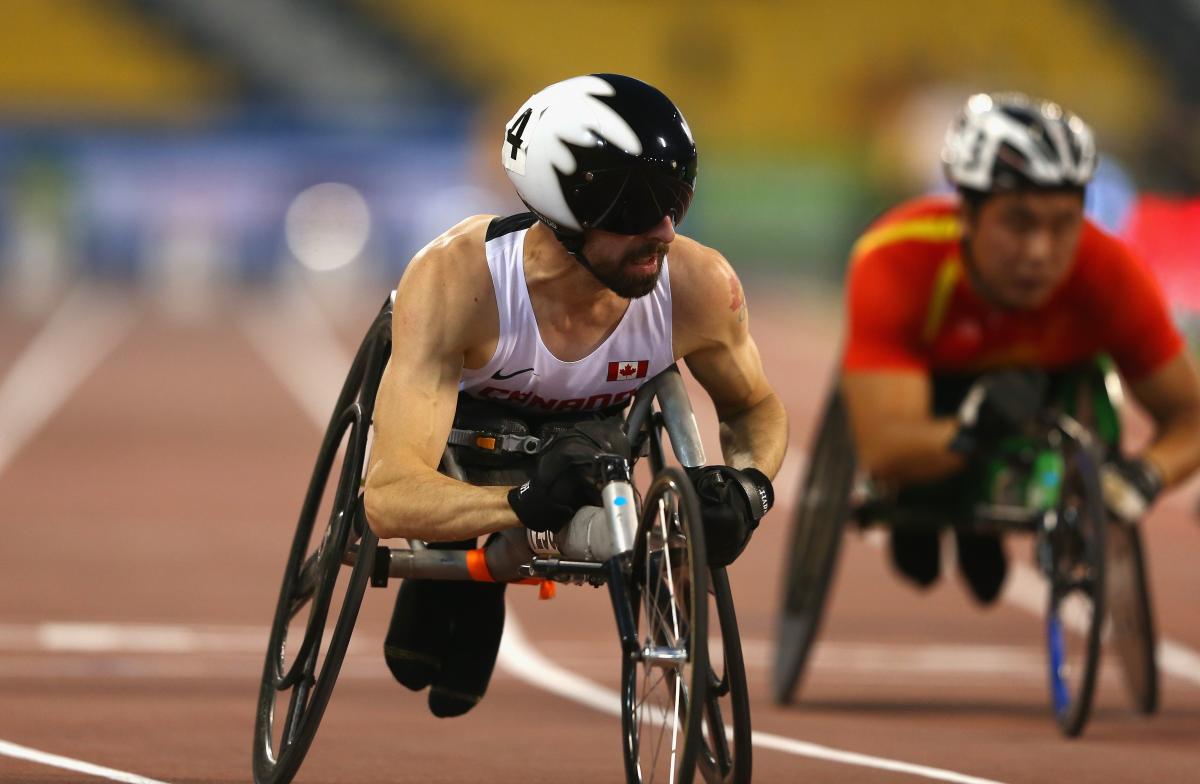 By IPC
"But as much as I hate training, I really, really love competing - and I love competing and winning."
If there is one thing Brent Lakatos does not like, it is training.
The Canadian wheelchair athlete thrives on competitions, which is why he cannot wait to race on the track at next week's IPC Athletics Grand Prix in Nottwil, Switzerland, which starts on Thursday (26 May).
"I actually hate training, it's a struggle to get out there every day, and I'm really jealous of my wife and other people that like training," said Lakatos, who is married to British T44 long jumper Stef Reid.
"But as much as I hate training, I really, really love competing - and I love competing and winning.
"I used to love wheelchair basketball, but when you get on the line in a race, it's like the whole excitement of a wheelchair basketball game squeezed down in to that moment when the gun goes off.
"That's what I really love, and I know if I don't do the training – as much as I hate it – then that moment won't be as much fun for me because I won't have a chance to win."
Winning has certainly become a habit for Lakatos lately – he claimed three individual world titles in 2013, then a hat-trick of golds at the Parapan Am Games in 2015, followed by three more gold medals at the 2015 World Championships in Doha, Qatar. He also holds the world records in the 100m and 200m T53.
One title that so far eludes him is Paralympic gold. Lakatos took home three silvers from London 2012, his third Paralympic Games; the 35-year-old believes Rio 2016 presents his best chance yet.
"If it's not now it might not be ever!" he joked.
"I know I'm going to keep on going until 2017 for sure as a full-time athlete – after that Stef and I probably want to have some kids, so I don't know if I'll be around, or what distances I'll be doing.
"I'm not getting any younger. I've changed lots of things since 2012. I've grown faster, physically stronger and mentally much more confident. My equipment is better; I'm ready."
Recalling his 100m T53 win at the US Grand Prix in 2014, he explained:
"I had a poor start against [Brazil's] Ariosvaldo da Silva, and so he had a good lead on me at the beginning.
"All the way through 70 metres he was ahead of me; only about 75 metres did I pull even, but the confidence I had since 2013 allowed me to stay calm in the race and know that I could still beat him."
The Grand Prix in Nottwil – regarded as one of the best wheelchair competitions on the circuit – will be Lakatos' first meeting of the year.
Not only is he keen to make a good impression, crucially, he still needs to achieve the Canadian qualifying standards required for Rio 2016.
"I've left it kind of late, but I'm not too worried about that, I'm just looking forward to getting out there and getting race ready," acknowledged Lakatos, who is focussed on the 100m, 400m, 800m and 4x400m relay this year.
It is also a useful opportunity to see how his rivals are shaping up. Russia's Vitali Gritsenko currently sits top of the 200m T53 world rankings, second over 400m and third in the world over 800m, while the USA's Josh George leads the way in the 400m, 800m and 1,500m.
"It's just going to be nice to see everybody, to have some fun competing, to change scenery again, not just training. It will get me closer to Rio."
The IPC Athletics Grand Prix in Nottwil, Switzerland, will take place between 26-29 May.