Lia Coryell painted mental picture of Tokyo in fight for life against Covid-19
'I spent many days in the hospital looking at the ceiling, breathing and mentalising (the Paralympic Games). I just see it, it's on my head all the time'
26 Aug 2021
Imagen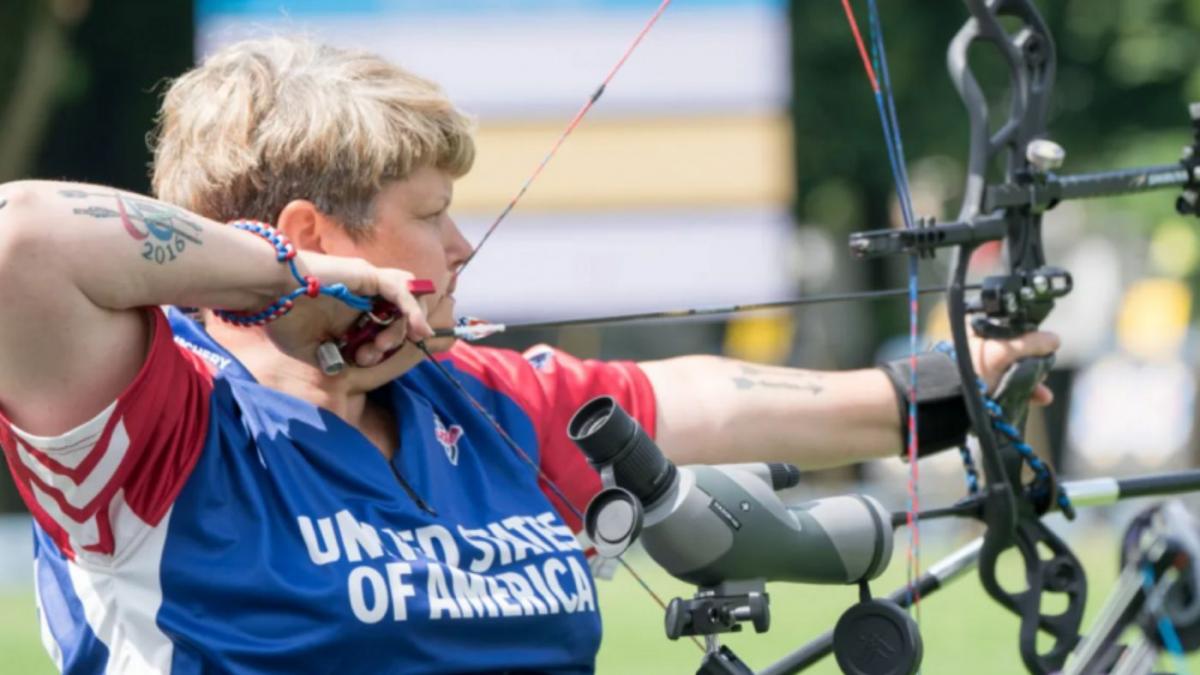 ⒸUSA Archery
By OIS
When Lia Coryell picks up her bow in the women's W1 archery competition at Tokyo 2020 Paralympic Games, she will reflect on how she visualised this moment as she fought for her life last November.
"I almost died of Covid-19, and I've been very sick," the USA athlete said. "I spent many days in the hospital looking at the ceiling, breathing and mentalising (the Paralympic Games). I just see it, it's on my head all the time."
Three days after leaving hospital, she required further medical attention due to complications with bacterial pneumonia in both lungs. The 56-year-old faced another 10-week battle before being cleared to start training again in January.
The multiple sclerosis Coryell had been diagnosed with at the age of 23 put her at a higher risk of contracting Covid-19.  Now she believes that coping with the health crises – she also had pericarditis (infection around the lining of the heart) – will help her medal mission.
My body attacked my heart
"It's an autoimmune disease, where my body attacked my heart because I was so sad," she said, alluding to the stress she felt at not being able to mix with other people.
"Social distancing only works if you can interact with other people, otherwise is solitary confinement."
A Paralympic champion goes for more glory
Iran's Zahra Nemati is set to make her mark at Yumenoshima Park Archery Field.
The 36-year-old won individual recurve gold medals at Rio 2016 and London 2012, where she became the first Iranian female champion at either a Paralympic or Olympic Games. Nemati is now looking to become the first Paralympic archer to win three consecutive individual golds.
China's Wu Chunyan,  who took individual silver and mixed team recurve gold at Rio 2016, is the athlete most likely to block Nemati's path.
"This match is very amazing. Chunyan is a great archer, but I'm stronger now than in Rio," Nemati told the Olympic Information Service.
Great Britain topped the sport's medal table five years ago in Rio de Janeiro with six.
Leading men's challenge
In the men's compound, 38-year-old Matt Stutzman of USA, who took silver at the Rio 2016 Games, is also returning to Paralympic action. Famed for his unique shooting style with his feet, Stutzman is one of the most well-known Para archers.
"I'm not taking on the burden of pressure. I don't care what people say, I don't watch the news, I don't watch other people's scores, I'm just focusing on me and what I can do," he said.
Another defending champion in Tokyo is Andre Shelby. The US Navy veteran won gold in his Paralympic Games debut at Rio 2016.
"The pressure is a lot greater now, but I got it in my mind now that whatever happens I'm here to just shoot the best I can," he said.  
David Drahoninsky of Czech Republic goes for his fourth consecutive medal in the men's W1. He took gold at Beijing 2008, and silver at London 2012 and Rio 2016.
The archery competition starts on Friday and finishes on September 4 (Saturday).