London 2017: Day 4 evening athlete reaction
Flashquotes from Monday evening's session of the World Para Athletics Championships.
17 Jul 2017
Imagen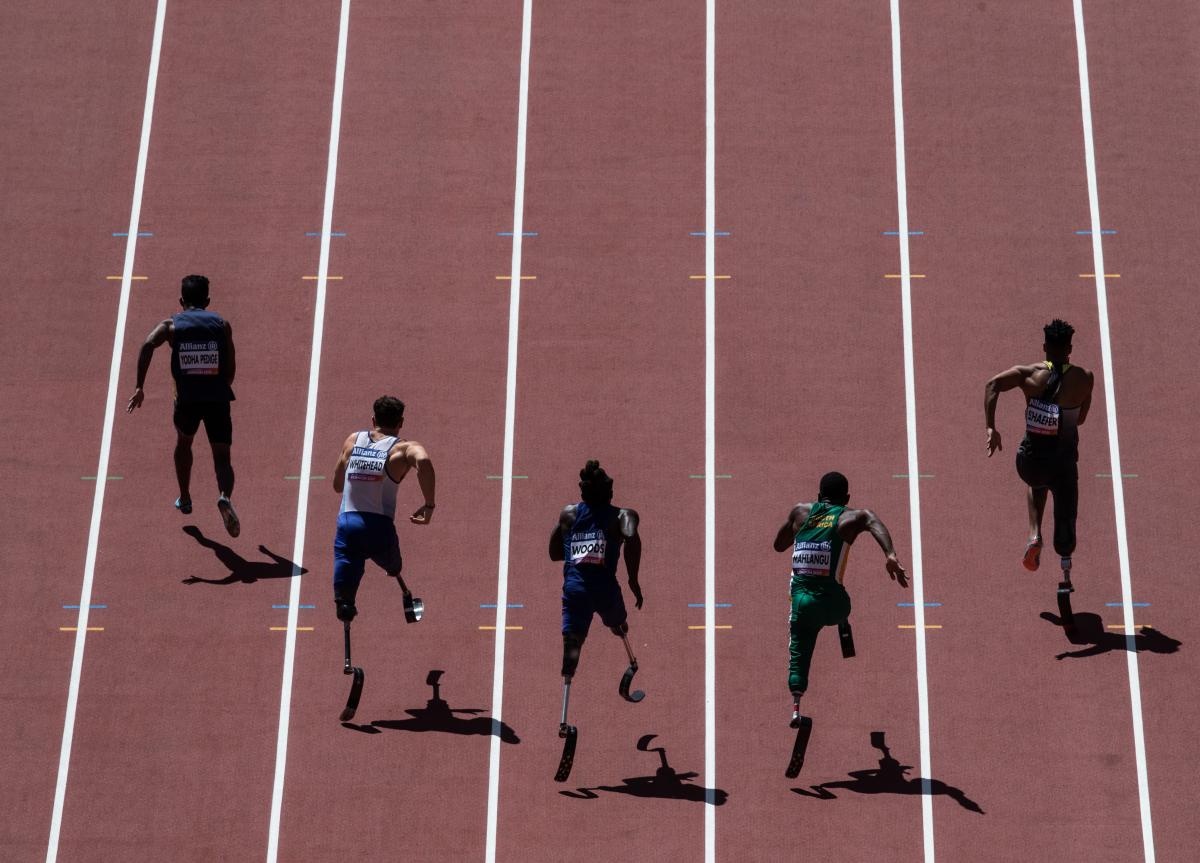 ⒸEddie Keogh
This page will be updated with athletes' quotes throughout the seventh session of the World Para Athletics Championships London 2017 on Monday (17 July) evening.
Women's 800m T34 Final
Hannah Cockcroft (GBR) - Gold
"I am really happy with that race, honestly I have never felt so nervous before a race.
"It's fantastic to have three of us at similar pace coming through, so the crowd get to see a real race and not a one horse race.
"London is the best world championships I have ever been to. It's absolutely incredible to be here. Please have us back one year."
Kare Adenegan (GBR) – Bronze
"Let's just go for this it's the world championships. I thought lets go from the beginning lets make this quick and I am so happy with the time."
Women's 100m T44
Sophie Kamlish (GBR) - Gold
"I got the world record in the heats and I just wanted to keep going. It's amazing. I didn't think I could do it and would end up fourth again (as she did at the Rio Paralympics).
"Inside I was thinking I would be happy with a medal but I knew deep down that I would be disappointed if it wasn't gold. I have been wanting this since I started competing and now I have got it."
Women's 200m T11
Guohua Zhou (CHN) – Gold
"It is very exciting to be here and to win this medal. I am proud of my team - the most important thing was not the victory but just to compete here. I am very happy we will be on the podium with my team mate. We are friends and we also train together in China. We are busy as the normal athletes, have regular trainings and proper preparation. Tomorrow, we want to be ready for the next race."
Cuiquing Liu (CHN) – Silver
"I am not upset to not to defend my title. To be here is the most important thing."
Men's 100m T42 final
Scott Reardon (AUS) - Gold
"That is probably the best moment of my career. The presure was on. There's been a fair bit of talk going on since Rio and I've tried to keep my head down and keep out of it. But I think I've just shown that the future is strong.
"I'm very satisfied to win. It's the icing on the cake. To win silver here in 2012 was awesome so to win gold here now is even better.
"I told my girlfriend (Germany's Vanessa Low, Paralympic long jump T42 champion) that I would win gold for her on her birthday and I've done it. She's been my rock for the last few years. It isn't easy when you're getting personal attacks, but she's helped me stay focused and strong.
"It doesn't look like there are many in here tonight but boy they can make some noise. They really turn it on in London. Every championships should be like this."
Richard Whitehead (GBR) - Bronze
"The false start didn't help me but I'm still gutted. I'll be back from this. I'm not really a 100m runner, I'm not a 200m runner, I'm an athlete, but 12.21 (Reardon's winning time) is not taking the event forward.
"For me, I want to be competitive, of course. I felt better this morning. I thought I would get into the 12.20s myself but it wasn't to be. Congratulations to Scott and Danny (Wagner, who won silver) for their performances but I feel this event is regressing, sadly.
"I'm disappointed not to be able to race to the occasion. That's what drives me and while I'm going to go to Tokyo there is no 100m in Tokyo. For me that's a backward step. I hope they'll review that decision, especially after today.
"But I'm a four-times world champion over 200m and there are not that many athletes here who have done that. I want to continue to push on."
Men's 200m T36 final
James Turner (AUS) – Gold W.
"It's still sinking in to be honest, it's absolutely amazing and what dreams are made of.
"I thought that was pretty damn good, I wasn't expecting that to happen.
"I was when I saw my time. I didn't know I ran that fast or could run that fast to be honest. I was a little concerned towards in the end so I might have hit it a little too hard in the Semi-finals."
Men's 400m T44
Michail Seitis (GRE) – Gold
"It was very hard to run in the 9th lane as I did not see anyone and just followed my pace. But my personal best is also the world record time so I was confident I can win. I do not know what happened but I did not run the time I really wanted. Maybe it was affected by my two starts at 100m yesterday so I felt tired. I still plan to run 400 metres.
"I run all these distances because I just love running. I am athlete since I was 6. In 2013, I had and accident and lost my leg but I wanted to continue with athletics because I just love it. I train every day except Sunday, even twice a day. We are based in Athens with my coach. I love this stadium and the crowd. It was unforgettable."
Men's triple jump T47
Tobi Fawehinmi (USA) - Gold
"It's really nostalgic that I was here in London 2012, now I'm back in 2017. It's a blessing just to be here and it feels great.
"All the people out there giving us the energy and the support, there is nothing like it that feeling.
"A season best means everything as my season has been so long."
Men's 400m T51
Mohamed Berrahal (ALG) - Gold
"I just had the will to do it. I love the 400. OK, it's a surprise a bit but before the race my morale was good and that's what matters."
Women´s 100m T13
Leilia Adzhametova (UKR) – Gold, CR
"I cannot say I was tired after the 200m final. Both events were very important to me and I prepared myself for both starts the same way. But I must say that without my coach, I would not win any of my medals. He is the most important person in my career. We have been working together since five years ago. We train five times a week. There is no better coach in this world, I am so thankful.
"The championships are not over for me yet as I am planning the 400 metres. So I cannot be relaxed yet but I look forward to the holiday I will take after the championships."
Women's javelin F13
Zhao Yuping (CHN) - Gold, CR
"I was disappointed not to get anything in Rio last year but this time I was fully prepared and excited and so I performed much better. I put a lot of effort into training but still it was surprising to win gold, it wasn't what I was expecting.
"I didn't even know I had won until the end. I didn't know I was leading because there was no communication between me and my guide. Every throw I just gave my best. I didn't even realise the Uzbekistan athlete (Nozimakhon Kayumova) had gone past me.
"Now I will put in more hard work and more time in training to build my strength for the Paralympics in Tokyo."
Men's 400m T20
Daniel Martins (BRA) - Gold
"I stayed calm for the race. I have to be calm because, if I get anxious, I do not run well. I try to change gear after 300 metres and I managed to do that. "I am closer to eating those burgers I like. I have the 800m as well but, once I get past that, I am going to have a burger. I don't like diets."
Men's Shot Put F36
Sebastian Dietz (GER) - Gold, CR
"The battle was good but I can do better. The competition was difficult but I hope that next time after hard training I will come back better and break the world record.
"I cannot say it was a bad competition because I won, but I know I can throw even further over 15m than that. I wanted to attack the world record. I know it will come soon. Maybe the London championships were too early for me after Rio.
"I hope I can do it next year at the European championships with all the German support in the crowd. I hope the people will come to support us as they have in London. It brings joy to me when people are cheering and they give me the rhythm and confidence."
Women's 400m T54
Tatyana McFadden (USA) - Gold
"It has been a really good day (following her 1,500m gold in the morning session). It was a really nice night, perfect weather and a really strong competition.
"I was exhausted after the 1500. But I tried to have a nap and have some therapy on the legs. We do train like this -- two sessions in a day. But it's still exhausting and hard on the body. I am feeling it tonight and I will sleep well.
"London has a great crowd. They have great support and they respect all the athletes.
Men's 1500m T20
Michael Brannigan (USA) – Gold C.R
"Yeah I am really happy for a fast 1500m and I won which is nuts."
"London is huge, with the crowds roaring and cheering you on, it was crazy and it was a great experience for me.
"It got me pumped up and excited."
Men's 800m T54
Marcel Hug (SUI) - Gold
"Unfortunately we had a crash and my back wheel was touched. I feel very sorry for them. It is not nice to to have a crash.
"Tomorrow is a rest day and then there is the 400. I am just going to spend the day relaxing. "
Richard Chiassaro (GBR) - Fifth
"I was in a good position and then Marcel and me clicked wheels and we then flipped. My finger looks broken and I am going to get it tested. I knew I needed to stick with Marcel but I clipped his wheel. "
Men´s 400m T34
Walid Ktila (TUN) – Gold, CR
"It was very difficult but thanks God for this victory. I am very happy for my friend Mohamed who finished second because we are very close and we know each other since long time ago when we started competing. Sometimes we even train together in Tunis or in Dubai.
"To find the power to compete today you have to train hard and build up on it. My program is quite full but my favourite event – the 800m is still ahead of me so I am hoping for a good result. It is in God´s hands."
Mohamed Alhammadi (UAE) - Silver
"The tragedy affected us, it affected the whole team, and we had to prove ourselves and perform our best to raise the flag. I have worked as hard as I could to do my best, whether I am first, second or third I am raising the flag for UAE.
"I am doing four events here but as you saw in the 800m with the crash, anything can happen. That guy was world champion in 2015. Doing four events is difficult but I want to race as much as possible to show my best."
Men's 400m T43
Johannes Floors (GER) – Gold CR
"It's awesome. Its everything I trained for and with not being able to compete in Rio 2016, this was my real final and I won gold. I could not be happier.
"One hundred per cent, I needed to do it but I needed to run my race which is what you have to train for. This is where you need your mind, the four hundred meters is a mind race and I won it.
"Run. Run for your life."
Women's 1500m T20
Barbara Newiedzial (POL) – Gold
"Before the race, I told to myself – go fast but spare some energy because you have the 400m final tomorrow. So I did but I was not too confident about the victory because I knew I have very strong opponents. I expected the Ukrainian girl to be very fast so I was watching the field and controlled the race.
"I really like the stadium and the atmosphere here so I was looking forward to my comeback to London and I hope I will have the chance to compete here again in the future. The biggest motivation for me to compete is my two little daughters – Martina who is eight and Viktoria who is 14. They are both athletes too and I think of them every time before the start. That gives me courage and power to win. They are not here but they wait for me at home in Opola."
Men's long jump T44
Markus Rehm (GER) - Gold
"I am happy to win my fourth (world long jump title) in a row. A jump of 8.00m is great but I wanted to go further and it wasn't possible. I thought I could jump much further but I could not hit the board properly today.
"We are still discussing (about competing in more able-bodied events) but I am not going to push it too hard."
Women's javelin F56
Diana Dadzite (LAT) – WR
"The javelin throw is really my favourite event so I was looking forward to it especially after the shot put where I did not do like I wanted. I won gold but still I was very motivated to show a good performance today. I put all my energy into javelin. But I am shocked with my throws I cannot believe it. It was a massive personal best and the record, I did not expect it at all.
"Last five months, I have been practising every day – five to six hours a day and also my coach was pushing me sometimes when I said I cannot anymore. He told me you need to do that because you are the best in the world. So it all was thanks to him, my team and my family.
"I still have the discus throw in my schedule and despite the fact that it is not my favourite discipline, I will try to show my best. I will focus on this competition now and after that, I am ready for a nice celebration."
Women's 1500m T11
Joanna Mazur (POL) - Gold
"I felt so much force from the crowd over the last lap, it was amazing. I couldn't go slower, I could just go fast, fast, fast. I didn't know I was first I was just running so when I heard that I'd won it was an amazing feeling. The London crowd is amazing.
"My guide is also my coach so he knows what I am capable of. He told me 'run, run, run just like in training' so I just ran. But I didn't know where I was on the track until I felt the bend, then I knew I needed to speed up.
"It's been a really hard year for us but we made it. Last year I ran only the 400m, so this is all new to me. Thanks to the IPC I can now run 400m, 800m, and 1500m."
Live coverage and results from the World Para Athletics Championships London 2017 can be found each day at www.worldparaathletics.org/London2017. Around 1,150 athletes from 90 countries will compete in 202 medal events between 14-23 July.