London 2017: Dimitrijevic breaks club throw world record
Great Britain's Sophie Kamlish was another world record breaker on the morning of day four.
17 Jul 2017
Imagen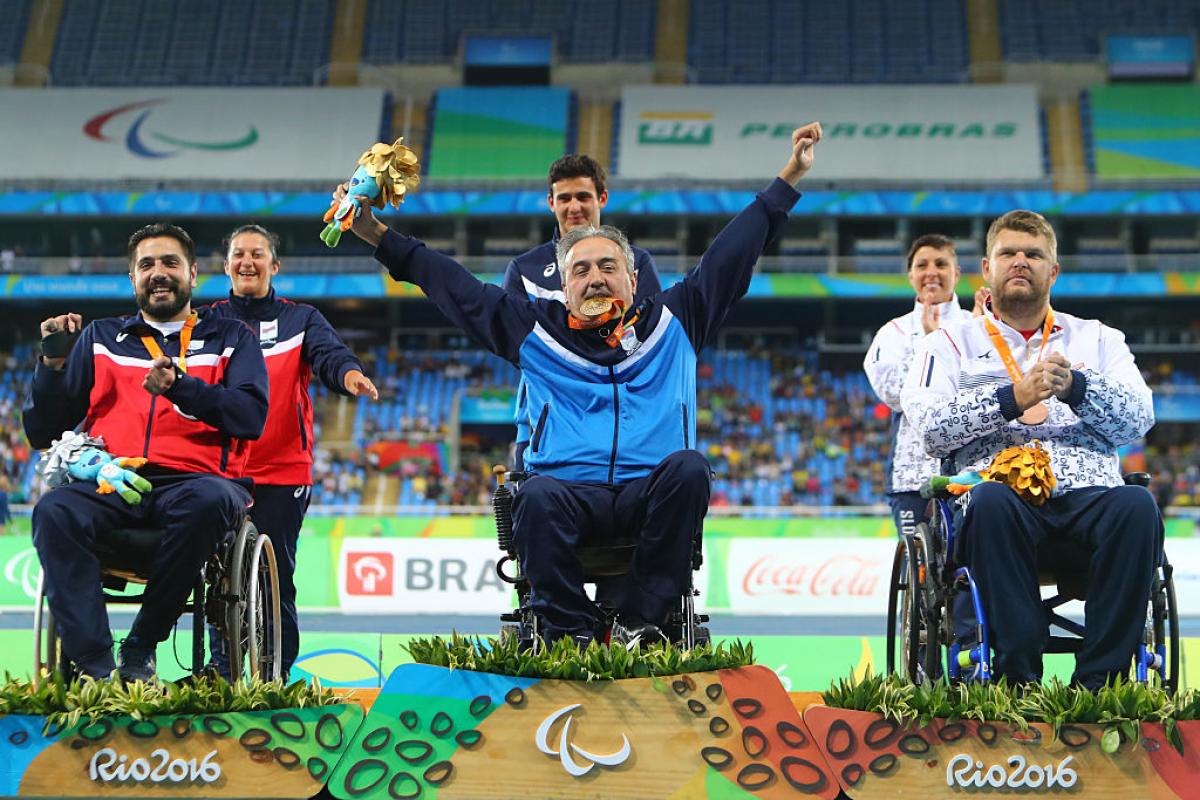 ⒸGetty Images
Serbia's Zeljko Dimitrijevic smashed the world record not once but twice on his way to club throw gold on Monday (17 July), day four of the World Para Athletics Championships in London, Great Britain.
Paralympic champion in 2012, Dimitrijevic had planned to retire after that victory but he returned to the sport in 2014 with the dream of competing in London one final time.
It proved the perfect ending to the 46-year-old's Para athletics career as he added over two metres on to the club throw F51 world record he set at the Rio 2016 Paralympic Games, first throwing 31.75m then 31.99m.
"This was a very important competition for me because I knew I was going to retire afterwards. At the Games in 2012 this was my first gold and my first world record in this stadium, so it was my wish to finish my career in the stadium where it all started," said Dimitrijevic, who went on to win world gold in 2015, then the European and Paralympic titles in 2016.
"I can't describe how it feels to be back here. I am very glad too that Milos (Mitic) is by my side on the podium. I was ready and absolutely sure that I would break the world record again. Now I will definitely retire. I can't think of a better way to end."
India's Amit Kumar (30.25m) won silver with a new Asian record and Serbia's Milos Mitic (29.06m), second behind his teammate in Rio, claimed bronze.
There was one track final in the day's morning session – the women's 1,500m T54, which was won by US multiple Paralympic and world champion Tatyana McFadden.
The 28-year-old is aiming for four gold medals in London and is now half way there, having won 200m T54 gold on Saturday (15 July). McFadden had suffered problems with blood clots earlier this year which hampered her training but she showed no ill-effects as she held off the chasing pack to cross the line in a Championship record 3:25.23.
McFadden and fellow US wheelchair racers Amanda McGrory and Chelsea McClammer secured a clean sweep of the podium at Rio 2016 and they looked to be heading for another as the trio led the way round the final lap.
Coming off the final bend the three Para athletes looked perfectly placed with McFadden leading the way, flanked by her teammates. But Australian Madison de Rozario (3:25.56) had other ideas and a strong finish by the 23-year-old earned her the bronze medal behind McGrory (3:25.43).
"That was really tough, dealing with the blood clots (in my legs) and knowing that I had to stay calm and relaxed, I had to dig deep from my heart," said McFadden.
"I could really feel that my body was tired, but it is an awesome start to the Championships. It is great to get a kind of mini-sweep (for the USA)."
Back out in the field Great Britain notched up their ninth gold of the Championships to stay top of the medals table courtesy of Olivia Breen in the long jump T38.
The 20-year-old secured her first individual world title with a personal best of 4.81m in the fourth round, 20cm further than Australian Erin Cleaver (4.61m) in second place while Poland's Paralympic bronze medallist Anna Trener-Wierciak (4.60m) finished third once again.
"It was a tough competition, we all were very close and I knew I am in a good form so it is fantastic. The school kids in the crowd – that is a very good thing, it helped me a lot," said Breen.
"My first Games in here, I was just 16 so it is very important to inspire the new generation. The people can change your life completely. It means so much to me to win in front of my home crowd, it is a big motivation."
Tunisia's Rima Abdelli (7.57m) secured her first ever world title with a personal best throw in the women's shot put F40. The 29-year-old won bronze two years ago in Doha, then finished second at Rio 2016, and she was overjoyed to finally take gold.
"This means more than anything to me. I have had loads of problems and I have had to work day after day - morning, afternoon - to get this," said Abdelli.
"My coach has been so patient with me and kept telling me that I was the best. But now, after seven years of training, I have finally won the most important gold."
Poland's Renata Sliwinska (7.23m) set a new European record for silver and Abdelli's teammate Raja Jebali (7.22m) won bronze.
China's Paralympic champion Lijuan Zou successfully defended her Doha 2015 world title with a season's best 8.23m in the women's shot put F34, finishing just one centimetre ahead of Poland's Lucyna Kornobys (8.22m), who won silver at Rio 2016.
"It was too close today but I wasn't in good shape," explained Zou. "I was tight in my back and didn't feel comfortable, so it wasn't my best performance. But the crowd here are fantastic and that really helped me to improve."
New Zealand's Paralympic bronze medallist Jessica Hamill (7.77m) completed the podium again.
Croatia's Paralympic champion Mikela Ristoski added the long jump T20 world title to her collection with a season's best leap of 5.66m ahead of Portuguese duo Erica Gomes (5.48m) and Ana Filipe (5.26m) who won silver and bronze respectively.
Brazil's Alessandro Silva also picked up his second major title in the space of 10 months, winning the men's discus F11 with 43.32m to add to his Rio 2016 gold.
"This gold was definitely missing from my collection. In Doha I was injured, but now I am the world record holder, the Paralympic champion and the world champion, so I have everything," said Silva.
"My little boy is two next month and I will celebrate with him. Competing here with all the children screaming, it reminded me of him. I was very emotional."
Austria's Bil Marinkovic (33.42m) and Columbia's Jose Belizario Angulo (32.46m) won silver and bronze respectively.
There were a number of heats out on the track in the morning, including the women's 100m T44. Great Britain's Sophie Kamlish laid down her marker for the final as she took 0.03 seconds off the world record she set in the heats at the Paralympic Game last year, clocking 12.90 seconds.
"I slowed so much at the end I definitely wasn't expecting a world record. It felt like I just started walking at the end once I knew I had qualified," said Kamlish, who finished fourth in the final in Rio.
"I did the same in Rio when the final didn't go so well, but in Rio it was my mind messing me around a bit. I know how to deal that now so I'll be ready for the final this time."
The World Para Athletics Championships will run through to 23 July. More than 1,150 athletes from 90 countries are competing in 202 medal events.
For footage requests from London 2017, please e-mail alexis.vapaille@paralympic.org