London 2017: Day 5 evening athlete reaction
Athletes react to making the podium at halfway point of World Para Athletics Championships.
18 Jul 2017
Imagen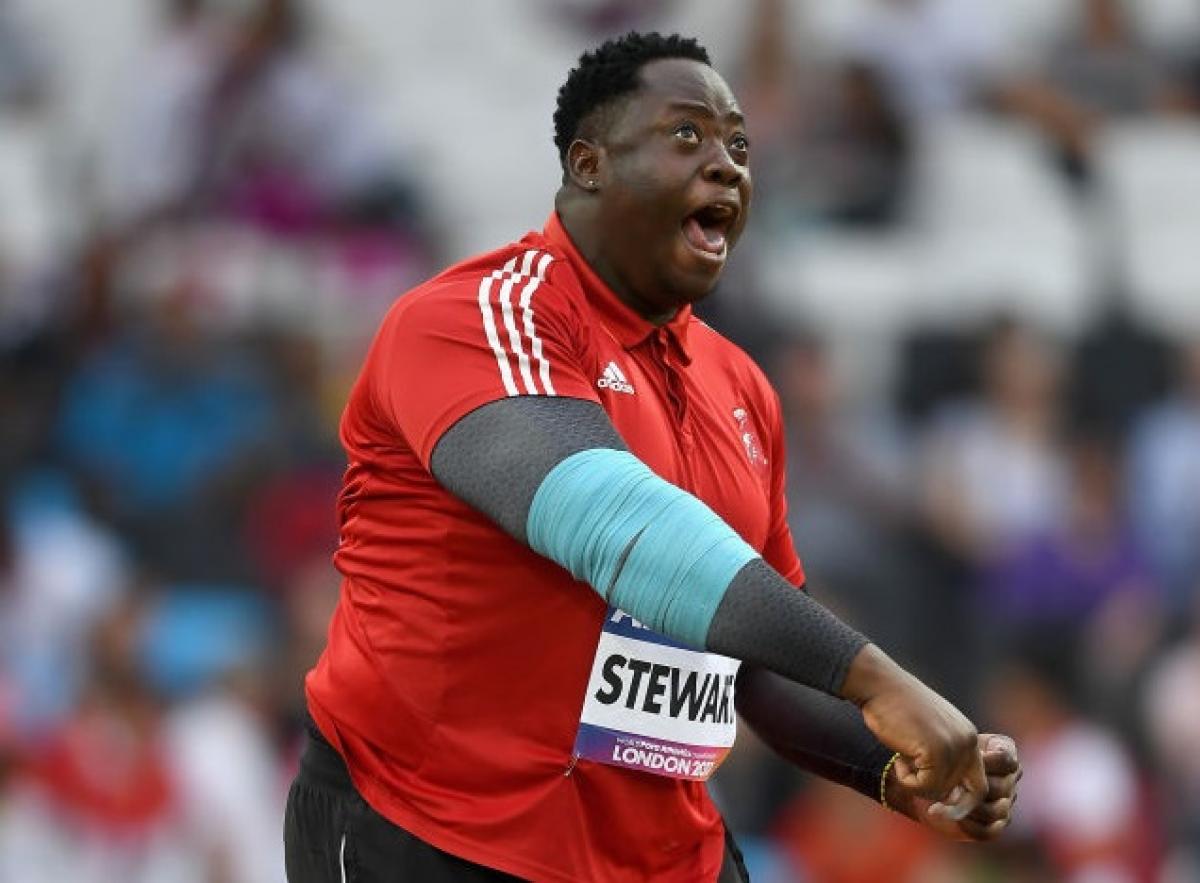 ⒸMike Hewitt - Getty Images
By IPC
This page will be updated with athletes' quotes throughout the eighth session of the World Para Athletics Championships London 2017 on Tuesday (18 July) evening.
Women's shot put F20
Ewa Durska (POL) – Gold
"Everything was going well, I felt like at home here in London. I wanted to show longer throws but the competition started a bit late for me. Just like after Rio, I want to donate this medal to someone who needs it. It will go to my friend´s mother who has got a cancer and need a treatment. It is very important to me to help them. Now, I will have a rest and will celebrate my medal with my team."
Men's javelin F44
Akeem Stewart (TTO) - Gold, WR
"This is an event I only do as a sideline. I was injured in the discus and needed to do this to be able to do the shot. That's my main event. I was just giving this a go, really. I didn't expect to win at all.
"I definitely didn't expect a world record, but I am a very competitive guy so whatever the guy from Iceland threw I had to try to beat it.
"I didn't think I would get a medal in the javelin, but I'm very, very happy. I didn't get it in Doha but now I am a world champion and a world record breaker. It is a dream come true."
Helgi Sveinsson (ISL) - Silver, CR
"It took a world record to beat me, but it's because of the class. He's F43 and I'm F42, so I'm more disabled than him. In a way I'm the winner."
Men's high jump T13
Isaac Jean-Paul (USA) – Gold, WR
"I could not hope for a better result. I was thinking about the world record but in the competition, I just knew I wanted to go over the bar and jump these heights. Coming to this stadium, I just wanted to jump and to have fun. I am glad I managed to break the record on this beautiful stadium with these great fans.
"I do not have a really good season outdoors this year so to put everything together here at this moment was really a blessing. Before the competition, it was about getting a self-confidence again as I lost it early in the season. I still want to be ready for the long jump and 4x100 and I want to get ready also for the next events. After London, I will train hard trying to make it to the abled bodied and hopefully to the nationals and world indoors."
Men's 400m T12
Mandi Afri (MAR) - gold
"I was expecting to run at that pace and I was trying to break the world record. God willing, I am going to break the world record in the future. I am going back to Morocco to train hard now with the goal of breaking both the 200 and 400 records in Tokyo (at the 2020 Paralympic Games)."
Women's 400m T20
Breanna Clark (USA) – Gold, WR
"To break the world record - it is awesome. It is better than Brazil. I have been here to this stadium for the first time last year so this is my second time and I love it. I love dancing so I danced when I crossed the finish line. I also did at the US trials.
"My coach and my mum are the ones who encouraged me to fight for this medal but they are not here with me. I must say Thank you mum! I wear this red ribbon as a tribute to the athlete that just passed away."
Men's 200m T13
Jason Smyth (IRL) – Gold
"Yeah very different, I think as time goes each major championship will get a little bit more special as my daughter gets older.
"Delighted to be done and I get to relax now. It's obviously incredible to be here after the 100m on Sunday night where I didn't feel like I could relax and enjoy it but now that I'm done with a second gold medal, it's incredible really.
"Me and Michael get on extremely well, we have roomed together for 10-11 years, we are good friends off the track and I am even a groomsman at his wedding next year."
Men's long jump T36
Men´s Long Jump T36 Final
Roman Pavlyk (UKR) – Gold, PB
"I remember my victory here five years ago so I wanted to win again in London. That was my main motivation and I am very satisfied I managed to beat my opponents. It was a revenge for Rio when I ended third. I expected the victory already at the Paralympics but the opponents are very strong in my event. I am still heading for 100 and 400m so I will focus on that now. I am in shape, well prepared so I want to enjoy these races."
Men's 400m T11
Gerard Descarrega Puigdevall (ESP) - Gold
"We started to push so hard at the end and in the last metres we were very strong. We won because we were a little bit more resilient than the others. We are a team. He (Marcos Blanquino Exposito) is not only a guide, he's my friend, my family.
"I thought if I got a medal it would be a good prize, but now I have gold. This stadium is so important in my life because in 2012 I ran the 400m and was fourth, and this time I won. It is amazing. To win a world title in an Olympic stadium is incredible. I love this city and all the people here."
Men's 400m T53
Brent Lakatos (CAN) - Gold
"I did not expect to win that. I knew it was going to be close. But I had nothing to lose. I have a sinus problem and I can't breathe through my nose.
"It feels amazing to win this. I went to Rio (2016 Paralympics) full of confidence and I got beat. It is great to prove that I'm still there in this event at 37."
Women's 100m T47
Deja Young-- Gold S.B
"A lot of convincing. I didn't want to run this year at all. But for me to come back, it just shows that anyone is able to come back from anything, adversity or anything that they go through.
"It's amazing; everyone talks about how amazing it is. I thought it can't be that great. Para athletics doesn't as much love as many sports, but to be here and the love London has for World Para Athletics Championships it's absolutely amazing and I can't wait to run here again.
"It inspires me to grow as a person and to know that it's just a process. No matter what I go through it will always pay off. No matter what you go through, you will always make it through, the only person stopping you is you.
Men's 400m T52
Tomoki Sato (JPN) - Gold
"I was scared when he went past me so fast at the beginning. I wanted to get back to him by 200m but I couldn't catch him till we entered the straight, then I knew I was OK.
"This is a big step towards Tokyo for me. It wasn't perfect but I am confident I will perform at my best there. There is still more to come from him. Ray is still young and getting better. It's going to be a good race in Tokyo.
"I was disappointed not to win anything in Rio because my colleagues, friends and family had helped me so much, to I'm really, really pleased to win this for them today."
Raymond Martin (USA) - Silver
"I have a very good start and he has a very good finish so I knew I had to go out hard. But he just came back at me. I was aware of him coming about 200m out, but couldn't hold on.
"I think this rivalry is going to be very exciting going into to Tokyo 2020. He has home advantage and I have a lot of work ahead of me.
"Now I have two days ahead of me to reflect on my two silvers. I need to go home with one gold."
Men's 200m T37
Charl Du Toit (RSA) - Gold
"I am very thankful. That was a tough race and I didn't expect that time. I am very happy.
"I had a couple of injuries post Rio. Thanks to my training team for preparing me for this championship. Without them, I would not be here. It has been an honour to be here and a wonderful experience. "
Women's 200m T36
Yiting Shi - Gold CR
" I could not believe I broke the record. I will now train harder and break more records. After this I think I will get my coach and my teammate to give me a massage."
Men's 200m T38
Dyan Buis (RSA) - Gold
"I was running so fast I thought, 'Please call the fire brigade, I'm on fire.'
"I knew the Chinese guy has a brilliant start so I thought he would be out in front of me. I was glad to be in lane five so I could see him the whole way, and when I saw Hu (Jianwen) close to me near the end I just dug out a great finish.
"The world is looking at South African athletics right now. We are on a high and we are loving our revival. We have a great vibe going among the sprinters and we're all excited for the future of the sport in South Africa.
"I'm a 400m specialist and with my maximum speed going up and up I'm really excited for my chances in that event too."
Men's 200m T54
Men's 200m T54 Final
Yassine Gharbi (TUN) – Gold, CR
"I know my starts are slower but I am always fast in the finish. I do not think my opponents made any mistake in the finish, I just felt powerful and ready for the fast home straight. It is about hard preparation – I train in the morning and in the night. This is the most important achievement for me – I already have bronze from Rio and silver from London but this gold stands above all medals."
Women´s Javelin F11
Ness Murby (CAN) – Bronze, PB
"It was a very hard day with the discus throw in the morning and the javelin in the evening, I feel exhausted. But I am collecting the experiences at these championships so I am putting it all together and now, I believe everything is possible.
"I only do throwing 2.5 years and my opponents 12 years so they have the big advantage. But I saw the Chinese girls in the training and I think it is possible to beat them one day. For me, discus is a bit scary with the rotation so I feel much more comfortable in javelin. The spins are a bit difficult for me as a blind person. That is my favourite event and I feel very powerful in it."
Men's Javelin Throw F57 Final
Amanollah Papi (IRI) - Gold
"I am very very happy to be the Gold medallist for the Javelin F57 and I am happy for my teammates who came second and third.
Mohammad Khalvandi (IRI) - Silver
"I am proud to see my friends amongst the medals. I have a little bit of reservation for the refereeing because of my fouls which I am not happy about.
Abdollah Heidari Til (IRI) - Bronze
"I won the Gold medal in London 2012 and in Rio 2016 and in my opinion, we all got the gold medal this evening.
This is the second time Iran has got three medals in the same event."
Live coverage and results from the World Para Athletics Championships London 2017 can be found each day at www.worldparaathletics.org/London2017. Around 1,150 athletes from 90 countries will compete in 202 medal events between 14-23 July.