London 2017: Scott Reardon wins 100m T42 thriller
The Australian denied Richard Whitehead a second gold in front of his home crowd.
17 Jul 2017
Imagen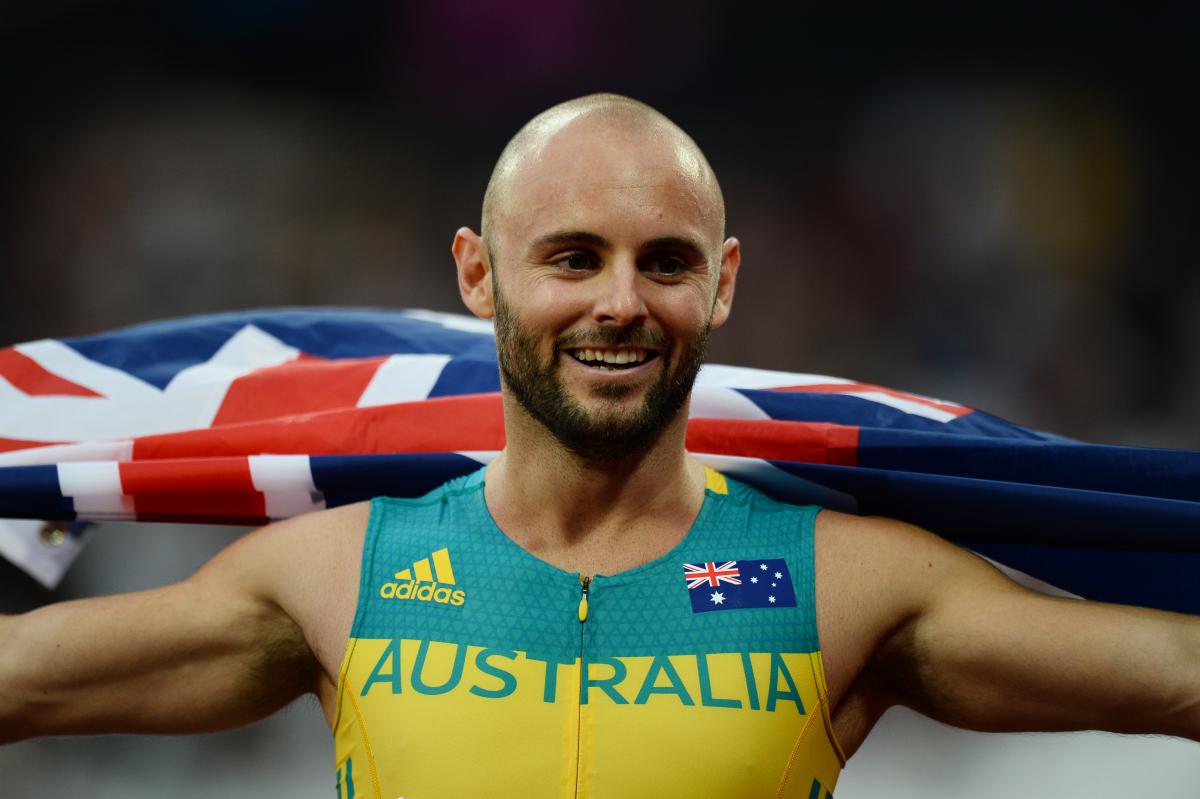 ⒸGetty Images
Australia's Scott Reardon clinched his third consecutive world title as he stormed to gold in the men's 100m T42 on Monday (17 July), day four of competition at the World Para Athletics Championships in London, Great Britain.
With British rival Richard Whitehead also in the line-up there was plenty at stake – the pair's rivalry is no secret; in the build-up to the race Whitehead said 'If I was him I'd be quite embarrassed if I could beat him over 100m because I'm 40-years-old and he's in his early twenties.'
But there was no shame for Reardon who started strongly and quickly established a lead that proved too big for Whitehead and the rest of the field to claw back. Denmark's Daniel Wagner (12.30) won silver with Whitehead (12.39) clinching bronze.
"That is probably the best moment of my career. The pressure was on, there's been a fair bit of talk going on since Rio and I've tried to keep my head down and keep out of it. But I think I've just shown that the future is strong," said Reardon, who finished in 12.21.
"I'm very satisfied to win. It's the icing on the cake. To win silver here in 2012 was awesome so to win gold here now is even better."
There was further delight for Australia as James Turner (24.09) notched up his second world record in two days, storming to victory in the men's 200m T36.
The 21-year-old has been in terrific form this season and set a world record in Sunday's (16 July); there was no doubt of the winner as he blazed down the track leaving his rivals to battle it out for silver and bronze.
"It's still sinking in to be honest, it's absolutely amazing and what dreams are made of. I thought that was pretty damn good, I wasn't expecting that to happen. I didn't know I ran that fast or could run that fast to be honest," said Turner.
British success
Great Britain's Sophie Kamlish (12.92) defeated two-time champion Marlou van Rhijn (13.20) to win the 100m T44, just hours after setting a new T44 world record.
Like Reardon, Kamlish was quick out of the blocks and her lead proved too much for T43 sprinter van Rhijn who came through for silver.
"I got the world record in the heats and I just wanted to keep going. It's amazing. I didn't think I could do it and would end up fourth again," said Kamlish, who finished out of the medals at Rio 2016.
"Inside I was thinking I would be happy with a medal but I knew deep down that I would be disappointed if it wasn't gold. I have been wanting this since I started competing and now I have got it."
Fellow Brit Hannah Cockroft (2:01.77) added to the host nation's medal tally as she notched up her London 2017 title and her ninth world gold in total with victory in the 800m T34.
"My plan is always to go out to the front and lead it; I don't like to depend on another girl. I didn't really have a plan going out there though, it was more of a case to 'play it by here' and produce the best performance I could," said Cockroft.
McFadden completes London 2017 hat-trick
The USA also claimed two golds out on the track – first was Tatyana McFadden (53.74), who completed a hat-trick of London golds with a strong win in the 400m T54 – just hours after winning the 1,500m. The 28-year-old still has the 800m T54 to come.
"It has been a really good day," said McFadden. "I was exhausted after the 1,500m but I tried to have a nap and have some therapy on the legs. We do train like this - two sessions in a day. But it's still exhausting and hard on the body. I am feeling it tonight and I will sleep well."
Next up was middle-distance man Michael Brannigan (3:53.05) in the men's 1,500m T20. Great Britain's Steve Morris took the race on from the gun but Brannigan bided his time and pounced with one lap to go, leaving the field behind to safely defend his world title in championship record time.
Two golds went Poland's way as defending champion Barbara Niewiedzial (4:33.82) won the 1,500m T20 and Joanna Mazur (4:50.95) sprinted home to win the 1,500m T11, where athletes are blindfolded and run with a guide.
"I felt so much force from the crowd over the last lap, it was amazing. I couldn't go slower, I could just go fast, fast, fast. I didn't know I was first I was just running so when I heard that I'd won it was an amazing feeling," said Mazur.
"My guide is also my coach so he knows what I am capable of. He told me 'Run, run, run just like in training,' so I just ran. But I didn't know where I was on the track until I felt the bend, then I knew I needed to speed up."
Swiss star Marcel Hug (1:37.64) was first across the line in the 800m T54. However, the race will be rerun on Friday (21 July) following a crash which involved four racers and led to the disqualification of Great Britain's Richard Chiassaro.
Tunisia's Walid Ktila (50.56) is aiming to defend all four of his world titles and he remains on track after winning the 400m T34 with the 200m and 800m later in the week. Coming off the final bend the UAE's Mohamed Al Hammadi was still in contention but he couldn't match Ktila's pushing power down the home straight.
Ukrainian Leilia Adzhametova also clinched her second London 2017 gold with victory in the 100m T13. The 23-year-old Paralympic champion looked in complete control and will be one to watch in the 400m T13 on Wednesday (19 July).
Algeria's Mohamed Berrahal (1:21.45) was reinstated as the winner of the men's 400m T51 after he was originally disqualified.
China claimed the top two spots in the women's 200m T11 as Guohua Zhou (25.27) got the better of teammate and defending champion Cuiqing Liu (25.65).
"It is very exciting to be here and to win this medal. I am proud of my team - the most important thing was not the victory but just to compete here," said Guohua, who won bronze at Rio 2016.
"I am very happy I will be on the podium with my teammate. We are friends and we also train together in China. Tomorrow, we want to be ready for the next race."
Brazil's Paralympic champion and world record holder Daniel Martins outclassed the rest of the field in the men's 400m T20, finishing 10m clear with a championship record 47.66 and Greece won their first gold of London 2017 thanks to Michail Seitis (51.41) in the men's 400m T44.
There was a world record in the field too as Latvia's Diana Dadzite (27.07m) added a massive 3.81m on to her previous best from Rio 2016 to finish over six metres clear in the javelin F56.
Triple gold for Germany
Defending champion Markus Rehm (8.00m) won his fourth consecutive long jump T44 world title and watched from the side of the track as his teammate Johannes Floors (46.67) stormed to 400m T43 gold. Sebastian Dietz (15.28m) added to Germany's medal tally claiming the shot put F36 title.
China's defending champion Pengxiang Sun (42.14m) won the javelin F41 while compatriot Yuping Zhao (42.72m) improved on her 2015 world bronze medal to take gold in the women's javelin F13 with a championship record.
"I was disappointed not to get anything in Rio last year but this time I was fully prepared and excited and so I performed much better," said Zhou, who finished fourth at the Paralympic Games.
"I put a lot of effort into training but still it was surprising to win gold, it wasn't what I was expecting - I didn't even know I had won until the end."
Triple jump T47 gold went to the USA's Tobi Fawehinmi with a season's best 14.88m.
The World Para Athletics Championships will run through to 23 July. More than 1,150 athletes from 90 countries are competing in 202 medal events.
For footage requests from London 2017, please e-mail alexis.vapaille@paralympic.org