London 2017: Day 9 athlete evening reaction
Medallists speak after Saturday evening session at World Para Athletics Championships.
22 Jul 2017
Imagen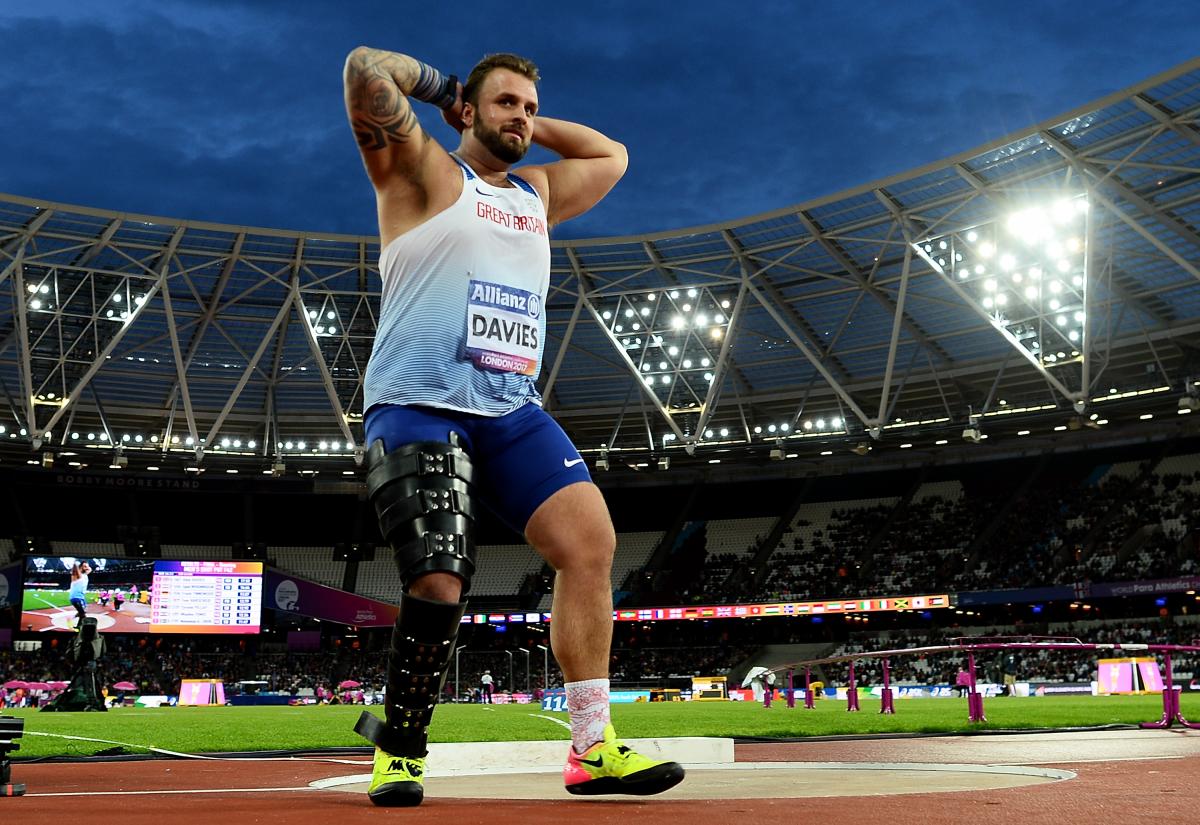 ⒸGetty Images
By IPC
This page will be updated with athletes' quotes throughout Saturday evening's session of the World Para Athletics Championships London 2017.
Men's high jump T42
Sam Grewe (USA) – Gold, CR
"A lot of excitement is going on right now. After taking silver last year, you know, silver is great but I was a little bit disappointed. I would like to be on top so to regain my title is so special to me right now.
"Those Indians are very tough now. There are three of them and they are pushing each other. We all are very close to each other, we get along very well. I think he has had a personal best and he was jumping out of his mind.
"Both of us, we run pretty steep curves and the rain made the surface a bit slippery so we felt a bit uncomfortable. On a good day we both would go 1.90-1.95."
Sharad Kumar (IND) – Silver
"I would die to come here to compete. I wish all the other events are held here in London. I am glad that this medal has happened because London is for me very important. I missed 2012 so I was looking forward to this event more than any other event. I only trained myself in Ukraine for this event in London. Now I feel glad I achieved this and the silver is OK for me too.
"I was expecting to jump 1.90 today. My body was telling me that yes, today is your day. Sam is a good jumper; we have had a lot of competitions. But today it is his day.
"We have been focusing on these two events – high jump and javelin, since 2008. Even in the able-bodied category. I think, India is really destination for high jump and javelin throw."
Women's shot put F36
Juliane Mogge (GER) – Silver
"I don't know anything about the competion because I didn't look at the others. I just focused on myself. I am completely speechless to get silver. I wanted to get a medal and this is unbelievable."
Men's discus F57
Thiago Paulino Santos (BRA) - Gold
"I trained hard for these world championships, of course, but it's great to get two gold medals (in the shot and discus). I have a daughter and a son on the way, so I now have a gold medal for each one of them.
"I was nervous tonight because I knew I had tough opponents. You have to throw your best but you also have to wait to see how your opponents do. I was anxious about that. "
Women's shot put F53
Fatema Nedham (BRN) – Gold
"I am glad for the victory but I was not too happy for a couple of attempts. I had a fault attempt twice but I still do not understand why. The referee said I did not hold the shot correctly but I did it as I am used to do it and I have already won a couple of medals like that. So I was a bit angry because the throws were pretty long. I could have shown even a better result.
"Every victory is very important to me because I do it for my country and for my nation. I worked very hard for this result, have done a lot of weight lifting and a lot of hard training. I am lucky I have a good support from my brothers, sisters, from my mother and also from our federation and sheikh Mohamed.
Men's 200m T44
Jarryd Wallace (USA) – Gold
"I had a lot of confidence coming in to this. I knew if I could stay relaxed coming off the bend I would win. My plan was to stay strong for 120m and keep my hands up high and that's what I did. There were a lot of talented atheltes out there and we were all hurting by the end, so it was just a matter of holding on.
"I'm ecstatic. I was missing in 2015 so I felt I had something to prove. I had to win my title back and show what I can do. It hurt more than I wanted to but in these conditions I did what I needed to do.
"My wife was watching me tonight for the first time ever. It's awesome to have her support here tonight.
"It was great to run against Arnu (Fourie) one last time. He has been one of the most impactful athletes and men in my life. He's a guy I have looked up to and I'm going to miss him out there. It will be an honour to share a podium with him one last time."
Arun Fourie (RSA) – Bronze
"I said when I left the hotel that I was going to leave it all out there on the track, and I guess I did that.
"I'm getting old and I feel it's time to go. I want to end on a high. I would have finished after Rio but what I experienced here in London 2012 made me go on for one more year.
"I'm so thankful I'm standing here after all this time. Fiourteen years ago I lost my leg in a motorcycle accident and I was a guy struggling to find a purpose. Regardless of gold medals athletics has been my life and given me a purpose. Through this sport, I've grown, not just as an athlete, but as a person."
Men's 200m T47
Petrucio Ferreira dos Santos (BRA) - Gold. WR
"I was always focused and motivated for the 200m and what happened in the last two days (with the 400m disqualification) only motivated me even more for my best effort in the 200m. I knew I was in good form but I didn't know I could go that fast. Thanks to London for helping to fuel me a lot."
Yohansson Nascimento (BRA) - Silver. World record holder before the race.
"There's no question that it's great that I have lost the record to him. This record is staying at home. I am happy the medals are going to Brazil."
Men's 1,500m T37
Michael Mckillop (IRL) – Gold
"I'm feeling fantastic, I think after five years of creating myself in para athletic sport and in this stadium at London 2012, it feels incredible. I have to enjoy these little moments.
"It's a team effort. It's funny because my dad still has his stop watches at about 150m to go. Obviously I can't hear him but he is probably still shouting things, telling me to move instead of going so slow. But do you know what; I don't really care."
Women's 100m T38
Sophie Hahn GBR – Gold WR
"I am so happy to win this title. I've been off for a week so waiting to get out here again has been difficult. To do the double of 100m and 200m is just phenomenal.
"I think this is the biggest run I've ever performed, it felt amazing and the crowd here really moved me along.
"I knew I was in great condition, in really good shape and I just needed to go out there and do it.
"I really want to thank everyone who has helped me. The team are just amazing and the officials and volunteers make the event really special for me. I loved every second of it."
Kadeena Cox GBR – Silver
"I didn't expect anything from this race but to be good enough for silver behind this amazing young woman is something special.
"I wasn't sure if I could actually get out here tonight. I've been pushed around in a wheelchair all day by the team but we've all got our issues and we just have to deal with them and I'm delighted to have followed up my gold from yesterday with a silver medal.
"I love running and I love training and I'm going to get on my bike again soon. I just want to keep going so I can go to Tokyo and defend my Olympic titles."
Men's 100m T36
Rodrigo Parreira da Silva (BRA) – Bronze, AR
"It was amazing. This race was really important to me because I have accomplished three medals and two years ago, in Doha, I was not even able to medal. And now I am leaving London with three medals so it is just fantastic.
"The race was amazing right from the start. To compete here at this stadium, where the Olympics were held in 2012, I could not even imagine competing at the same venue. I have to that the organisers for these championships, such a unique experience. And there are still maybe two more Brazilian medals to come."
Men's 1,500m T38
Deon Kenzie (AUS) – Gold
"What an absolutely amazing experience. I have worked so hard to get here for such a long time. Ten years ago I made a commitment to myself to become a professional athlete and 10 years later I am a world champion. It really hasn't sunk in yet.
"To come away with a gold medal, I am absolutely stoked. This year training has gone really well in the lead-up so I knew I could win it from the front, and it paid off.
"Some of my teammates have ripped their vests off after they've won, but I decided to keep mine on – I guess it's a bit cold out there tonight."
Men's 800m T20
Michael Brannigan (USA) - Gold
"I ran that race at my pace and stayed calm and relaxed. My plan was to go out fast and then make my move and I managed then to keep my form. My coach told me that, when I made my move, I had to change through the gears and go and shoot for it.
"The crowd was huge. You feel them roaring you all the way and they were screaming in my ears all the way. "
Men's shot put F42
Aled Davies (GBR) – Gold, WR
"I was happy with it to say the least. It was phenomenal. This crowd; they got me on another level tonight. I thank every single person out here. What I wanted to do was be at the forefront of this event and take that world record. The aim is 20m and I believe I can do it.
"I'm in great shape but I believe there is still a bit more there. We came into this competition believing I could throw 18m which we kept to ourselves.
"Personally the embarrassment of the commonwealth; I knew that I wanted to make a lot of changes. If I wanted to take the sport where I wanted it to be which is a 20m thrower and 60m in the discus. I had to make major changes.
"I'm excited, I'm so excited now because I'm still young and I have so much more I can improve on technically and physically. It's just the start."
Women's 100m T37
Georgina Hermitage (GBR) – Gold, CR
"I didn't get the best of starts and really had to claw it back from the last 30m. But apart from that it went well and I am happy with the win.
"I was hoping for a gold in the 400m and a medal in the 100m. The time shows that I wasn't particularly at my best but we managed the win which is the main thing."
Men's 100m T52
Raymond Martin USA – Gold
"I put pressure on myself tonight. This was my last attempt to get to the top of the podium here. After everything that happened here in London in 2012 I didn't want to go home without experiencing that again.
"It's difficult to predict the result of the 100m in this category so I'm very happy to have won. In some respects this is the hardest distance for me and I was a little anxious at the start but I got away well and kept myself very focussed on the finish line. In the end I felt relief initially before feeling the joy."
Women's 800m T11
Diana Laura Coraza Castaneda (MEX) – Gold
"We trained a lot for this event and my times were fast so I knew I could beat the opponents despite the fact that they were very strong too. My tactics was to have a fast finish so we were waiting until the last 100m. I train every day in Pueblo.
"After winning silver at 400m in London, this is my major achievement. My coach has brought a special Mexican cap sombrero and he gave it to me after I finished as an honour to the Mexican nation and the culture."
Men's 800m T13
Fouad Baka (ALG) - Gold
"When my brother (Abdellatif Baka) won the 1,500m, I felt very happy and now, I have won. At the end of the day, the most important thing is that Algeria gets the gold medal. "
Abdellatif Baka (ALG) - Silver
"I was feeling a bit of cramp in my leg at the end. It doesn't matter who takes the gold as long as it is Algeria -- me and my brother."
Women's 5,000m T54
Madison de Rozario (AUS) – Gold
"That was tough. It was such a strategic race. The American girls always come with a plan and they ran a very good race. I knew my only chance was to wind it up and go from the front. Then whatever happened happened.
"It was a very tense race. I wasn't sure what was going to happen. In the 5,000m there are so many variables it's hard to come with one strategy, you have to see how the race pans out and be able to react accordingly. Thankfully, I could do that tonight."
Men's 200m T43
Johannes Floors GER – Gold
"It was a very hard race. It was difficult to motivate myself after the 400m but I came out feeling as if I had to stay confident.
"It wasn't the best of weather so I adjusted slightly but it's the same weather for all of us and I guess it didn't have that much of an impact overall.
"We didn't set any expectations for these world championships. We didn't have any goals so to have the success I have had is incredible.
"It was amazing to have my family here tonight. They are my biggest supporters and I would not be able to achieve what I do without them. I am so happy they have seen me compete this evening.
"The 200m is a sprint and I just went out there to hit it as hard as I could. I didn't have any tactics such as getting ahead in the first one hundred metres. I just wanted to be as fast as I could."
Live coverage and results from the World Para Athletics Championships London 2017 can be found each day at www.worldparaathletics.org/London2017. Around 1,150 athletes from 90 countries will compete in 202 medal events between 14-23 July.