London 2017 makes two board appointments
To coincide with one year to go, British athletes Stef Reid and Vanessa Daobry have taken up key positions with the Organising Committee.
14 Jul 2016
Imagen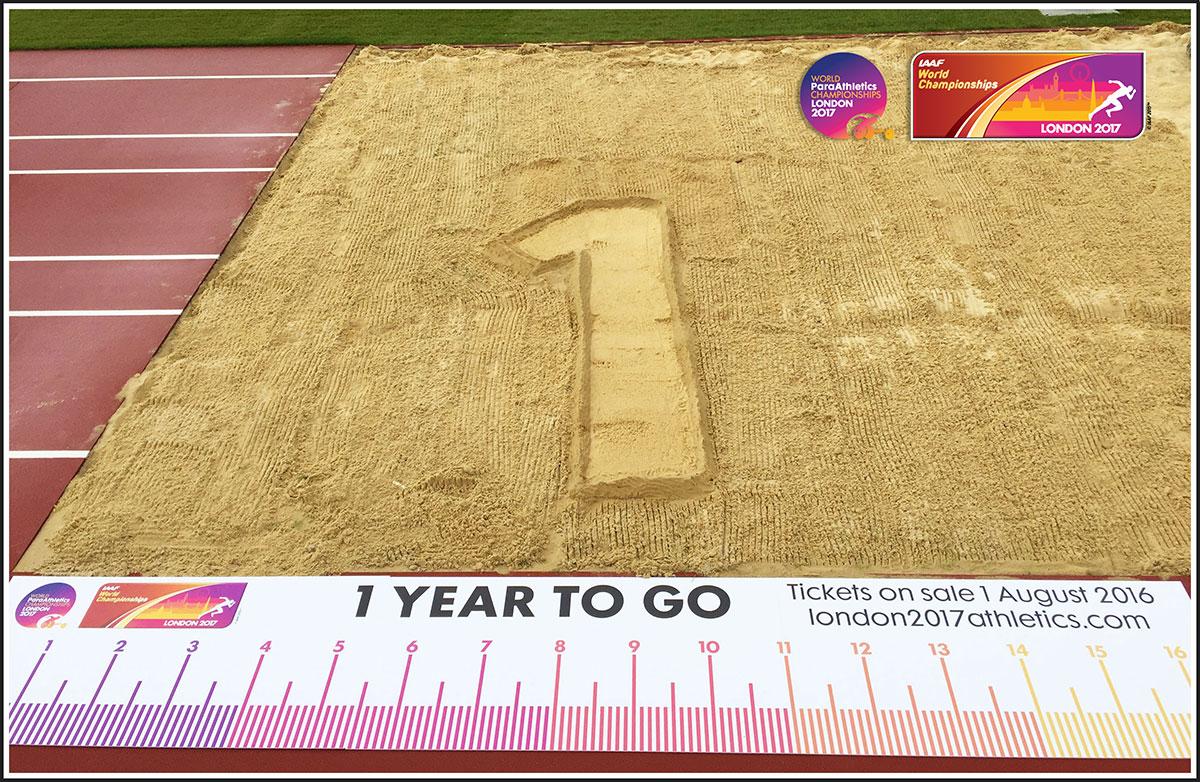 ⒸLondon 2017
By London 2017
On the day that marks one year to go until the start of the World Para Athletics Championships, London 2017 has announced that double Paralympic medallist Stef Reid has been appointed to its Board and Vanessa Daobry has joined the Inspiration Programme Board.
Reid, who won silver in the long jump T44 at the London 2012 Paralympic Games has four other global titles to her name including European gold, which she won in Swansea two years ago. She is a five-time world record holder and, subject to ratification, reclaimed her world long jump record earlier this week.
The 31 year-old will bring her competition experience at the very highest level across the world to the role, as well as her experience in facing a life-changing injury to become a world-class athlete, professional speaker, fashion model and lay preacher.
Vanessa Daobry, a wheelchair athlete who competes in the shot put and is currently ranked number 1 in Europe, is joining the Inspiration Programme Board. The Inspiration Programme is a programme of co-ordinated activities to harness excitement and interest in London 2017 and create long-term benefits.
Vanessa, known as Nessa to friends and family, recently made her international debut as part of the British team at the IPC Athletics European Championships in Grosseto, Italy. She finished just outside the medals in the F34 shot put in Italy but will be buoyed by her first appearance in a British vest in only her second full season in the sport.
As a Londoner, Vanessa will bring invaluable insight to the Inspiration Programme and help ensure that it delivers the best legacy for the capital. Outside of training she coaches in her own right, leading the Haringey Wheelchair Racing Group and has worked for England Athletics as the Run Activator for Haringey and Islington.
Stef Reid said: "I am really excited to be appointed to the 2017 board! It is fantastic so see another major global championships returning to the UK. I will be drawing on all of my past experience to ensure that the athletes, spectators, and stakeholders leave London both inspired and proud to be part of another world class event. Britain is the leading force in para-athletics. We have another opportunity to further develop the sport and showcase it to the world."
Nessa Daobry said: "It's a real privilege to be a part of the Inspiration Programme Board for London 2017. The 2012 Paralympic Games proved to be monumental for encouraging and inspiring disabled individuals to participate in sport whether that was through competing, volunteering or spectating. The World ParaAthletics Championships will present further opportunities to continue the work done over the last four years and I'm delighted to be able to be involved in the project."
Ed Warner, co-Chair of London 2017 said: "I'm delighted that two currently competing British ParaAthletics stars are joining the London 2017 team. Stef brings with her a wealth of Paralympic experience to help ensure the ParaAthletics World Championships in London are the best ever from an athlete perspective. Nessa's London roots will prove invaluable in driving forward our Inspiration Programme's disability athletics initiatives in the host city and the nation more widely. I'm looking forward to working with them both over the next 12 months as we plan an incredible summer of world athletics."
Sir Robin Young KCB, co-Chair of London 2017 said: "With just one year to go until the start of the London 2017 World ParaAthletics Championships, I'm thrilled that Stef and Vanessa have joined the London 2017 family. As a double Paralympic medallist and five-time world record holder, Stef has an in-depth knowledge of makes a successful world championship. This will be of huge asset to us as we continue with our planning and ensure athletes and spectators enjoy a fantastic summer of world athletics. Vanessa's involvement in and experience with grassroots sport will prove vital to our Inspiration Programme and help guarantee a strong athletics legacy."
Xavier Gonzalez, IPC CEO, said: "We are delighted that both Stef Reid and Vanessa Daobry have been appointed to key and influential roles within the London 2017 Organising Committee. For any event to be a success it is important to have an athlete's viewpoint and Stef will certainly provide this as part of the Board. The Inspiration Programme Board will also profit from the addition of Vanessa who will ensure that every opportunity there is to benefit ParaAthletics will be capitalised upon between now and next summer."
London 2017 will be the first time that both the World Para Athletics Championships and the IAAF World Championships are held in the same city in the same summer. The World Para Athletics Championships takes place from 14 – 23 July with the IAAF World Championships London 2017 following from 4 – 13 August 2017, both at the Queen Elizabeth Olympic Park.
The IAAF World Championships London 2017 and World Para Athletics Championships will bring together world-class athletes from over 200 countries who will compete in 30 sessions across 20 jam-packed and action-fuelled days. 1.5 million tickets will go on sale on 1 August for the Summer of World Athletics – 800,000 for the World Para Athletics Championships and 700,000 for the IAAF World Championships London 2017. Public sales will be held via ballot, with applications opening at 10.00am 1 August and closing at 20.17pm on 29 August 2016. The general public is encouraged to sign up for updates and ticket alerts at www.london2017athletics.com.
Related Images