London Calling: Markus Rehm
Germany's 3-time world champion has sights set on more gold at London 2017.
26 Jun 2017
Imagen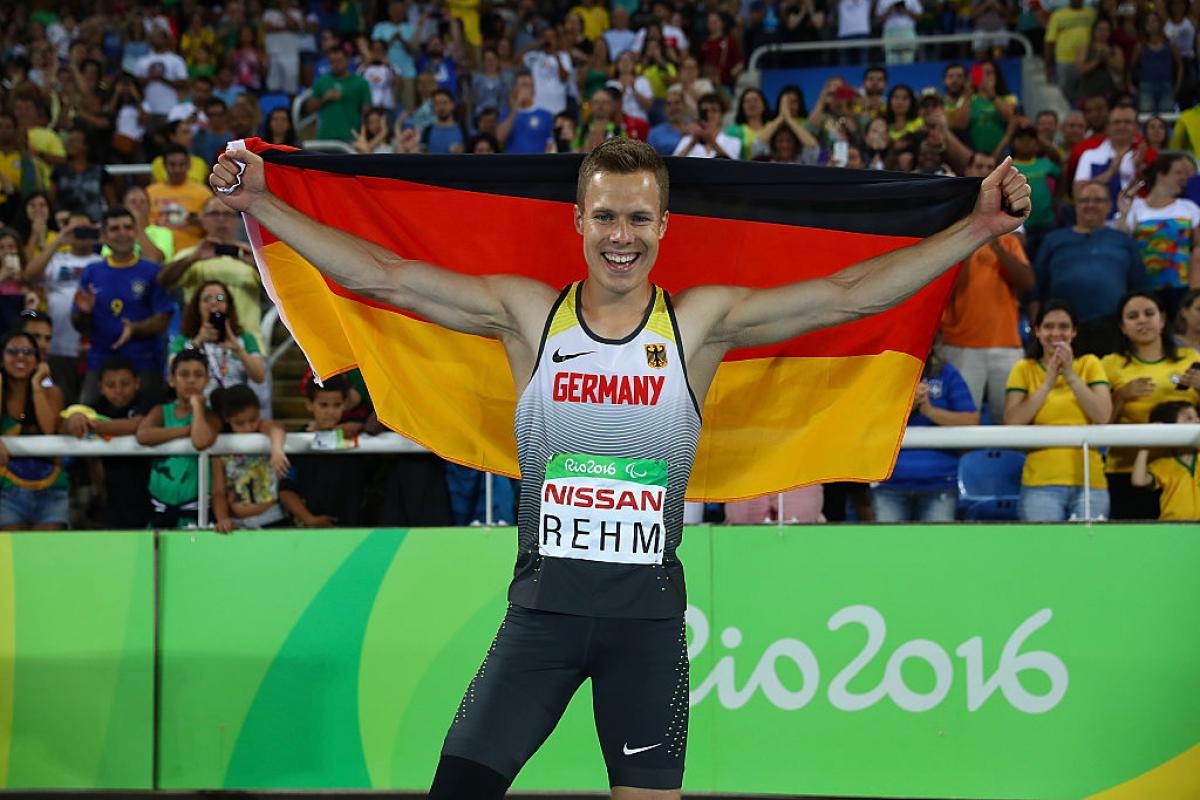 ⒸLucas Uebel/Getty Images
By IPC
"Expectations are quite high, to be honest. I definitely want to defend my title but not just this, I want to go close to my personal best,"
When it comes to competing at the World Para Athletics Championships this summer, Markus Rehm has big expectations.
Germany's three-time world long jump T44 champion has made a habit out of winning – but he's not just satisfied with the possibility of yet another gold medal around his neck.
The 28-year-old has won the world title at every global championship since his debut back in Auckland, New Zealand six years ago. Not only that, he also smashed the world record each time.
And it's a habit the German is determined to continue when he lines up in London's Olympic Park in exactly three weeks' time (17 July).
"Expectations are quite high, to be honest. I definitely want to defend my title but not just this, I want to go close to my personal best," explained Rehm, who leapt a phenomenal 8.40m at the last World Championships in Doha, Qatar, two years ago, adding 11cm to his own world record.
"I'm still chasing my world record and of course I know that I need really good conditions to go even further, but I think it's possible.
"My expectations are really high and I always focus on the main competitions. My coach (Steffi Nerius) is always great at preparing me so I am at my best right at the main event. So hopefully we can fulfil the expectations of the whole crowd and of ourselves."
So far Rehm has jumped 8.13m this season, but watching videos of his jumps afterwards, Rehm realised that his take-off was well before the board. Although it's a situation he knows he has to fix, Rehm admits that it is reassuring to know the distances are there.
He explained:
"So far I'm exactly on the plan. I really expected to be better on the board at the beginning of the season which is a shame, but to bring it on the board is much easier than to improve the distance.
"The big jumps are there – in Leverkusen recently I made it over eight metres three times - and two of them were way before the board, as if I lost many centimetres, not just a few. It's good to know that you can jump far. I just have to bring it on the board."
Last year Rehm won his second Paralympic long jump title with a leap of 8.21m; silver went to Dutchman Ronald Hertog, who finished nearly one metre behind.
It is a situation Rehm has become familiar with – stretching his competitors to their limits and more often than not, finishing a long way ahead. But the motivation is as strong as ever.
"I do like my competitors and I do think Ronald is really trying to come close, he's improved the last couple of years so I will try my best to keep him at a good distance, but I think we can push each other.
"But I'm good competing for my own personal bests. I know it's quite a comfortable situation at the moment but I still enjoy competing with all the guys. I just enjoy seeing all the guys again and competing against them – and the motivation is still high.
"I love pushing barriers. A few years ago no one expected a Para athlete to jump eight metres, and now we are jumping more, and chasing all the able-bodied jumpers. That's exactly what I like doing – chasing barriers and doing what other people think is not possible."
As for exactly how far Rehm believes he can go – it's a thought that regularly crosses his mind.
"I do think about numbers because I think that every centimetre over the world record would be just great.
"But as well I'm always looking at the IAAF world rankings (South Africa's Luvo Manyonga sits top with 8.65m) - who is in front and who I could chase. I try to get myself motivated with the results of other athletes.
"Eight metres makes a really good long jumper. 8.40m - not many long jumpers can say they can do this. As for 8.50m, to be honest this is a barrier which is just 'wow' - another step, another magic line for long jumpers and really not many are able to do this. So for the future this would definitely be a target."