London Calling: Ireland's Jason Smyth
The world's fastest Paralympian believes he can go even faster at London 2017 this July.
05 Jun 2017
Imagen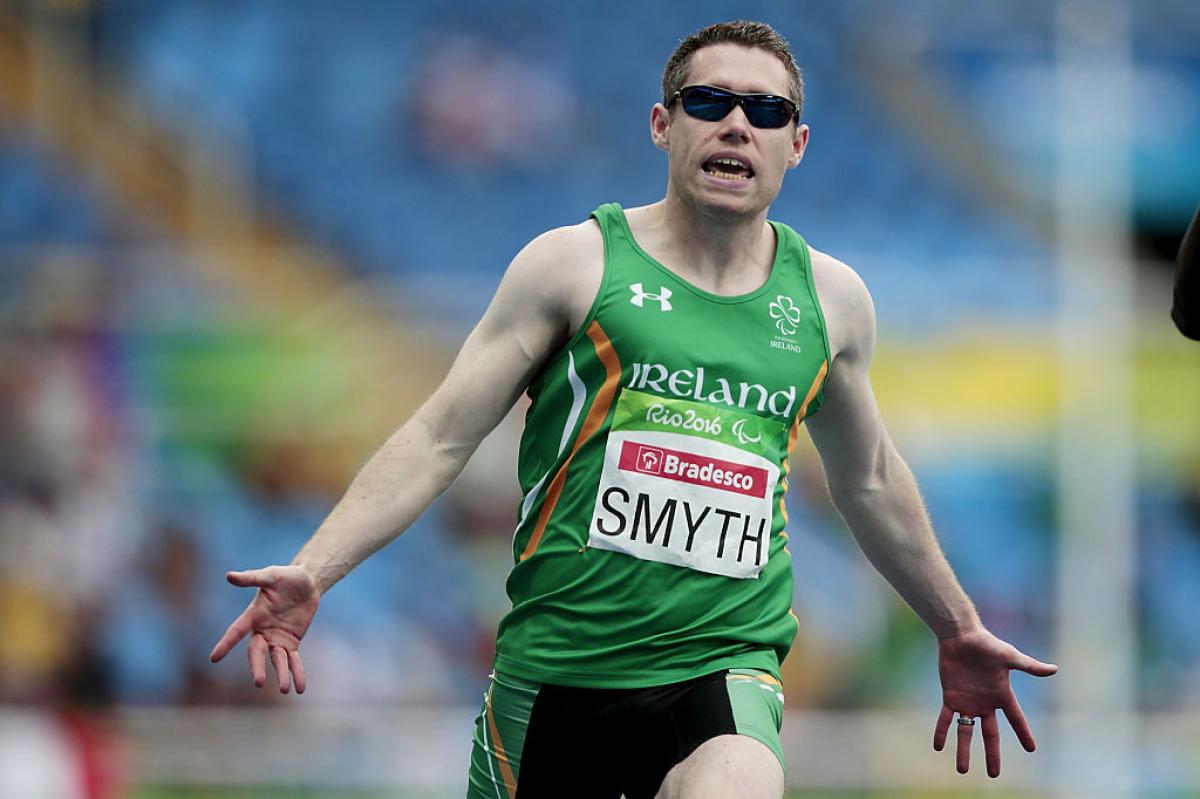 ⒸGetty Images
By IPC
Irish sprinter Jason Smyth heads to London for July's World Para Athletics Championships as the fastest Paralympian on the planet – and he believes he's capable of going quicker still.
Smyth, a visually impaired sprinter, set the current 100m T13 world record at the London 2012 Paralympic Games, when he clocked 10.46 seconds.
Since then he has won three world titles, two European titles and Paralympic gold at Rio 2016; but over the last five years that record has remained unbeaten.
Now though, with the prospect of a return to the London Stadium and the benefit of a healthy and injury-free start to the season, the 29-year-old feels capable of lowering that time once again.
"To be honest the last few years haven't been the best few years. I've had a few injuries; it happens to everybody in their career at some point," admitted Smyth.
"For me this year I'm moving forward from where I was the last two years - the volume of running I'm able to do, I'm even hitting personal bests in the gym. I'm starting to head back to where I was a number of years ago and hopefully I can keep that consistent.
"You want to go and run as quick as you can really. You want to run a world record, but at the end of the day the first priority is to cross the line first. Would I have the intention to run as quick as I have? Well, absolutely."
Having spent a number of years living and training in the capital, Smyth returned home to Ireland last year. With the arrival of his baby daughter Evie, the Derry man and his wife Elise were keen to return to their roots.
But London still holds a special place in Smyth's heart and there is no doubt his affection for the city along with his memories of the 2012 Paralympic Games have helped him feel that this summer's World Championships are, for him, a home event.
"I enjoyed being there in London for the few years that I was. It was home - and that's another aspect that connects me to London I suppose, not just the Games. I was living 10 minutes away from Stratford on the train, so I was extremely close," explained Smyth.
"London for me has been the best Paralympic event that I've been to and to be honest by a long way. So to be able to go back, it's home. You can't put a price on what it's like to be down there and competing. That feeling, the adrenaline – for me that experience is why London has been the best."
Smyth may well be grateful for any local support he receives if it helps to propel him to the top of the podium, as over the last five years his rivals have also shown significant improvement.
In the 100m at London 2012, Smyth finished more than half a second faster than the rest of the field; in the 200m he won by 0.90 seconds.
Four years later at Rio 2016 the winning margin had shrunk to 0.14 seconds in the 100m, with Namibian Johannes Nambala winning silver in 10.78 seconds.
Nambala, who won the 200m T13 world title at Doha 2015 as Smyth returned home for the birth of his daughter, is one of a number of sprinters closing in on the world and Paralympic champion.
Smyth agreed: "There's no doubt they are. You look at the times from what was second and third in Rio compared to what was second and third in London and the times have improved. My time dropped off a little bit, a couple of tenths. For me that's been a reflection of not being at the level I want to be at.
"I can't tell you where they were at in Rio – were they at their best? Have they fallen back a wee bit and maybe will kick on? They could kick on as well in London.
"The one thing I know for sure is that I will kick on from where I've been at in 2015 and 2016, because I just know with injuries I wasn't just able to be at the level I was."
If all goes to plan for Smyth he will return home from London 2017 with two more gold medals, taking his total of global titles to seven. There's no doubt however that to achieve that in a venue he knows and loves so well would be extra special.
To buy tickets for London 2017, which takes place between 14-23 July, please click here.