London Calling: Roderick Townsend-Roberts
The US multi-eventer explains why at London 2017 he will look to make up for the disappointment of Rio 2016, even though he won two golds.
23 May 2017
Imagen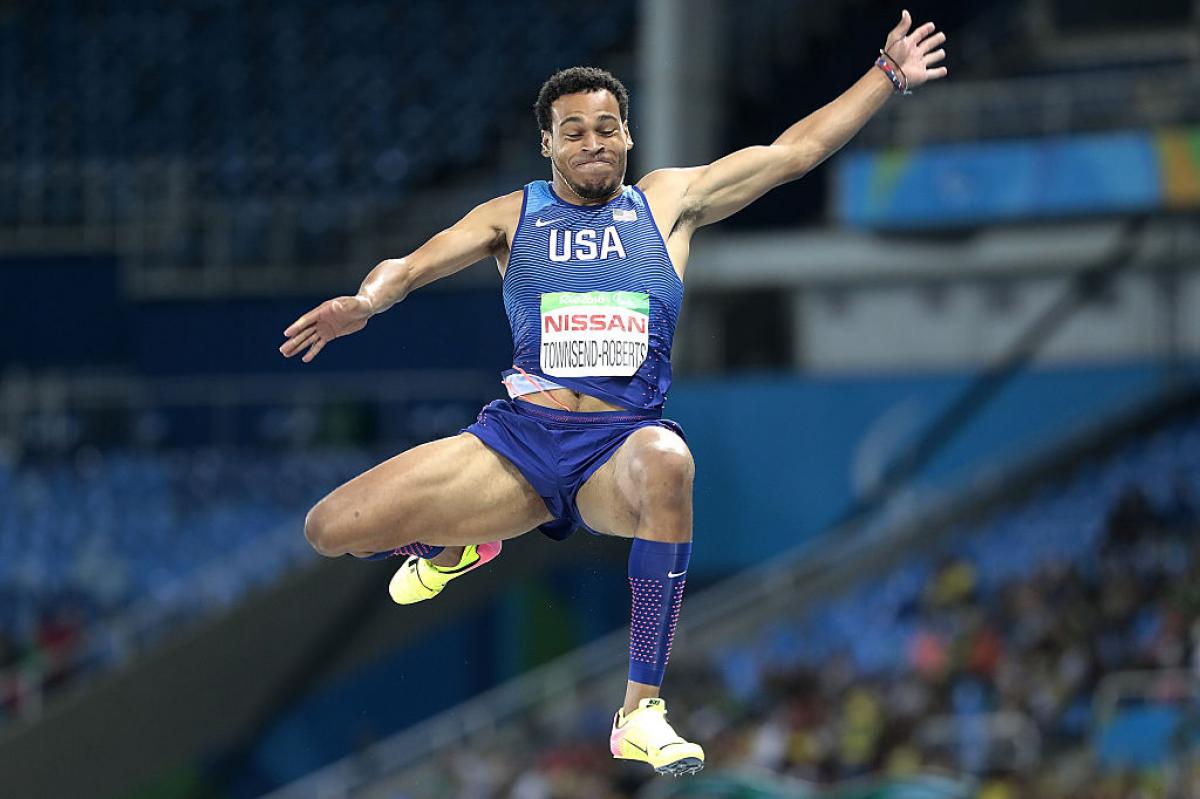 ⒸGetty Images
By IPC
Roderick Townsend-Roberts won two gold medals at last year's Paralympic Games – but he was not happy.
The American won the high jump and long jump T47 titles at his first ever Games, setting new Paralympic records in both events – but for a man with big ambitions and high expectations, it still was not good enough.
"I was pleased with my long jump performance in Rio; I was very disappointed with my high jump performance, especially going back and watching the film. It was really ugly," said the 24-year-old, who cleared 2.09m for gold – the only competitor to go over the two-metre mark.
"When we are at the Games we expect to walk away with a victory, so I was able to accomplish that. But being somewhat of a perfectionist I'm disappointed with the way I handled myself when it really mattered the most."
Now, with the London 2017 World Para Athletics Championships on the horizon, Townsend-Roberts is determined not only to impress the crowds, but to satisfy his own high standards.
"This year I'm just making sure that when I go to London, when things are on the line I'm able to execute and perform properly. I'm sure that that will just help with the bigger and better heights," he explained.
"In Rio I was able to get two of the top athletic experiences I've ever had. But London has a great fan base and a great crowd and I definitely plan on giving them their money's worth."
Having broken the high jump T47 world record already this year – he cleared 2.13m at the Mt SAC Relays in California in April – Townsend-Roberts is so far keeping his side of the bargain. And he is in no doubt there is plenty more to come.
"It felt like two metres, it was extremely easy. I didn't have any doubts about that. I was more upset that I didn't clear 2.18m – I just nicked it off with my heel at the last minute," explained the Arizona-based multi-eventer, who made his senior international debut in 2015 before going on to win high jump gold as well as long jump and triple jump silver at the Doha 2015 World Championships.
Always a keen and successful athlete, Townsend-Roberts earned a full scholarship to University, where, from 2011, he competed in the decathlon alongside able-bodied athletes.
He had 'no clue' that he would be eligible to compete in Para athletics – "I knew that I had something wrong with my arm but I didn't know it was technically considered a disability; I just didn't think my arm straightened, so I didn't think much of it," but his future took a new path when former Paralympic and world champion Jeff Skiba saw him compete.
Soon US Paralympics were in touch, and as Townsend-Roberts says, "it's been history in the making ever since."
Keen to surround himself with like-minded and successful Para athletes, Townsend-Roberts regards Skiba as a mentor. In fact he made sure they roomed together in Rio last year.
"I'm not just worried about right now, I want to make sure that I'm still on top in six, seven, eight years. I keep these people like Jeff, April Holmes and Jerome Singleton near me just to help guide me a bit. I'm not too proud to say that I need help from time to time and those guys definitely provide it to me."
Townsend-Roberts' unwavering ambition is certainly clear. Defeat in the long jump at the last World Championships in 2015 still rankles; this time two world titles in London is a must.
"That's what I'm doing it for, but I know I'm not competing against any scrubs," he added.
"And I realise that that long jump competition will definitely be better than what we did in Rio. I don't expect to be able to go in and jump the same mark and win it. I think it may even be tough for the mark that I won with in Rio (he jumped 7.41m) to even get a medal.
"I tasted one loss in Doha in 2015 when I lost the long jump and I'm never going to let that happen again."
The London 2017 World Para Athletics Championships will take place between 14-23 July. To buy tickets, please click here.