Long jump world record in danger at Swansea 2014 says Le Fur
The former world record holder thinks with the strong competition in the long jump T44 a new world mark could be set.
04 Aug 2014
Imagen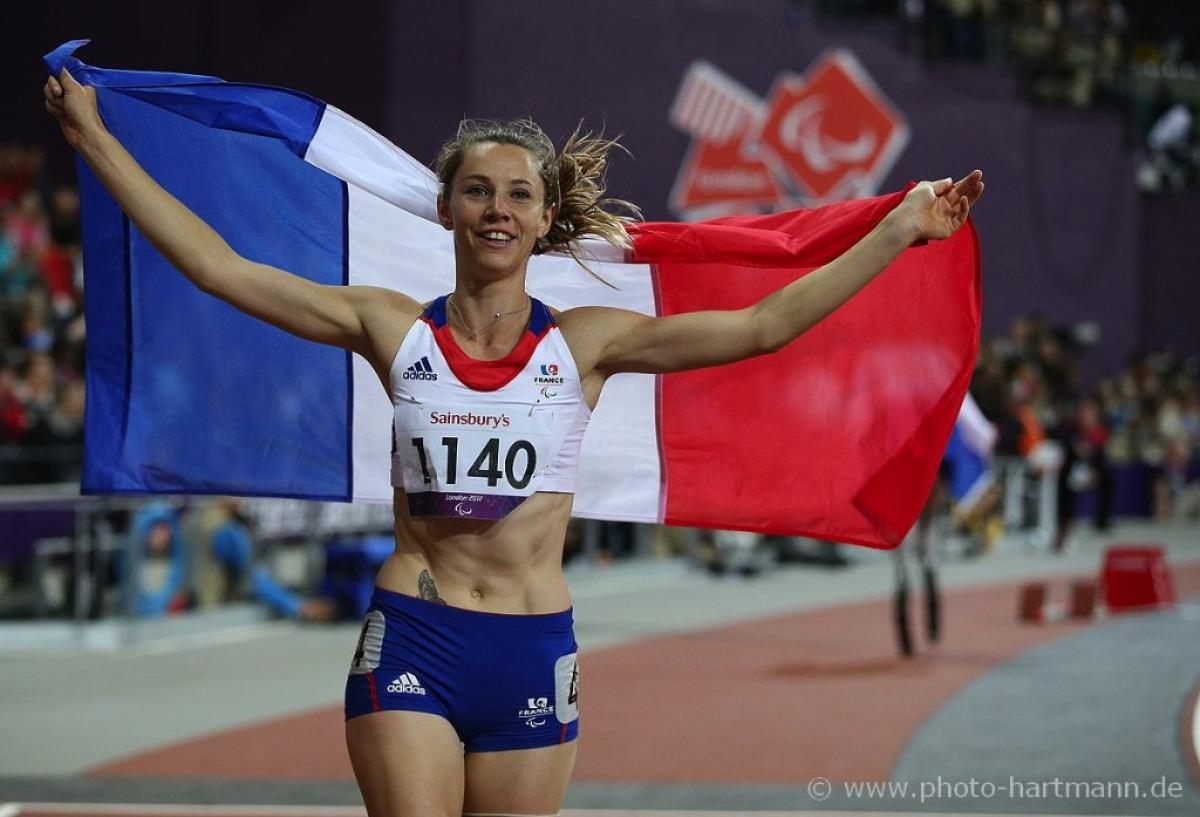 ⒸMarcus Hartmann
By IPC
"When I learned about the recent world records by Stef, I wasn't surprised. She has progressed a lot in recent years, and in these circumstances my record couldn't resist for long."
French Paralympic long jump bronze medallist Marie-Amelie Le Fur believes the long jump T44 world record could be broken once again this month at the IPC Athletics European Championships in Swansea, Great Britain.
Long jumper Le Fur has seen her world record mark of 5.43m bettered twice this year already by one woman in superb form – Great Britain's Stef Reid.
Reid leapt 5.45m back in May, then bettered that mark last month in Glasgow, Great Britain, when she dazzled the crowds with a best of 5.47m. Not that those achievements came as a shock to her French rival.
"When I learned about the recent world records by Stef, I wasn't surprised," said Le Fur. "She has progressed a lot in recent years, and in these circumstances my record couldn't resist for long."
And watching Reid push the boundaries of the event further has given the Frenchwoman more incentive to up her own game.
"These victories are very motivating for me, because it spurs me on to get my records back, and to always jump further to try to be the best in the world.
"The level of competition within the category T44 is certainly a pressure, but a positive pressure that forces me to always keep progressing in order to keep at a high level. In addition, any initial doubts there at the beginning make the victories even more beautiful."
Indeed Le Fur showed her determination at the IAAF Glasgow Grand Prix, jumping over 5m three times, and followed up Reid's world record leap in the first round with a second jump of 5.43m, to equal her best from two years ago.
A week later at the Anniversary Games in London, Le Fur and Reid again took centre stage in the long jump again, with both athletes consistently jumping over 5m. Again it was the Briton who took the win, with a best of 5.39m to Le Fur's 5.21m.
Now with the European Championships just around the corner, Le Fur hopes the high standard of competition will mean new world records.
"A new record in Swansea? I hope in any case ... whoever beats it will prove that this is a high quality event; and after all, that's what we expect from top-level athletes!" she added.
Having enjoyed success both on the track and in the field – Le Fur finished second in both the 100m and the long jump in Beijing in 2008, then four years later, clinched 100m gold in London, as well as 200m silver and long jump bronze - the 25-year-old took time to reconsider her focus after the 2013 IPC Athletics World Championships.
In Lyon, Le Fur picked up an impressive three silver medals, finishing behind the Netherlands' Marlou van Rhijn in both the 100m and 200m, and as well as runner-up to another Dutch star, Iris Pruysen, who took gold in the long jump. But the decision was made – her focus, for the coming years, was to be solely on jumping.
Then, after an ankle injury earlier in the year and changes to her equipment in the spring, Le Fur put 2014 down as a year of transition - with her focus instead on being fully prepared for next year's World Championships, as well as the Rio 2016 Games. Keen to remain free of pressure this year, she wanted to concentrate on simply enjoying her sport.
"I just want to have fun, and enjoy the moment, like I have done all year," she said. "I don't have perfect control of my material right now, that will take time, and I don't want to rush things, or risk putting in peril 2015 and 2016."
However if recent performances are anything to go by, you'd be forgiven for thinking winning - and world records - still feature highly on Le Fur's agenda.
France's young talent may be setting her sights on the next two years, but don't bet against her putting the foundations in place with a performance to remember in two weeks' time.
Le Fur will be one of 560 athletes from 39 countries competing at the Swansea 2014 IPC Athletics European Championships between 18-23 August.
Tickets for the event at Swansea University are now on-sale and can be purchased here.
Prices start from £3 per session.
Media accreditation for the event is also now open via the Swansea 2014 website.