Long jump world record under threat in Berlin claims Popow
Days after setting a new mark of 6.72m, the German T42 athlete believes the world record could fall again at the IPC Athletics Grand Prix.
12 Jul 2016
Imagen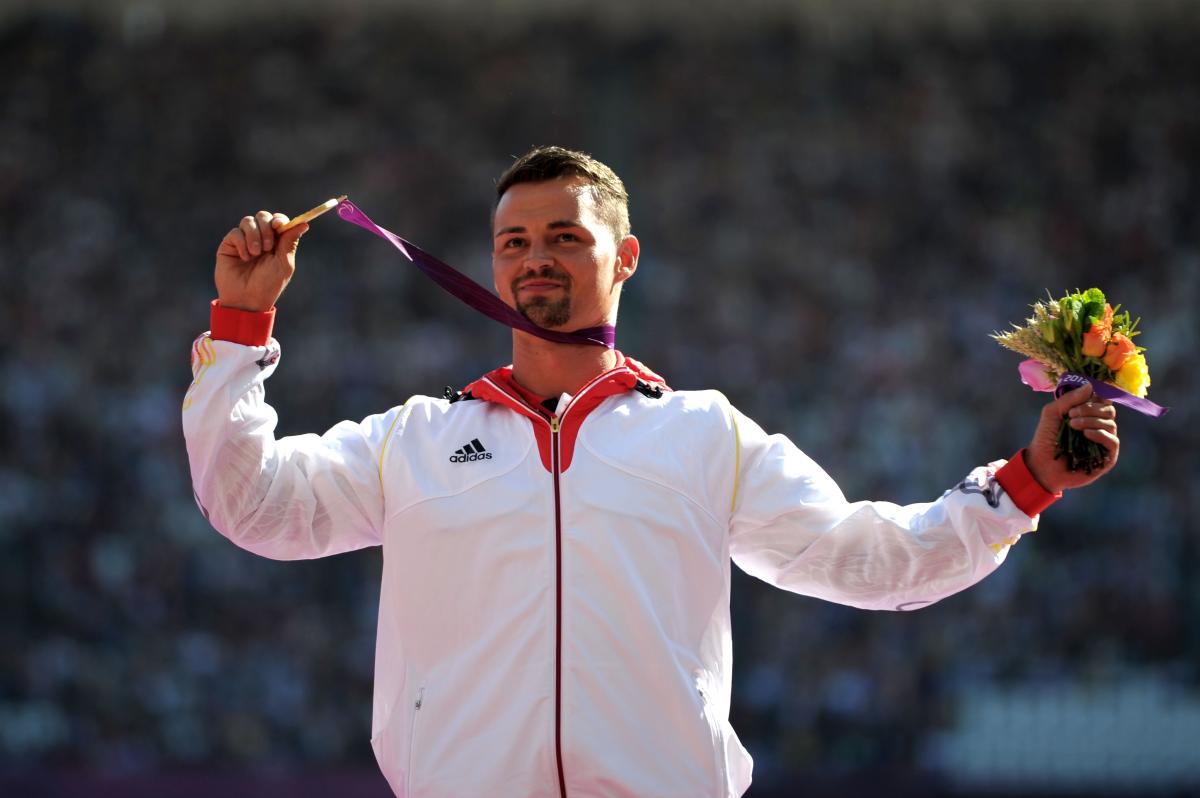 ⒸGetty Images
Paralympic champion Heinrich Popow believes the long jump T42 world record – already broken four times this year - could fall once again at this week's IPC Athletics Grand Prix in Berlin, Germany, which takes place on 16-17 July.
Popow is the latest Para athlete to claim the record in 2016 having leapt 6.72m on his home track in Leverkusen, Germany just last week (Friday 8 July).
Each of the world's top three – Popow and his key rivals Japan's Atsushi Yamamoto, who won Paralympic long jump T42-44 silver in 2008, and Denmark's London 2012 bronze medallist Daniel Wagner – have taken their turn at the top of the global rankings this year. There is no doubt a tough competition will be on the cards come the Rio 2016 Paralympic Games in just over eight weeks' time.
But before then, both Popow and two-time world champion Yamamoto will line up in the Friedrich Ludwig Jahn Sportpark in the German capital for the penultimate Grand Prix of the season, and Popow's latest mark could well come under threat.
"I know that the sand pit is really good in Berlin too, we have to see how the conditions are. If the weather is like it was in Leverkusen, the sand pit is definitely the sand pit to jump a world record in and I know Atsushi (Yamamoto) is ready too," said Popow, who missed the 2015 IPC Athletics World Championships through injury.
"I saw some pictures on Facebook recently where (Yamamoto) missed the jump by not even a centimetre, and it looks like he jumped seven metres. I'm happy to see him again. If he jumps (a world record) in Berlin it's fine, he can do it. I will do it in Rio," added Popow.
This year has already seen the previous world record of 6.53m, set by Wagner in June last year, extended by 19 centimetres.
Yamamoto, 34, leapt 5.56m in Japan in early May this year, only for Wagner to go 11 centimetres further at the test event for the Rio 2016 Paralympic Games less than three weeks later – a vital opportunity for the 23-year-old to try out the Rio 2016 track.
Wagner then secured the European title ahead of Popow in Grosseto, Italy, jumping 6.70m in June, but now it is the German who presides at the top of the rankings – not that Popow himself is surprised.
"I knew that I could go for the world record but knowing and bringing it on the track are two different things," admitted the 32-year-old shortly after his record-breaking leap in Leverkusen.
"I had a competition the week before and it was really, really good – I had one jump and it was way further than the world record.
"I knew I had to bring everything together and push as hard as possible. It is my home track and I know every bit of the run up. I don't even need to measure – I just went to the point where I stand all the time in training."
There is no doubt the T42 class is more competitive than ever this year, but Popow, who has competed at three Paralympic Games, winning 100m T42 gold at London 2012, believes his Paralympic experience will give him the edge in Rio – which he intends to be his final Games.
"I know that I did it (won Paralympic gold) once. The other two, they never did it.
"There is no pressure because I know how to do it. I'm mentally stronger. I know that Atsushi is older, Daniel is younger, and I think Daniel has one advantage, he already competed on the track, he knows what's going on on the track – if it's a hard board or a hard run up.
"But it's fine, I know how to win a gold medal in a Paralympic Games," added Popow, with the calm confidence of a man who plans to do just that.
The IPC Athletics Grand Prix in Berlin takes place on the 16 and 17 July and will see around 430 athletes from 58 countries take part in the final IPC Athletics Grand Prix of the year before the Grand Prix Final in London, Great Britain, one week later (23 July).