Is Luke McDermott the next Josh Sweeney?
The newest member of USA's Bravo Delta Line is gearing up for the IPC Ice Sledge Hockey World Championships A-Pool in Buffalo, New York, USA.
01 Apr 2015
Imagen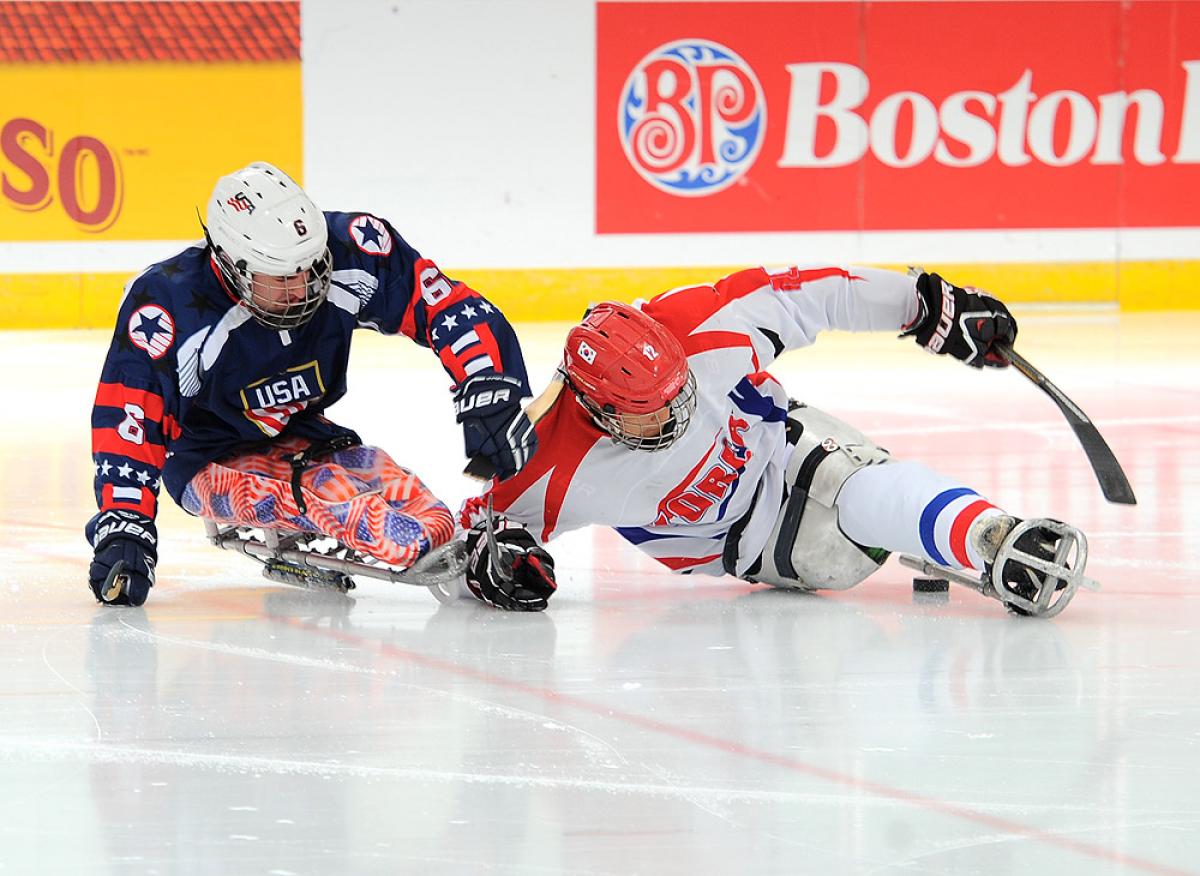 ⒸAndy Devlin/Hockey Canada
By Stuart Lieberman | For the IPC
Josh Sweeney's winning goal in the gold-medal match of the Sochi 2014 Paralympic Winter Games still resonates strong in many minds one year later.
But perhaps nobody remembers the war hero's highlight-reel score better than Luke McDermott, a newcomer to the USA's ice sledge hockey team for the 2014-15 season.
McDermott, a wounded warrior like Sweeney, had the chance to watch the gold-medal game in person at Shayba Arena, having travelled to Sochi as a spectator and member of the USA's development team.
"Seeing them on that world stage and winning that gold medal was something that inspired me to work even harder because I knew I wanted to make it to that level," McDermott said. "I knew that in four years in Korea, I wanted to be one of those guys on the ice with a gold medal around my neck."
Since Sochi, McDermott has moved from Texas to Oregon, specifically so he could train alongside Sweeney, who lives there in Portland.
With just under one month until the USA hosts the 2015 IPC Ice Sledge Hockey World Championships A-Pool in Buffalo, New York, the 28-year-old is working to fill the void left by the departure of forward Rico Roman on the team's Bravo Delta Line, which also includes Sweeney and Paul Schaus.
All three members of the Bravo Delta Line lost their legs after being struck by an improvised explosive device while on active military service, and Sweeney and Schaus have been happy to throw McDermott right into the mix.
"So far, Luke has looked great this season," Sweeney said. "He automatically filled in for Rico on the Bravo Delta Line, and it's like we have been playing with him for years. I think the biggest thing he brings to the team that no one else does is his work ethic. He will stop at nothing to become an impact player on the team."
A different kind of battle
McDermott served five years in the US Marine Corps before an improvised explosive device hit his vehicle while on patrol in Afghanistan on 9 June 2010, blowing off his right leg.
"We tried to save the left leg, but it wasn't doing well either, so we decided to take that one off, too," McDermott said.
Without legs, McDermott's physical therapist suggested trying out ice sledge hockey to help him recover his strength.
"I fell over a lot and struggled a lot, but I loved it and just kept doing it ever since until I got better," McDermott said.
"There's so much work that goes into it off the ice that a lot of people don't understand. If you want to make a national team and be good at that level, and good at that level for a long time, there's so much more off the ice that you have to do. Physical conditioning in the gym, cardio, stick handling with a training ball on your own and more."
After four years of playing with the San Antonio Rampage club team and two years on the USA development team, McDermott has quickly found himself enjoying his first season on the national squad.
In February, McDermott competed in his first major event with the USA national team, helping the Americans claim gold at the World Sledge Hockey Challenge in Leduc, Canada. He also competed in a more recent three-game series against Canada where the USA sealed a 100 per cent win-rate over their North American rivals.
Role model
McDermott said he is trying to model his game after Sweeney, a former Marine Corps sergeant and Purple Heart recipient who was bestowed with the inaugural Pat Tillman Award for Service at the 2014 ESPYS.
"He has the same kind of work ethic I do, and we both have the same mindset," McDermott said.
Sweeney agreed, saying McDermott is "the nicest and most honest guy you will ever meet."
But as the team captain, Sweeney knows it is his duty to keep pushing McDermott on the ice. There is always more to be done. The two are military men at heart, after all.
"I think the biggest thing Luke needs to work on is something he can't on a daily basis and that's just (team) chemistry," Sweeney said. "Obviously, Rico, Paul and I had been working together leading up to the Paralympics for almost four years, and now we are just learning how to work effectively with Luke in his place."
The USA's Bravo Delta Line will be relied upon heavily at the World Championships, which take place from 26 April – 3 May and draw the top eight teams, including Sochi 2014 second and third-place finishers Russia and Canada, respectively.
The Americans will be favoured to make the final as the reigning back-to-back Paralympic champions. And who knows, perhaps in Buffalo, it will be a different American war hero who makes a name for himself on the ice.
Tickets and media accreditation for Buffalo 2015 are currently available.