Marieke Vervoort in battle royale with Michelle Stilwell
Belgian aiming to topple world No. 1 over 100m and 200m in Lyon.
11 Jul 2013
Imagen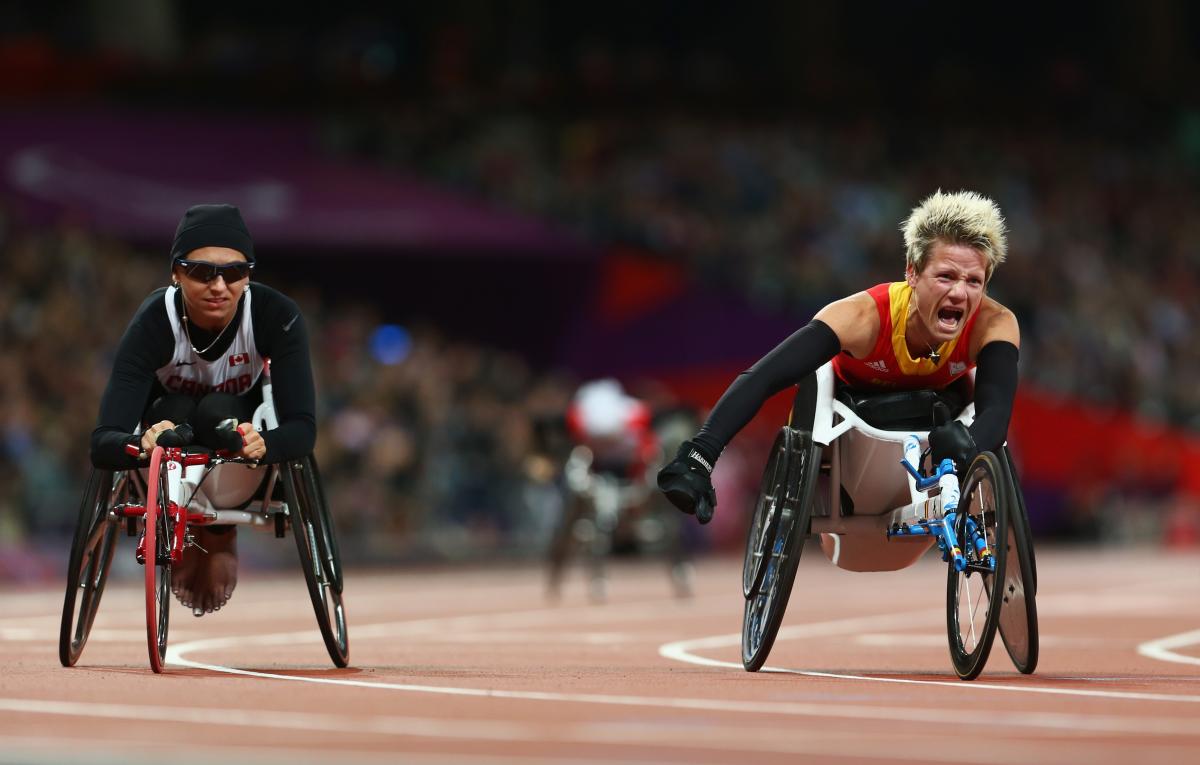 ⒸGetty Images
By Lewis Wood-Thompson | For the IPC
"No matter who wins, it will be the best racer. If Michelle wins then she is the best, and if it's me than I will be."
Belgium's Marieke Vervoort will make her IPC Athletics World Championship debut this month hoping that she can once again turn the tables on the reigning World champion Michelle Stilwell, and return home with gold.
Vervoort and Canadian Stilwell shared the spills at the Paralympic Games last year, with Vervoort taking gold in the 100m T52, and Stilwell winning the 200m.
The Games were an impressive introduction to major para-athletics competition for the 34-year-old Belgian, who had previously enjoyed success in hand cycling and as a triathlete.
She captured the media's imagination during the opening ceremony, photographed with her dog perched on her knee as she entered the stadium.
But it was Vervoort's antics on the track which created her legacy and set her on the path to becoming Belgium's Paralympian of the Year, ending 38-year-old Stilwell's dominance of the short sprint by taking gold in the 100m T52 ahead of the two-time champion.
Despite this, Vervoort remains cautious about her chances in Lyon.
"Everybody wants to break world records and it is going to be a fantastic race - especially between me and Michelle.
"If you are doing high level sport then you want to be a winner and want to be the first one who finishes in a race.
"No matter who wins, it will be the best racer. If Michelle wins then she is the best, and if it's me than I will be.
"We have all worked very hard to get to Lyon, but may the best competitor win. It is going to be a good race and if it's Michelle, then I am going to give her congratulations."
Stilwell tops the world rankings after two impressive races over the 100m and 200m in Australia at the start of the year, but for Vervoort, training is going "really really good".
"I feel like I am still growing and I have two new coaches now. At the end of May in Switzerland, in the 400m I had the world record. I couldn't believe it and in the first moments tears were rolling on my cheeks from happiness, it was really amazing. I work very hard to get better and better."
And Vervoort hopes that come Lyon, the added inspiration she is taking from a departed and beloved friend can spur her on to triumph and her first world titles on the track.
"My best friend died not so long ago and when I race I ask him to push with me, and that helps me," she said.
"Before I get to the start line and I take deep breaths whilst asking my friend to push with me.
"From the beginning to the end I am thinking about my friend saying come on, come on."
With the World Championships less than three weeks away, any niggling injuries could be devastating to preparations, but Vervoort is simply trying to distract herself from any potential fitness concerns.
"There are always injury worries but I don't like to think about them because if you think about them all the time then you don't have a life anymore," she said.
"You just have to think that everything is going to be okay. If you feel mentally okay then everything will be better compared to worrying that something is going to happen.
"Of course, there are things in my brain that I hope are going to be okay and nothing worse is going to happen, those thoughts are deep in my brain, but in the first place I try to think that everything is going to be okay.
"The first thing for me is to have fun in Lyon and enjoy the World Championships. If you feel good and training has been going well then everything should be fine, but for me I have a good feeling and it is going to be a good competition."
The 2013 IPC Athletics World Championships will take place in Lyon, France from 19-28 July. Featuring 1,100 competitors from nearly 100 countries it will be the biggest gathering of international athletes since London 2012.