Martin inspired for Doha 2015 by his teammates
The US T52 racer and multiple world champion, believes training at the University of Illinois will inspire him to greater things.
15 Oct 2015
Imagen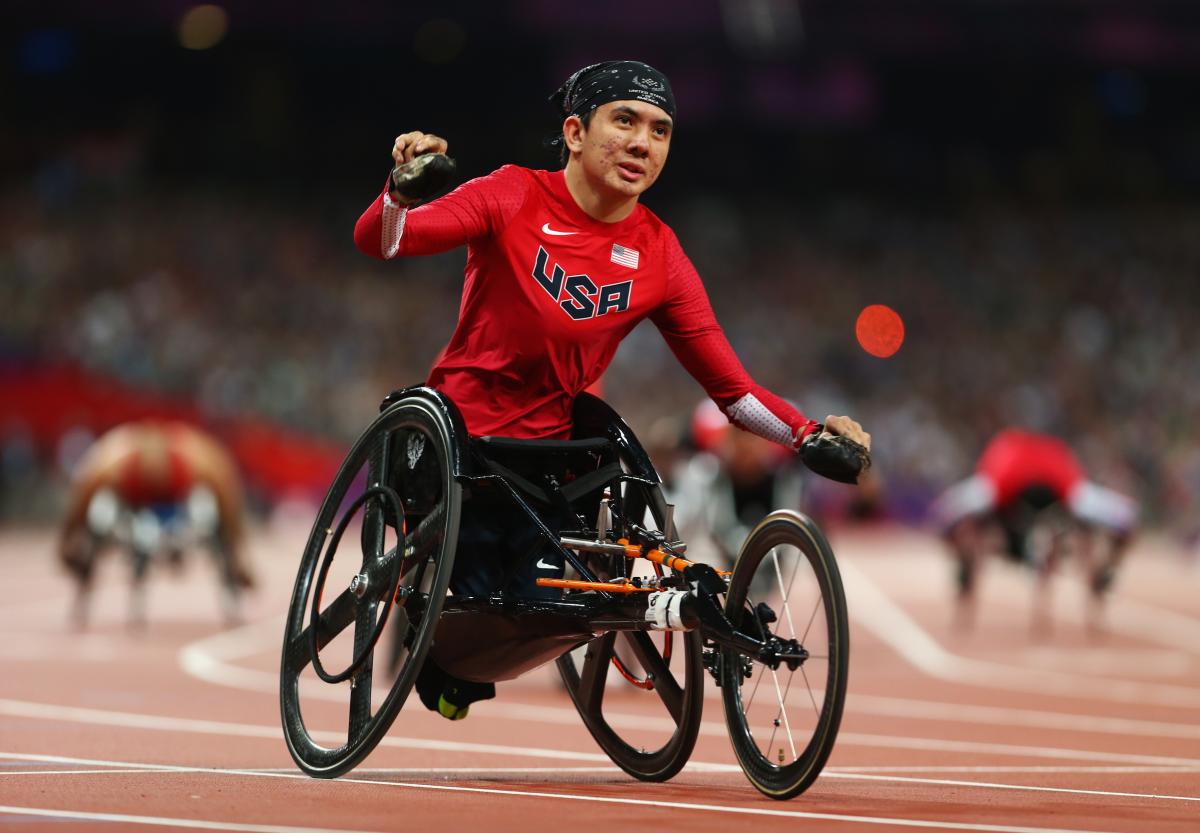 ⒸGetty images
By IPC
Martin believes both the 100m and 1,500m in Doha will require him to be at his best – and true to form, that challenge is something he relishes.
Raymond Martin may have five world golds and four Paralympic titles to his name, but the US T52 wheelchair racer does not have to go far from home to find his inspiration.
Martin is a student at the University of Illinois in the US, home to one of the most impressive group of wheelchair athletes in the country.
His training group is a who's who of Paralympic stars – including the likes of six-time world champion Tatyana McFadden (T54) and four-time Paralympic medallist Amanda McGrory (T53). Standards are high.
"I do find it easy to stay motivated strictly because of where I'm training," explained Martin, who will compete in the 100m and 1,500m at the IPC Athletics World Championships in Doha, Qatar, between 21-31 October.
"I'm at the University of Illinois where there are about 13 of us who went to London 2012. We are just a very stacked team and while in my class I haven't lost since London, every day I go to training I lose every single day.
"I'm getting beat by Tatyana, I'm getting beat by Amanda - whoever is out there. Yes they are not in my class so I won't be racing them, but every day I go to train, I get beat every time. That drives me to keep working hard and hopefully someday maybe catch them."
Not that Martin relies just on his teammates to spur him on; his rivals on the track are more than capable of that.
At the Toronto 2015 Parapan Am Games two months ago, the 21-year-old was well aware that he was the man to beat. Competing in the 1,500m T52, Martin found himself boxed in.
"It was perfectly executed," he explained. "They couldn't hold it for too long but it was a very good reminder that people are watching me and keeping their eye on me and working together against me - which is kind of exciting and I like it.
"It's definitely a different feeling than going to the Games in 2012 when no one really knew who I was. Then after Lyon when I won again five times, people just knew to look out for me."
Despite the efforts of his opposition, Martin still notched up three wins from three races at the Parapan Am Games, continuing his unbeaten record on the track which he began in London three years ago.
In fact, winning is becoming such a habit for the triple US national champion that he likes to set himself his own personal challenges. This year, his goal was to break three world records – a feat he achieved in Arbon, Switzerland, back in May.
"That's the kind of thing I tell myself –how can I improve on what I have done before? What keeps me going for Doha?
"That's not to say that winning a gold medal at the World Championships or Paralympic Games means any less to me than it would to anyone else because it is an incredible feeling," he acknowledged.
"You get up there on the podium and you hear the anthem, and you know that you're the reason that that anthem is playing at that moment. But at the same time, I need to push myself even harder. I need to work towards something; I need some progress."
Martin believes both the 100m and 1,500m in Doha will require him to be at his best – and true to form, that challenge is something he relishes.
"The 100m is an exciting race – you have Paul Nitz – he got the bronze in London at the Games. You have world silver medallist Salvador Hernandez from Mexico, he's a really good competitor. He is really good over 100m as he's got an incredible start. That's kind of my down fall - my start is not as good as theirs so I'm always making up the distance. I can't stress enough how exciting the 100m and 1500m are going to be."
As for the 1,500m, Martin will face the likes of Spain's Santiago Sanz, the former quadruple world gold medallist who finished runner-up behind Martin at the marathon World Championships earlier this year.
"I've never raced Santiago on the track so I've no idea what to expect. That gives me some great fuel for training – I don't know how the 1,500m is going to turn out, so I need to run a whole bunch of different simulations to see how it might go and I'm really excited for that," said Martin.
It is clear Martin relishes a challenge, but in the meantime it's safe to say the biggest challenge rests with his rivals.
Around 1,300 athletes from 100 countries will be in Doha, Qatar, for the IPC Athletics World Championships between 21-31 October. You can watch all the action live at the event website.